There's Something About Mitch
The Senate majority leader's gift for managing Donald Trump has become a source of wonder around Washington—particularly in contrast with Speaker Paul Ryan's turbulent relationship with the president.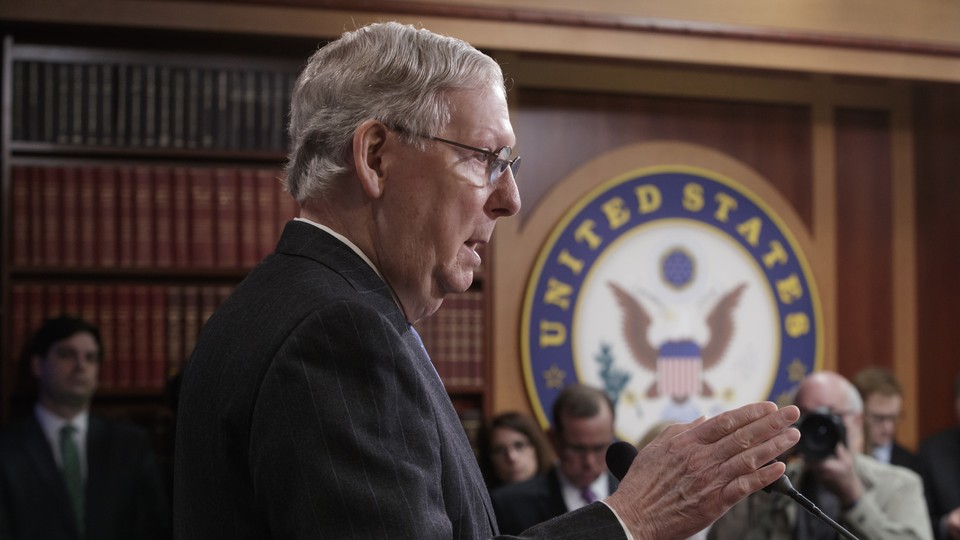 There's something about Mitch. Maybe it's the protruberant, pink-rimmed eyes. Or the phlegmatic drawl. Or the vaguely dyspeptic demeanor. Hard to say, really. But something about the Senate majority leader manages not to drive certain people wild.
Or, to be more precise, there is something about Mitch McConnell that, through all the internal GOP fights and melodrama of the past year-plus, has enabled him to avoid becoming a target of the infamously cantankerous President Donald Trump. This despite McConnell's having declined to pucker up for Trump during the election. And McConnell's open criticism of Trump's Twitter tantrums. And McConnell's repeatedly rebuffing Trump's griping about how the Senate does business.
Just this week, in fact, the president tweeted his enthusiasm for nuking the legislative filibuster. McConnell's swift response (I'm paraphrasing here): Fat chance, buddy.
McConnell's gift for managing the high-strung Trump has become a source of amusement and wonder around Washington—particularly in contrast with Speaker Paul Ryan's perilous tango with the president. Even when Trump and Ryan are playing nicely, everyone knows the situation is fraught and could turn ugly at any moment. When the House vote on the American Health Care Act imploded in March, Trump was said to be privately fuming at Ryan. Not so privately, the president coyly urged his Twitter followers to tune in to a Fox News show one night when the host began her broadcast by calling on Ryan to resign. (White House chief of staff Reince Priebus insisted the timing was "coincidental.")
Not that such tensions are surprising. For much of the election, after all, one sensed that, if Trump could toss any politician into a pit full of honey badgers, it would be Ryan—and vice versa. "I don't think they're ever going to like one another very much, because they're just such different people," a veteran House Republican told me. In part because of this, Ryan was forever being asked about his opinion of (and support for) the oh-so-colorful Trump.
But McConnell: No one much seems to care what the inscrutable Senate leader thinks of Trump deep down, including Trump himself. And so McConnell cruises along, doing his thing, somehow maintaining a safe distance from Trump—now and again even brushing him back—without making the president feel aggrieved enough to have a Twitt-fit.
So how does Mitch do what he does?
Most obviously, McConnell kept his personal views on Trump to himself during last year's race.
"McConnell is a political genius, and he read Trump right from the get-go," one Republican House staffer told me. "He never wades into the political back and forth or comments on the Trump controversies. You'll recall he completely stayed out of the Access Hollywood ordeal, when Ryan led a conference call denouncing it. McConnell's managed to stay above the fray in the Trump era by simply navigating the political landmines more wisely and remaining silent in times of controversy."
Such restraint is seen as very much in keeping with McConnell's personality. "He keeps everybody at distance," said the House member. "Nobody sees his cards but him."
"He is incredibly calculating and cold-blooded," added the member. So even though McConnell, like Ryan, never expected Trump to win, "he also never said anything that in any way undercut him."
And, in the end, McConnell even came to appreciate Trump as the guy who helped save the Senate. "Where he won, we won," said the House member. "So I think McConnell looks on the president as somebody that helped him retain his majority leader's post."
By contrast, Ryan at times seems compelled to poke Trump in the eye on principle. "Paul made two critical mistakes early on," that really "soured the personal relationship" with Trump, said the House Republican.
"The first one was being slow to embrace the nominee, saying 'I'm not quite there yet,'" said the member. The second: When the Access Hollywood tapes came out, Ryan told his conference that he wasn't sure he could defend Trump. "You don't have to defend him," said the member. "But you don't have to broadcast that to all of your membership, some of who were going to be upset."
This is not to suggest McConnell is afraid to butt heads with the president—particularly when Trump encroaches on McConnell's turf. "McConnell is a man of the Senate," said Larry Sabato, head of the Center for Politics at the University of Virginia. "He won't hesitate to exercise the Senate's prerogatives to check and balance Trump where needed."
Recalling past episodes where House leadership tried to talk with McConnell about the slow pace of the upper chamber, the Republican member chuckled, "People learn you don't tell him about how the Senate ought to operate."
But even when he pushes back on Trump, McConnell keeps it low key, said Sabato. "He'll do it quietly and with a minimum of fuss whenever possible." This is a particularly smart play with this president, he observed. "Trump will attack his more visible antagonists."
"McConnell disagrees with Trump without being disagreeable," noted John Feehery, a veteran GOP strategist (and early Trump supporter). "He is an expert at making clear his thoughts without making too many waves."
Just as importantly, McConnell in no way threatens Trump's status as the star of this reality show.
"He doesn't seek much of the spotlight, and rarely makes slips or gaffes," says Sabato. "He lets others grab the spotlight, which can burn as easily as it illuminates."
"McConnell is very insider DC," said one Republican Senate aide. "He doesn't go out and try to message nationally. There was no Senate 'Better Way.'"—Ryan's much-ballyhooed conservative agenda that he peddled all through campaign season. "So he just has a lower profile on the national/media/celebrity stage. Ryan is much more active in that space, a lot younger, and actually has a competing vision for the party."
In this regard, it's a plus that voters don't much like the majority leader. "It's not like McConnell is super popular with the base or nationally," said the Senate aide, pointing me to a poll released last month showing McConnell to be the chamber's least popular member. (The anti-charismatic Kentuckian was, in fact, the only senator to score a net-negative approval rating from his own constituents.)
On a more transactional level, McConnell is currently enjoying an extra boost for having overseen the relatively painless appointment of Neil Gorsuch to the Supreme Court.
"With Trump, it's sort of, 'Where are you at? Are you producing for me?'" said the House member. Ryan's initial failure to pass the American Health Care Act constituted yet another black mark. By contrast, "McConnell has been producing, moving nominations through the Senate over bitter Democratic opposition. And he just produced big time with Gorsuch."
Sabato agreed: "McConnell is golden, at least for a while, for engineering the only significant accomplishment of Trump's first 100 days, Neil Gorsuch."
Of course, Trump is nothing if not volatile. And observers see the potential for Ryan's relationship with the president to smooth out—and McConnell's to get bumpier—as the health-care hot potato moves from the House to the Senate.
"McConnell has the challenge of the 60-vote rule," said the House Republican. "Trump doesn't understand it, and he doesn't like it." But the president is setting himself up for disappointment if he expects McConnell to budge on the issue, predicted the member. "McConnell is an institutionalist. He's not going to move off that. And his members support him."