The Mick Mulvaney Budget Hits the Hill
It may be Trump's proposal, but his first fiscal blueprint reflects the vision of the House Freedom Caucus co-founder, and the president has left the sales job to him.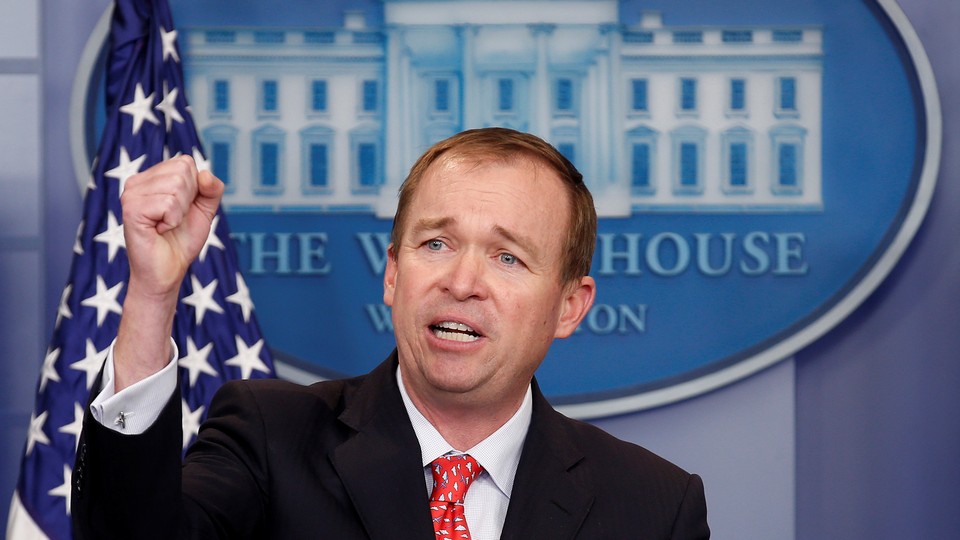 The budget proposal the White House will deliver to Congress on Tuesday might carry Donald Trump's name, but it reflects Mick Mulvaney's fiscal vision.
The president has been uncharacteristically quiet on the most expansive policy statement of his young administration, ceding responsibility for both its substance and message to his staunchly conservative budget director.
And Mulvaney has certainly run with the assignment. The former congressional spending hawk has affixed the presidential seal to a wish list of ideological budget cuts—to the State Department, the EPA, and the social safety net, among many others—that only a few years ago had been marginalized even in the Republican-led House. "This is, I think, the first time in a long time that an administration has written a budget through the eyes of the people who are actually paying the taxes," Mulvaney told reporters on Monday by way of explaining the budget's core philosophy, which he described more succinctly as "Taxpayer First." "Too often in Washington we only look at the recipient side: How does the budget affect either those who receive or don't receive benefits."
That perspective is familiar to members of the House Freedom Caucus, the hardline group that Mulvaney co-founded as a congressman from South Carolina. But it is less familiar as an argument coming from Trump, who memorably differentiated himself from his Republican presidential rivals by vowing to protect the entitlement programs—Medicare, Medicaid, and Social Security—that they had proposed to cut over time. His was a big-government conservatism, and many voters who had scorned the fiscal austerity of Mitt Romney and Paul Ryan in 2012 had backed Trump last fall.
The result is a document that, whether by intent or simple necessity, looks a lot more like Mulvaney's proposal than Trump's. "This definitely is a Mulvaney budget," said former Representative David Jolly, a Florida Republican who has frequently criticized Trump since leaving Congress in January. "No question, because I don't believe the president understands the finer details of what he himself is submitting to the Congress. But a Mulvaney budget will never pass the Senate."
It probably won't pass the House, either.
Republicans in the majority ignored White House budget proposals when they came from former President Barack Obama, and they might give barely more consideration to Trump's. "The president proposes, and the Congress disposes," reminded Representative Charlie Dent of Pennsylvania. While the House and Senate must agree on a budget as a procedural first step for Republican legislative priorities like tax reform, it's not a bill that goes to Trump for his signature or veto. House Republicans are drafting their own budget, and in the past, their proposals have been more aggressive in cutting entitlement programs while taking less of an ax to domestic discretionary spending. The Freedom Caucus proposals that Mulvaney has helped to write usually cut both, and they never came close to passing.
Trump did leave his imprint on the budget in a few key areas where Mulvaney otherwise would have diverged. He already insisted on requesting a significant increase in defense spending (which became $54 billion) and a downpayment on funding for his border wall, which Congress ignored in an initial spending fight this spring. The budget includes $25 billion over 10 years for a new paid family leave initiative, an Ivanka Trump priority. It "supports" the president's pledge of $1 trillion for infrastructure, although the amount of direct federal spending requested is merely a fraction of that total.
And Trump instructed Mulvaney to steer clear of cutting Medicare and Social Security benefits. "I made the case for why those programs should be reformed, and the president said 'No, I'm going to keep my promises,'" Mulvaney told reporters, recounting a conversation he had with Trump in the Oval Office. The budget director said he had presented Trump with a checklist of programs he wanted to cut, and Medicare and Social Security were the only ones he rejected. Mulvaney then asked the president, he said, if he still wanted a budget that erased the deficit within a decade. "'I still want you to balance the budget. Just don't do through changing these programs,'" he replied, in Mulvaney's telling. "And we were able to do it."
Mulvaney's account, however, gives himself a bit too much credit. Trump had also promised not to cut Medicaid, the program that provides health care for the poor and the disabled. But the budget assumes the passage of the American Health Care Act, which slashes more than $800 billion from Medicaid over a decade. And although the proposal does not touch what Mulvaney referred to as "mainline" Social Security—benefits for elderly Americans—it does reduce funding for the Social Security disability fund. The budget also cuts other safety-net programs, including the Children's Health Insurance Program, and it adds restrictions for food stamps, the Earned Income Tax Credit, and the Child Tax Credit.
The cuts to welfare programs amount to $274 billion over a decade, centered around the introduction of work requirements for recipients. But the path to a balanced budget doesn't rely on cuts alone: It requires a significant expansion in economic growth that would generate trillions of dollars in added tax revenue to the government. Mulvaney projects an annual growth rate increasing to 3 percent, which the nation hasn't achieved in nearly a decade. And to get to 3 percent growth, people who aren't currently in the labor force need to get back in. "We need people to go to work," Mulvaney said. "If you're on food stamps and you're able-bodied, we need you to go to work. If you're on disability insurance and you're not supposed to be, you're not truly disabled, we need you to go back to work."
He added: "There's a dignity to work. There's a necessity to work to help the country succeed, and we need everybody to be pulling in the same direction."
That is a clear articulation of hard-edged conservative fiscal policy, but it's an argument the president himself has rarely made, and certainly not in the context of the budget. When Mulvaney unveiled a pared-down, "skinny budget" in March, Trump issued little more than a token tweet. In the weeks since, he's made no effort to personally vouch for the steep cuts his budget demands for the State Department, the EPA, medical research, public broadcasting, and a wide array of other domestic programs. And though it had already missed by months a statutory deadline for submitting his proposal to Congress, the White House scheduled the budget's formal release for a week when Trump is conveniently thousands of miles away from Washington, having embarked on his first overseas trip as president.
The sales pitch has fallen to Mulvaney, and that's not altogether inappropriate. He is, after all, the director of the Office of Management and Budget, and the job has long had a public component: Previous budget chiefs testified before Congress and served as presidential surrogates in the media. Mulvaney has always relished the spotlight, making him a natural fit for a highly-visible role. But the significance of his involvement is more as the budget's author than its messenger. When Trump picked the South Carolina conservative to lead his budget team, the question was whether Mulvaney would succeed in pulling the ideologically-agnostic president to the right. With the release of Tuesday's deep-cutting proposal, the answer appears to be a resounding yes.