The Phantom Infrastructure Proposal in Trump's Budget
The president promised to pour $1 trillion into rebuilding the nation's roads and bridges. His proposal sets aside just $200 billion, with the details still to come.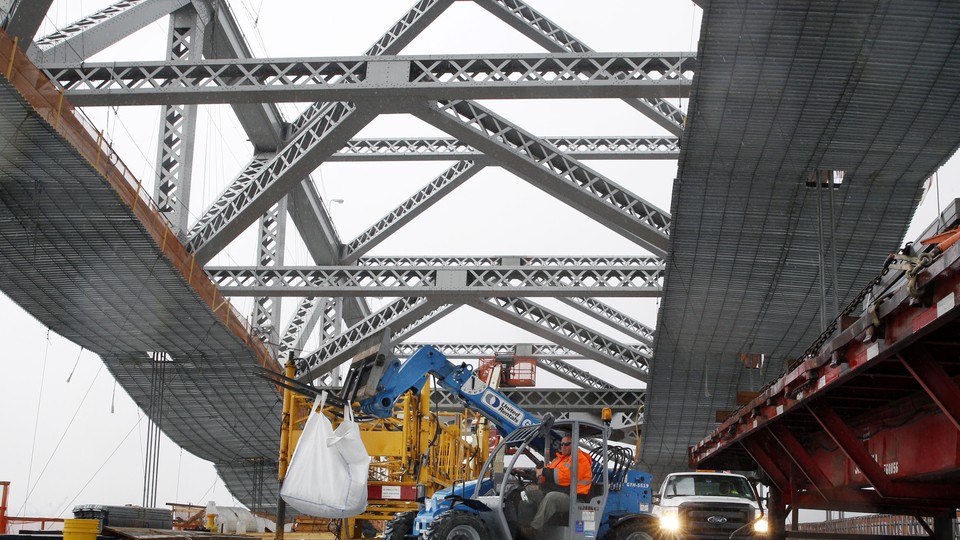 For the first time, the White House has put into writing an outline of President Trump's long-promised and often-hyped plan to pour as much as $1 trillion into rebuilding the nation's infrastructure.
It did not leave Trump's would-be negotiating partners impressed.
The president's budget proposal sets aside just $200 billion for infrastructure over the next 10 years while vowing to meet Trump's much higher target by incentivizing private development and clearing the way for projects that the Obama administration nixed over environmental concerns, most notably the Keystone XL pipeline. Yet the White House simultaneously called for slashing the budget for existing infrastructure programs at the Department of Transportation (by more than 12 percent) and the Army Corps of Engineers (by more than 16 percent), which Democrats said would cancel out the impact of Trump's promised investment.
"It's crap," declared Representative Peter DeFazio of Oregon, the top Democrat on the House Transportation and Infrastructure Committee. In a phone interview on Tuesday, DeFazio called the Trump budget "an ideological polemic" that would return to the states the burden of connecting the nation's vast transportation network. "None of this is a solid plan to increase long-term funding for investment in transportation infrastructure."
Senate Democrats released an analysis showing that the Trump budget actually contained a net cut to infrastructure programs, reducing federal outlays by $145 billion over 10 years. Those include cuts to Amtrak, the Highway Trust Fund, eliminating TIGER grants, and a number of other reductions.
Democrats have slammed Trump's entire budget proposal, and many of its proposed cuts are unlikely to win support even in the Republican-controlled Congress. But the furious criticism of his infrastructure outline dampens hopes for action on one of the few areas where Trump's campaign promises aligned with Democratic priorities.
"President Trump's campaign promises on infrastructure are crumbling faster than our roads and bridges," Senate Minority Charles Schumer said in a statement, noting that the White House had ignored a $1 trillion proposal Democrats had sent earlier this year. "Democrats stand ready to work with President Trump to create jobs," Schumer said, "but will stand united in opposition to the types of dangerous cuts we see today."
The builder-turned-politician has been beating the drum on infrastructure since his debut on the campaign trail, when he vowed to rebuild "our roads, our bridges, our airports." When Hillary Clinton offered up a program that would have topped out at $500 billion, Trump said he would more than double it. But Trump's enthusiasm for the issue has never been matched by Republicans in Congress, who only begrudgingly added infrastructure to their list of priorities at the beginning of the year.
Led by budget director Mick Mulvaney, the conservative spending hawks who drafted Trump's blueprint appear to have further curtailed his ambitions. "Simply providing more federal funding for infrastructure is not the solution," the budget proposal reads.
Advocates outside Congress received the president's outline with a bit more diplomacy, holding out hope that a more detailed proposal from the White House expected later in the year would jumpstart bipartisan talks. But they, too, were underwhelmed.
"We would like much more," said Marcia Hale, president of the advocacy group Building America's Future. She said there was widespread support for using tax incentives to spur private development, but not as a substitute for federal spending on projects that could not get funding anywhere else. "We are also for using the private sector to leverage money, but the need in the country is so great that the $200 billion number is not going to do it."
The American Society of Civil Engineers, an industry group angling for more infrastructure spending, has given the U.S. a D+ in its annual report card and says that together, federal, state, and local governments need to spend many times more than what Trump is proposing to meet the nation's economic needs.
"It's actually $200 billion a year," said Brian Pallasch, the group's top lobbyist. "We're trying to figure out how that $200 billion is going to become $1 trillion," he said. "We're trying to better understand how that money can be leveraged. I'm not sure I quite understand it yet."
Trump administration officials have argued that incentivizing development rather than paying for it directly is a fiscally-prudent, market-oriented approach to accomplishing the shared goal of modernizing roads, bridges, and airports. And they've defending cuts to current programs as helping to pay for new investments. But Pallasch and Hale said the targeted programs were popular and effective. "I think they were going everywhere to cut money to balance the budget," Hale said.
Advocates took some solace that the administration earmarked the money it did for infrastructure, signaling that it had not fallen completely off Trump's agenda. But the modest dollar amount suggested that in a White House dominated by conservatives and devoted to budget-cutting, the president's $1 trillion campaign promise never really stood a chance.