Congress Totally Ignored Trump's Cuts to NIH Funding
The president has proposed slicing billions of dollars from the premier research agency. Even his allies on the Hill are proposing billions in additional spending.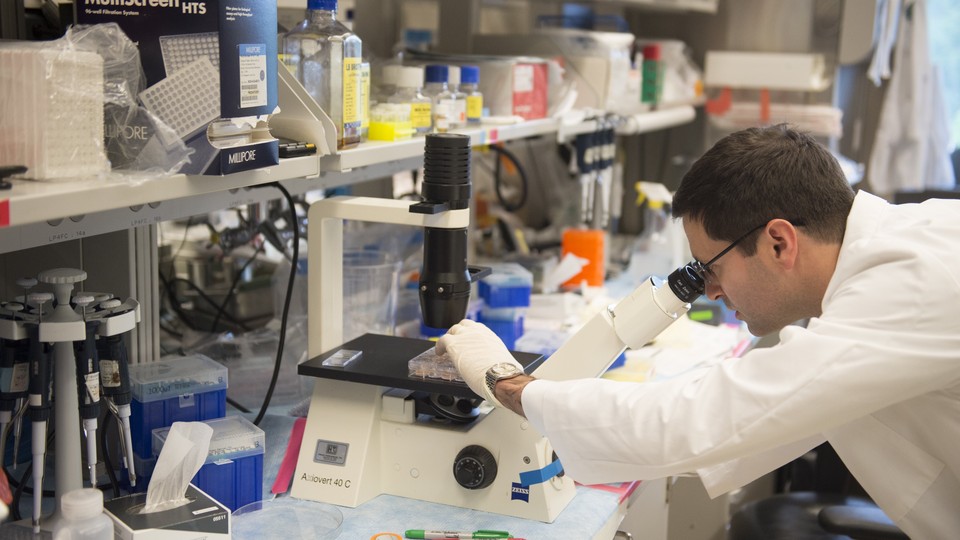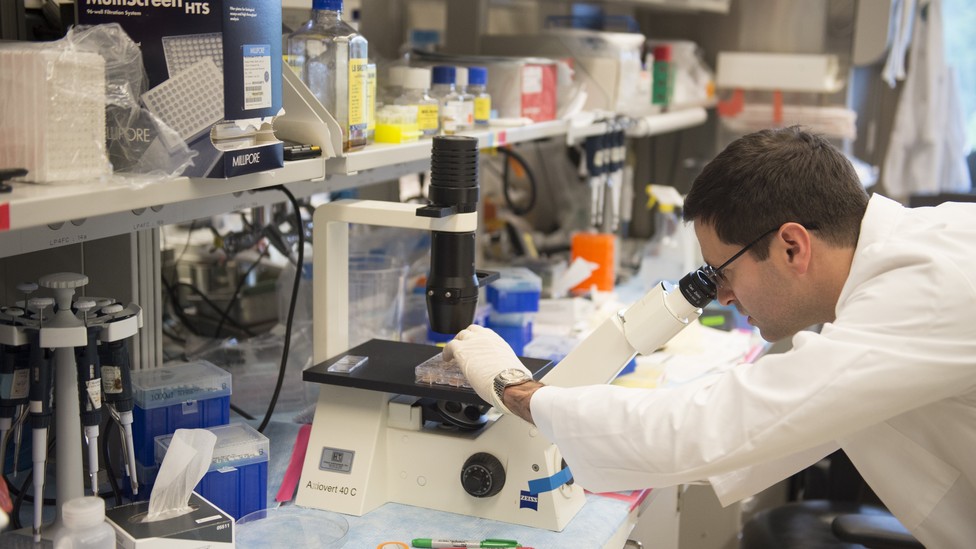 From the start, it didn't seem likely Republican lawmakers would agree with President Trump's proposed cuts to the National Institutes of Health. Even some of the most conservative legislators had worked in recent years to increase the agency's funding, and the White House figures represented a dramatic reversal of that effort.
With the release of their budget agreement for 2017, lawmakers have demonstrated how little they cared for the administration's plans for NIH. The omnibus, which spells out funding between now and the end of this fiscal year, allocates an additional $2 billion to the agency. That figure represents a rebuke of the president's cuts. But it also lets lawmakers continue to do what they wanted all along: to replace a recent pattern of boom-and-bust funding with steady funding increases year after year.
Trump's numbers were never going to be final, as Congress holds the purse strings of the federal government and presidential budgets aren't often taken as gospel. Yet the cuts were nevertheless unnerving to the biomedical-research community, whose livelihoods, work product, and ability to recruit and retain scientists depend on NIH. Between two White House spending proposals released this spring—notably the 2018 "skinny budget"—the agency would have seen its budget cut by roughly $7 billion. Trump proposed slicing $1.2 billion for fiscal year 2017—primarily from research grants—and an additional $5.8 billion in the next fiscal year. The latter reduction in particular would have significantly hampered the agency's ability to finance science around the world; it represents nearly 20 percent of the total NIH budget.
Research advocates quickly came out against the 20 percent slice, which the Trump administration said would zero out "inefficiencies."
"Drastic cuts to the National Institutes of Health budget run counter to the priorities of our nation, national security and the aspirations of Americans," Research!America President Mary Woolley said in a statement at the time.
Lawmakers who've supported funding increases were similarly displeased. Tom Cole, the Oklahoma congressman who chairs the House subcommittee with jurisdiction over NIH funding, called the cuts "very short-sighted," citing the cancer and infectious-disease research the agency supports. In a statement, Cole's Senate counterpart, Roy Blunt of Missouri, was quick to remind that it represented only the "first step in the appropriations process."
Meanwhile, Democratic lawmakers were given another chance to show how far apart they are from the president. An omnibus summary released Monday by Democratic leadership on the House Appropriations Committee seemed to needle Trump: "This amount is $3.2 billion more than the Trump administration proposed for 2017 and $7.8 billion more than it proposed for 2018," reads one line about the $2 billion increase.
The budget bump "sends a clear signal that lawmakers on both sides of the aisle prioritize funding for medical research," writes STAT News's Lev Facher, who also reported a breakdown Monday of where the money is going:
The NIH funding hike includes an extra $400 million to research Alzheimer's disease and an additional $476 million for the National Cancer Institute. And it boosts spending on two of former President Barack Obama's big science projects: the Precision Medicine Initiative, which will get an increase of $120 million as it seeks to recruit volunteers for genetic testing and health tracking; and the BRAIN Initiative, which will get an extra $110 million to support work mapping the human brain.
This year is now the second in a row that NIH's budget could increase by $2 billion. In the late 1990s and early 2000s, the NIH was a favorite of congressional lawmakers, who doubled its budget over five years. But that enthusiasm didn't last, as other funding concerns—namely national security—took precedent. After roughly a decade of stagnant budgets, lawmakers began in 2015 to advocate for more agency money, and both they and NIH Director Francis Collins—a holdover from the Obama administration—have expressed support for slow and steady boosts to the budget over time.
Another increase could come NIH's way once Congress turns to next year's spending. In the meantime, the White House will release its full budget for 2018, fleshing out the proposals outlined in his skinny-budget blueprint in March. Lawmakers will be able to see then whether their spending increase has had any effect—or whether Trump will double down on his vision for NIH.