The 'Macron Leaks' Rebel in the Briefing Room
Jack Posobiec is the latest far-right media figure to join the White House press briefing.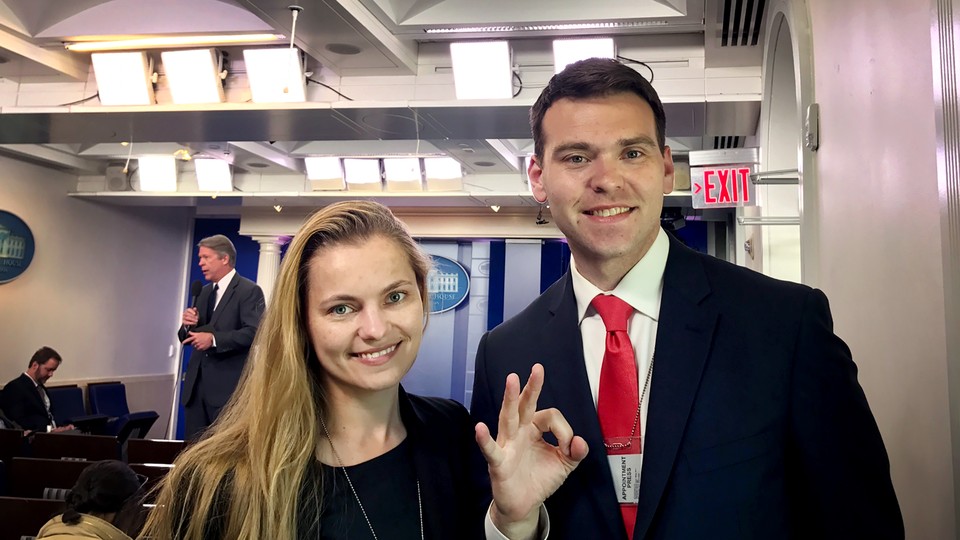 Jack Posobiec, the Washington bureau chief for a right-wing Canadian outlet called The Rebel, was coming off a big weekend. At 2:49 p.m. on May 5, Posobiec directed his 111,000 Twitter followers to the hacked emails that had bubbled up on 4chan: "Massive doc dump at /pol/," he tweeted. Posobiec was among a number of American alt-right internet personalities who amplified the hack, as French media largely refrained from reporting on its contents. France imposes a blackout on campaigning in the final 48 hours before the vote, and the French election commission warned the media not to cover the hack.
On Tuesday, Posobiec became the latest right-wing media figure to show up to the White House briefing room. It's been something of a trend ever since Donald Trump became president; Last week, it was Mike Cernovich, the "new right" blogger and tweeter. Gateway Pundit's Lucian Wintrich has been a semi-regular presence as well. Wearing a suit and a red tie, Posobiec stood holding a camera, next to Tay. He did not get a question in. He did send off a number of snarky tweets about the other reporters, who were mostly asking about former National-Security Adviser Michael Flynn, in the news again after Sally Yates' Senate testimony on Monday. "5th question on @GenFlynn from yet another press flack," Posobiec tweeted. "Some people here ask serious questions. Some people here act like children."
Posobiec told me afterwards that he was there on a daily pass issued by the press office and is applying for permanent credentials, also known as a "hard pass."
He plans to come to the White House "a couple times a week," he said. "I'm not sure if it's going to be every day, but we'll see."
Posobiec posed for a photo making the "OK" hand sign which has come to be associated with the alt-right, though it has a complex backstory in online troll culture.
Posobiec, best-known before the Macron leaks for creating a "Rape Melania" sign intended to smear anti-Trump protesters, says he's been inundated with media requests since the hack. The New Yorker turned out a mini-profile of him this weekend, as did Le Monde.
"Actually the guy from Le Monde was standing right here and was like 'I know who you are,'" he said. "I was like, 'OK, well you guys wrote about me, that's fine. Have a nice day, you guys can write whatever you want in your newspaper.'"
Posobiec said he'd caught wind prior to the hack that something big was coming.
"Earlier in the week there had been that Macron Gate thing," he said, referring to documents purporting to show evidence tying Macron to tax evasion in the Cayman Islands, posted on 4chan's /pol/ board. The user who posted those, Posobiec said, had also said to "stay tuned tomorrow because there's going to be something big coming out." Posobiec said he doesn't know the identity of the person who first posted the leak.
Posobiec stayed glued to the computer, waiting for whatever it was to drop.
"I pretty much just sat there for the better part of my day hitting refresh on the site waiting to see if anything else came out," he said. When it did, he tweeted.
He then attended Cinco de Milo, a party in Miami for the disgraced former Breitbart tech editor Milo Yiannopoulos. It wasn't until later in the night that the story blew up. Posobiec is not the only member of his particular corner of the Internet to have cottoned on to the story early; the notorious troll Charles C. Johnson did too, since "Chuck goes on pol as well so I know he saw the link as soon as it went up on pol," Posobiec said. So did William Craddick from ZeroHedge, Posobiec said.
Posobiec knew it would be a big story.
"I expected it to be big, but then again I expect all my tweets to be big," he said.
The day before going to the White House, Posobiec went on Infowars and said that Macron, who met his wife Brigitte when she was a teacher at his high school, had been drugged from a young age to control his mind. "It may be a way that they found this guy very very young and they were using that to essentially turn him into a puppet, turn him into a marionette, and now they're plying him with drugs, keeping him drugged up and getting him to do whatever they want," Posobiec said.
Posobiec, who calls himself a member of the #SlavRight ("It just means we're Slavic and we're on the right"), was there with his fiancée, who goes by the name Tanya Tay. Tay told me she was from Eastern Europe, in the former USSR; when I asked further, she said she came from Belarus.
Researchers and officials have suggested evidence of Russian involvement in the Macron hack, which closely resembles the dump of Democratic emails that took place in the American presidential election and which intelligence officials said was perpetrated by Russia.
Posobiec went from the epicenter of one of the biggest stories in European politics to, shortly afterwards, one of the biggest in American politics. The day of Posobiec's debut at the White House, President Trump fired FBI director James Comey, a stunning turn of events that has engulfed the news cycle and raised serious questions about the future of the FBI's investigation into links between the Trump campaign and Russia. Posobiec, again, saw an opportunity.
"Told you there'd be big news today :^) #Comey," he tweeted, after suggesting he had been "tipped off."
Later, Posobiec tweeted from outside the FBI building in Washington: "Under new management."