The Looming Clash Between Trump and Republicans on Taxes
The White House and congressional leaders disagree on a key question: Should tax reform add to the federal budget deficit?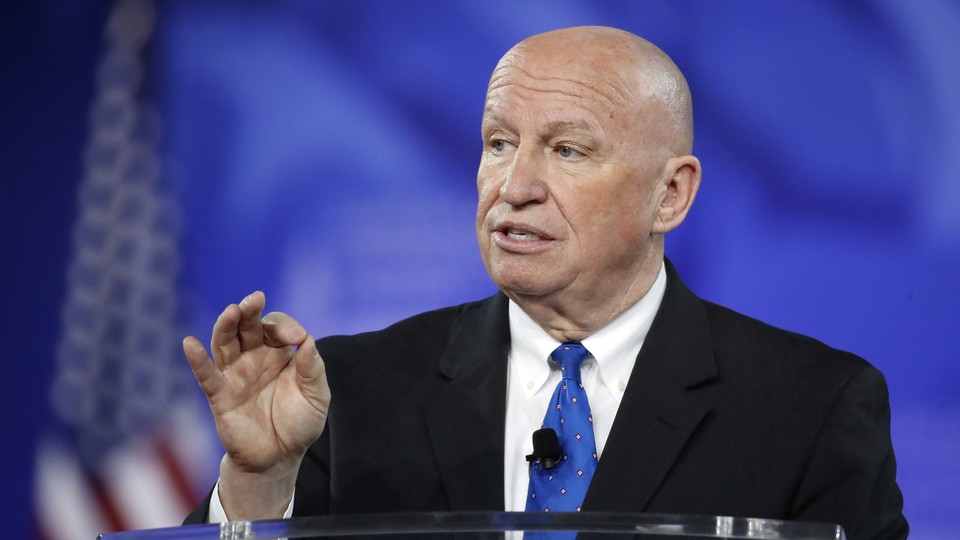 When the White House released President Trump's one-page sheet of principles for tax cuts, Republican leaders in Congress said it would serve as a "guidepost" for their efforts to overhaul the tax code.
Not even a week later, the GOP is already veering off the Trump trail.
Trump is prioritizing steep rate cuts for businesses and individuals that wouldn't necessarily be offset by increases elsewhere. The resulting spike in the long-term deficit—which fiscal policy analysts predicted could total several trillion dollars—would likely force Congress to make them temporary in order to comply with budgetary rules allowing Republicans to avoid a Democratic filibuster.
That's not what Republicans on Capitol Hill had in mind.
Leaders of the tax-writing House Ways and Means Committee emerged from a two-day summit on Monday intent on drafting legislation that would clash with the president's plan in key areas. They would rewrite the tax code without an expiration date, and they have recommitted to a hotly-contested levy on imports—known as the border adjustment tax—that could raise about $1 trillion in revenue over a decade to pay for cuts elsewhere. "We're committed to permanence," said Representative Peter Roskam of Illinois, who leads the panel's subcommittee on taxation. "We're committed to making sure this is paid for, and we're committed to making sure we win this great debate and persuade others as well."
The lawmakers' desire for a plan that does not add to the deficit beyond the 10-year congressional budget window also means that the GOP is unlikely to cut the corporate tax rate as deeply as Trump wants. His page of principles calls for reducing the top corporate rate to 15 percent from its current 35 percent; Speaker Paul Ryan's "A Better Way" agenda proposed a 20 percent rate for large businesses. There are differences in the individual rates as well: While both plans call for collapsing the current seven brackets into three, Trump would keep the top marginal rate (35 percent versus 33 percent) slightly higher than Ryan would, while making the bottom rate a bit lower (10 percent versus 12 percent).
As they have on health care, Republicans are constrained on tax reform by their narrow majority and by the Senate's complex procedural rules (much to President Trump's recent chagrin). Democrats have vowed to oppose their efforts for sweeping tax cuts, and in order to avoid the 60-vote threshold to defeat a filibuster, Republicans want to use budget reconciliation to pass a tax bill with a simple majority of 51 votes. (They control 52 seats.) But that procedure forbids legislation from adding to the deficit after 10 years, leaving GOP leaders with two unappetizing choices: Offset the tax cuts with increases that might be politically unpopular, or set the policy to expire after a decade as the party did in enacting tax cuts under President George W. Bush in 2001.
Keeping the tax cuts temporary might make them easier to pass, but House Republicans believe that would dull their impact, because businesses would be less likely to stimulate economic growth with more long-term investment if they knew their taxes might go up again a few years later. "That's the feedback that we got over the past several years," Roskam said. "Companies would say to us, 'Look, you want to drive behavior? Make sure that this is permanent, or make sure that this is far enough out so that we're able to pursue it.'" One idea drawing interest in GOP circles lately would try to split the difference between a temporary, 10-year tax cut and a permanent overhaul. As The Wall Street Journal reported, senators have talked about extending the budget window to 15, 20, or even 30 years, so that a tax cut that added to the deficit over that length of time could still pass muster under the reconciliation rules.
But that gambit presumes 51 senators in a party that has called for balanced budgets for the last decade would want to pass legislation that would add trillions to the national debt—and change the Senate's longstanding rules to do it. With the current deficit at $500 billion and projected to grow larger in the coming years, the fiscal situation is starkly different now than it was in 2001, when Republicans had the luxury of a budget surplus and argued they were simply returning money to taxpayers.
Already, the pesky question of the deficit and debt is becoming a key point of division among Republicans in and out of Congress. Supply-side economic conservatives have urged the GOP to ditch its preoccupation with ensuring its tax plan does not add to the budget shortfall. "Revenue neutrality should not be the focus," David McIntosh, the president of the Club for Growth, said in a statement last month praising the Trump administration for its break with the House GOP. "We should not merely shift the tax burden around to keep the same amount of tax dollars flowing in to the federal government." The White House position won an important win when Senator Orrin Hatch of Utah, chairman of the Finance Committee, said last week that he was open to a plan that increased the deficit in the short term. Representative Mark Meadows of North Carolina, chairman of the House Freedom Caucus, has taken a similar position.
Republican tax-writers on the Ways and Means Committee, however, remain unbowed. Asked by a reporter on Sunday whether he was still committed to the concept of revenue neutrality, Roskam replied: "Look at my eyes." The GOP has already moved to the right on the deficit question by changing the way the fiscal impact of their plan will be judged. Congressional score-keepers on the Joint Tax Committee will now assess the legislation by factoring in its projected impact on the economy—a method Democrats consider dubious and a way to mask budget-busting tax cuts.
True to form, House Republicans are trying to minimize their disagreements with the White House. "The good news is that the Trump plan and the House plan share 80 percent commonality," said Representative Kevin Brady of Texas, the chairman of the Ways and Means Committee. "We have to work to narrow the differences between the rest." He acknowledged that the White House's suddenly hands-on approach to tax reform—which reportedly stems from its frustration with Ryan's handling of health care—has set back the committee's original timetable for action. Brady had hoped to begin hearings in April and send a bill to the House floor sometime this spring, but he will now wait for the Trump administration and Republicans in Congress to try to agree on a single plan first. The GOP has also abandoned its initial goal of pass tax reform by the August congressional summer recess; it is now eyeing the end of the year.
But even that is looking overly optimistic. Bridging a 20 percent gap between like-minded policymakers might not seem like a lot, but in a project as complex as rewriting the nation's Byzantine tax code, there's a devil in every detail. Differences on even 1 or 2 percent of a legislative proposal can doom it to failure. Lawmakers will face pressure from lobbyists representing just about every industry in America, who will seek to protect the hundreds of preferential loopholes Congress has enacted in the 30 years since it last undertook comprehensive tax reform. The GOP's main revenue-generating proposals—House's border adjustment tax and the White House's floated elimination of the deduction for state and local taxes—have already run into significant opposition.
That's why it seemed as if Republican leaders greeted Trump's abbreviated tax proposal through gritted teeth. They wanted a partner to help push them up the hill, a president who would give them political cover and sell the public on the tricky tradeoffs required to deliver on what Ryan and Brady have called a "once-in-a-generation opportunity." What they found instead, however, seems a lot more like a competitor.