The CBO Renders Its Verdict on the Republican Health-Care Bill
People with preexisting conditions could face sharply higher costs in some states if the legislation was enacted, the Congressional Budget Office reported Wednesday.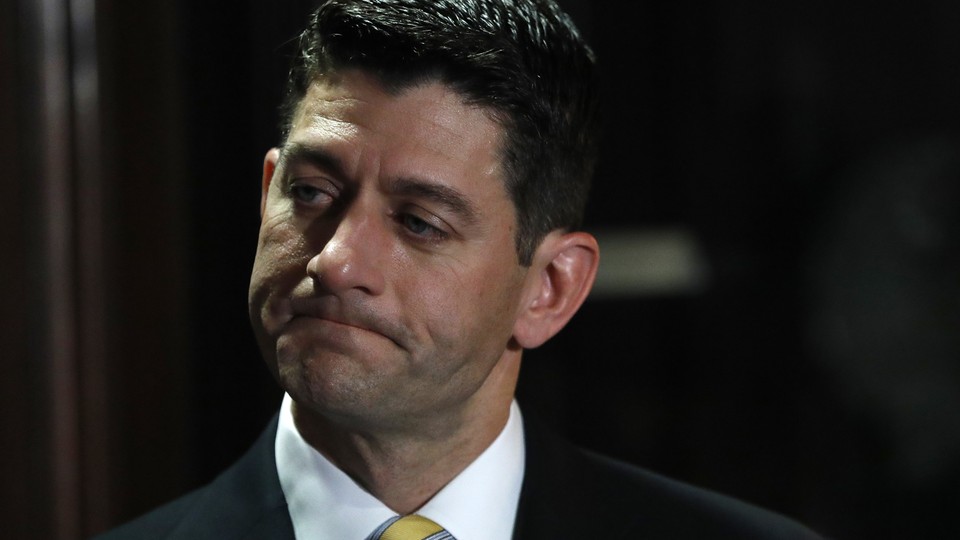 Updated on May 24 at 5:51 p.m. ET
The House-passed Republican health-care bill would leave 23 million more people uninsured over a decade and could dramatically increase costs for people with preexisting conditions in many states, the Congressional Budget Office projected in a highly-anticipated analysis released Wednesday afternoon.
The new report is likely to exacerbate the political backlash against Republicans who voted for the party's replacement for the Affordable Care Act without an updated estimate of its impact. It will also factor heavily into the deliberations on health care in the Senate, where Republicans decided to start from scratch rather than try to fix an unpopular House bill that many of them consider deeply flawed. The top-line numbers in the report from the nonpartisan congressional scorekeeper changed little from an earlier version of the American Health Care Act, which the CBO said would have resulted in 24 million fewer people having insurance after a decade and an initial increase in the cost of coverage premiums.
But that analysis did not account for several significant changes Republicans made to the bill in order to secure more votes, including amendments that weaken federal protections for people with pre-existing conditions. Once the GOP leadership locked in the 216 votes it needed for a majority, Speaker Paul Ryan did not want to risk losing support while waiting for a new CBO score—a highly unusual move for such far-reaching legislation and one that drew condemnation from Democrats and independent policy analysts.
The most consequential revision Republicans made was to allow states to obtain a waiver exempting them from federal requirements that insurers cover a range of essential health benefits and a prohibition on charging higher premiums to people with preexisting conditions. The CBO's task was to project how many states might take advantage of that flexibility, and what it would mean for insurance coverage and costs. The budget office estimated that about half the population lives in states—controlled by Democrats, presumably—that would not seek a waiver and adhere to the Obamacare regulations. In those states, average premiums would fall by a modest 4 percent. About one-third of the population lives in states, the CBO projected, that would opt out of some but not all of the requirements, and average premiums would fall by about 20 percent, with sharper drops for younger people and less change for older.
The biggest changes, however, would occur for the remaining Americans in states that obtained the maximum exemptions from the federal insurance standards. While the average premiums would go down overall, they would vary significantly based on health status and the types of benefits they provided. "Less healthy people would face extremely high premiums, despite the additional funding that would be available under H.R. 1628 to help reduce premiums," the CBO wrote. "Over time, it would become more difficult for less healthy people (including people with preexisting medical conditions) in those states to purchase insurance because their premiums would continue to increase rapidly." In those same states, the individual health insurance market would become unstable beginning in 2020, in part because people with higher medical costs would be unable to afford comprehensive insurance plans.
Democrats found validation in the findings, which backed up their warnings that the GOP bill would benefit younger, higher-income people at the expense of older and sicker Americans. "If you are sick, if you have ever been sick, you are at risk of losing your health care," Senator Chris Murphy of Connecticut told reporters. "That's plainly what CBO says."
The fresh projection did bring relief to Republicans in one respect: The CBO found that the House-passed bill likely complied with budget reconciliation rules that it decrease the deficit after the first decade of enactment.  The AHCA would cut the budget gap by $119 billion over a decade, according to the report.
At its heart, the Republican bill is a sharp reduction in the scope of the federal government's role in health care. It cuts taxes on the wealthy that Democrats increased to pay for expanded coverage and benefits under Obamacare. And it reduces federal spending by about $1 trillion. An $834 billion cut to Medicaid and another $276 billion in lower subsidies accounts for the lower spending, overcoming the loss of $664 billion in revenue through tax cuts and another $210 billion in penalties from the repealed insurance mandate.
A finding that the AHCA increased the deficit would have fatally doomed the bill in the Senate, forcing House Republicans to make more revisions and hold another vote to comply with the complicated legislative procedure they initiated to circumvent a Democratic filibuster and pass their bill with just a simple majority in the Senate. In another unusual move, Ryan held the measure in the House for weeks after it passed while waiting for confirmation from the CBO that it contained sufficient deficit reduction. Democrats on Wednesday said they were still looking at the score to see if it fully complied with reconciliation rules, which require that deficit savings come from the jurisdictions of separate congressional committees.
The speaker told reporters on Tuesday that he did so "out of an abundance of caution" while noting that CBO can be unpredictable. "We have every reason to believe we're going to hit our mark," he said. The most recent CBO report in March found that the GOP bill would have reduced the deficit by $150 billion, leaving Republicans plenty of room to maneuver. They added only $8 billion in new spending to boost support for people with pre-existing conditions earlier this month, but policy analysts warned that late changes allowing states to opt out of Obamacare's insurance regulations—which won the crucial support of conservatives—could lead to a much greater drain on the federal budget.
Republican supporters of the AHCA have tried to sidestep the impact of the CBO's findings throughout the process, either by disagreeing with its assumptions or cherry-picking more favorable parts of its analysis. They dismissed its core projection that the bill would cause a spike in the uninsured rate, arguing that it was a predictable result of repealing Obamacare's mandate that all Americans purchase insurance. In response to the report on Wednesday, Ryan highlighted its deficit findings and ignored those for insurance coverage. "This CBO report again confirms that the American Health Care Act achieves our mission: lowering premiums and lowering the deficit," he said. "It is another positive step toward keeping our promise to repeal and replace Obamacare."
Democrats, however, were relishing Wednesday's release with all the excitement of a wrestler about to body-slam his opponent—for a second time. The CBO's confirmation of coverage losses resulting from the AHCA will be plugged into attack ads that Democrats run against Republican incumbents in the House, perhaps as soon as in the special election the party hopes to win in Georgia next month. "This morally bankrupt bill will cause incredible pain for hardworking Americans, and that's why it's passage will haunt every single House Republican through Election Day," said Tyler Law, a spokesman for the Democratic Congressional Campaign Committee.
Republicans have made lowering premiums a priority of their effort to replace Obamacare, and they were hopeful that the CBO would score their amendments allowing states to opt out of the law's insurance regulations as a savings on the cost of an average health-care plan.  They have acknowledged the potential political cost of passing legislation that, polls show, is backed by only about one-fifth of the public. But they argue that action is necessary to fix an individual insurance market that GOP lawmakers and President Trump have said is "collapsing." Republicans seized on the announcement Wednesday that Blue Cross Blue Shield would exit the market in Kansas City, leaving parts of Missouri and Kansas without an insurer on the Obamacare exchange. Democrats, however, have accused the Trump administration of sabotaging the law by refusing to guarantee future payments of subsidies that insurers need to make a profit.
The practical ramifications of the CBO's latest report were more limited than its immediate political implications. The House bill, as written, will not become law. Whatever proposal the Senate comes up with will have significant differences and will need a separate assessment by the CBO before a vote. Then either the House would have to accept that version, or the two chambers would reconcile the differences in a conference committee. And whether McConnell can get 50 out of his 52 members to agree on any health-care bill is unclear.
Though the Republican conference as a whole and a smaller working group of 13 members have been meeting on the issue multiple times a week, the majority leader and other senior members have been skeptical about their prospects for success. "I don't know how we get to 50 [votes] at the moment. But that's the goal," McConnell told Reuters on Wednesday. After the CBO score arrived, Senator Lindsey Graham offered a more ominous suggestion: that the GOP should abandon its legislative efforts until the law fell of its own weight. "With today's news," Graham tweeted, "the 'Collapse and Replace' of Obamacare may prove to be the most effective path forward.