The Ghost of Mike Flynn
The retired general's short tenure as national-security adviser continues to haunt the White House.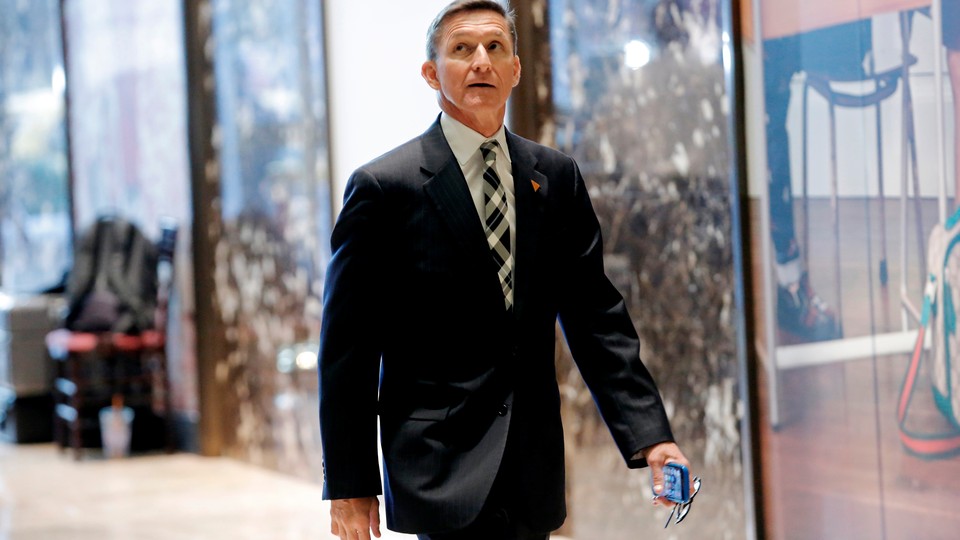 The ghost of Michael Flynn haunts this White House.
He only served as national-security adviser for 24 days. But Flynn propelled Donald Trump's fledgling presidency into a constant state of accelerating crisis. Some of the key events of the last two weeks—the firing of FBI Director James Comey, Trump's reported ask to Comey to stop investigating Flynn—lead back directly to the melodrama of Flynn's brief tenure.
And the Flynn shoes have continued to drop, one after another: Last week, the Senate Intelligence Committee issued a subpoena for documents related to Flynn's contact with Russian government officials. NBC News reported on Wednesday evening that Flynn and former Trump campaign chairman Paul Manafort are now subjects of a criminal investigation as part of the FBI's probe into Russia's interference in the 2016 election.
Also on Wednesday night, a New York Times story revealed that the Trump transition team knew Flynn was under federal investigation for his clandestine lobbying work for the Turkish government even before Trump's inauguration. And McClatchy reported that Flynn, before the inauguration, was looped into the Obama administration's plan to partner with Kurdish forces to retake Raqqa—and told them to delay it, which happened to align with the wishes of his Turkish clients. Then on Thursday, Yahoo reported that Flynn told friends late last month that Trump had reached out to him with a message: "Stay strong."
Trump has exhibited a remarkable amount of loyalty to Flynn, despite ultimately firing him. Flynn's ouster came a full 18 days after the acting attorney general at the time, Sally Yates, warned the White House that his talks with Russia made him susceptible to blackmail. Trump was "stampeded into" firing Flynn, said Roger Stone, a longtime Trump confidant who is himself under scrutiny in the Russia probe.
"I think he likes Flynn, and he thinks he did him a disservice," Stone said. "On the other hand we don't know what Flynn has done, if anything, in addition to the things we know."
"They got so close during the campaign," said a senior White House official who was brought on by Flynn and has stayed after his departure. When Flynn left, "the real person who probably took it hardest was the president because General Flynn was the person closest to him on national-security matters."
Flynn was asked to resign on February 13 after it was publicly revealed that he had lied about his contacts with the Russian ambassador, including to Vice President Mike Pence, who had gone on television defending him. He was replaced by H.R. McMaster, a decorated and respected general who cleared out some Flynn appointees but kept others on the National Security Council.
But Flynn has continued to percolate around the edges of this administration. On March 31, his lawyer Robert Kelner released a statement saying that Flynn would testify in exchange for immunity. "General Flynn certainly has a story to tell, and he very much wants to tell it, should the circumstances permit," Kelner wrote.
Trump "has questioned whether he should have fired Flynn," a source close to the White House told The Atlantic last week. "They don't know what Flynn's going to say."
Flynn had joined the campaign at a time when many other Republicans were still steering clear. He wholeheartedly embraced Trumpian politics, famously leading a "lock her up" chant at the Republican convention. Flynn had come on to advise the campaign during the primaries, and was even considered for the running-mate slot.
In some ways, it was an unlikely relationship; Flynn had been a registered Democrat, and although he had had a long and storied career in the military, he had left under less-than-stellar terms after then-President Barack Obama dismissed him from his post as head of the Defense Intelligence Agency.* In recent years, Flynn had shown a tendency toward Islamophobic sentiment and a weakness for conspiracy theories. But Trump's affinity for Flynn appears to have been unshaken. Trump has shown a fondness for generals, and has picked several for his administration: Secretary of Defense Jim Mattis, Secretary of Homeland Security John Kelly, and, after Flynn was given the boot, McMaster.
The Trump people can't say they weren't warned. (Indeed, Obama is reported to have explicitly warned Trump not to hire Flynn in a meeting during the transition.) "We all knew Flynn had issues," a senior White House official told me last month. During the transition, Flynn became a frequent story, especially when news outlets discovered his son's Twitter account which pushed Pizzagate conspiracy theories and interacted with figures on the alt-right.
By the time he was appointed, the transition team had been made aware of the FBI investigation, according to the Times. Flynn's  paid trip to a Russia Today gala at which he dined with Vladimir Putin was known at that point.
"You have to admit that taking half a million dollars from the Turks or meeting with the Russian ambassador does not sound very savvy," Stone said.
Flynn's ouster, and the ascension of McMaster, led to some changes on the National Security Council: Some Flynn hires were moved elsewhere, and Deputy National-Security Adviser K.T. McFarland is expected to leave soon for the ambassadorship to Singapore. But others have stayed, and they are integrating.
"The president certainly misses General Flynn and of course he didn't want him to resign but I think he's pretty happy with H.R.," the senior White House official said, adding that Trump is pleased that McMaster had been "been front and center" and "put his reputation on the line" to defend Trump after an explosive Washington Post story this week revealed he had shared classified information in a meeting with Russian officials.
"Obviously the ongoing investigations and the interest in [Flynn] make it very hard from a public perspective to move on—but the institution has moved on," the official said.
Publicly, at least, it has. But it's clear that the Flynn story has not died, and may not anytime soon. Since Flynn's firing, there has been a series of negative leaks about McMaster and Deputy National-Security Adviser Dina Powell, a McMaster hire, to the far-right pro-Trump media. Flynn remains popular among the online Trump base, which includes his son Michael Flynn Jr.
Mike Cernovich, the "new right" blogger and tweeter (whose Twitter biography now identifies him as a "White House correspondent"), has written critically about McMaster. Cernovich has broken stories that were later at least partially confirmed by other outlets; his information appears to have come from sources either within or close to the White House. The notorious troll Charles C. Johnson's website GotNews cited two NSC sources in a negative story about McMaster just this week.
"Flynn still is beloved," Cernovich said. "Beloved by the base. The base wasn't happy when he was fired. Flynn was at all the Trump rallies. Jared wasn't; Ivanka wasn't."
He was circumspect about who within the White House may be leaking him information. "The only thing I would say is that my work stands on its own," Cernovich said. He said he uses burner cell phones to communicate with his sources. "Most of my sources, I don't know their names and I don't want to know their names."
As for Flynn himself, he seems to be laying low. After the report that Trump had asked Comey to stop investigating him, sources close to Flynn told Fox News that he had never asked Trump to intervene on his behalf.
Michael Ledeen, Flynn's co-author on the book The Field of Fight, said he had had lunch with Flynn recently and the topic of the investigation and related scandals didn't come up.
Ledeen said it's not clear what Flynn will do next.
"The current thing has to end first I think," he said. "All this nonsense about he's a Russian agent—that's nonsense. People just made it up."
What's clear is that the issue remains unresolved, and may for some time. Why is Trump so loyal? Despite his "you're fired" catchphrase, Trump is known not to enjoy sacking people. But the sheer number of Flynn-related scandals raises questions about just why the president ever brought him on board, let alone why he kept him even after the White House had been warned by Yates.
In the course of his lobbying work, though it wasn't disclosed at the time, Flynn wrote an op-ed about Turkey. Its final line offers one answer, and captures the siege mentality now on display at the White House: "In this crisis, it is imperative that we remember who our real friends are."
---
* This article originally identified Mike Flynn as director of national intelligence. We regret the error.