The Fight for Control of the Heritage Foundation
Jim DeMint's ouster has become the epicenter of a battle over the direction of the conservative movement.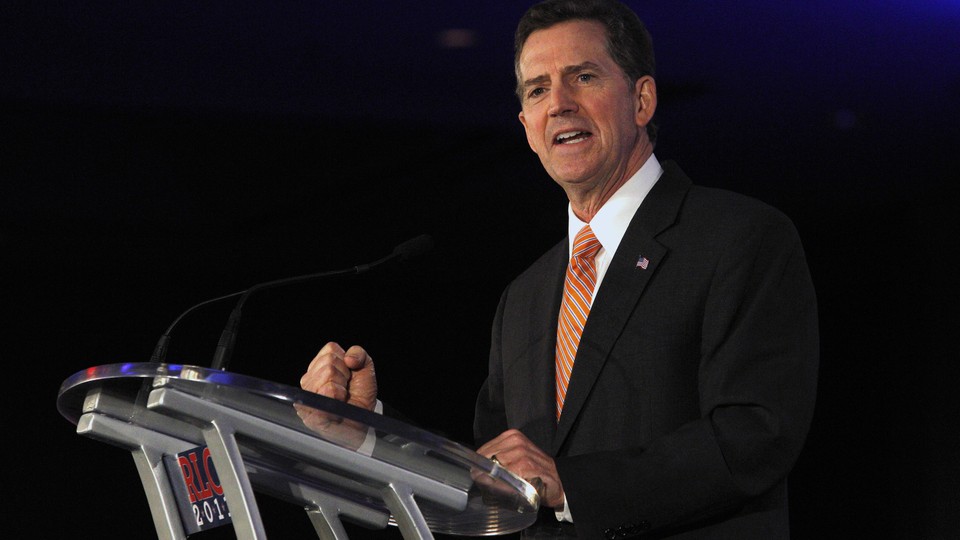 Updated 7:06 p.m.
The drama over the removal of the president of the Heritage Foundation, Jim DeMint, is partly classic Washington power politics. But it also reflects tensions over the organization's relationship with the Trump administration and with Trumpist ideology.
DeMint, the former South Carolina senator who has led the conservative institution since 2013, was ousted on Tuesday after a meeting of Heritage's board, which voted unanimously to remove him. News of DeMint's likely imminent departure was first reported by Politico last week.
In a statement released after a 4:30 p.m. staff meeting presided over by former president Ed Feulner, board chairman Thomas A. Saunders offered a starkly critical assessment of DeMint's tenure.
"After a comprehensive and independent review of the entire Heritage organization, the Board determined there were significant and worsening management issues that led to a breakdown of internal communications and cooperation," the statement read. "While the organization has seen many successes, Jim DeMint and a handful of his closest advisers failed to resolve these problems."
In its statement on Tuesday, Heritage announced that Feulner will be taking over the organization as it looks for a permanent replacement.
The driving force behind DeMint's ouster, according to multiple sources close to the organization, was Mike Needham, the CEO of Heritage Action for America, the organization's political arm. Needham, these sources say, made a power play to push DeMint out, and is appealing to both pro- and anti-Trump elements to accomplish it.
"Needham has been laying the groundwork for this for two years," said a source close to Heritage. "He's been badmouthing DeMint to board members for a long time. He's got his sights set on taking over the whole thing eventually." According to a senior Republican congressional aide, Needham has been "trashing" DeMint to board members and saying that people in the White House and Congress prefer to deal with him rather than DeMint.
Multiple people close to the situation called DeMint's ouster a "coup," and said the driving force behind it was not philosophical but old-fashioned ambition and power politics. "This is an old-as-time story," said one source.
But nowadays, it's difficult for a conflict like this on the right to unfold outside the context of ideological friction over Donald Trump and his nationalist agenda. Several people familiar with Needham's jockeying said he has successfully exploited the growing philosophical tensions on the American right—and, specifically, on the board of Heritage—to get his way.
To the Trump-averse elements on the board, Needham has pointed to DeMint's growing coziness with the new administration as evidence that the think tank, a beacon of movement conservatism, needs a new steward. At the same time, Needham has been telling pro-Trump board members like Rebekah Mercer that Heritage needs a leader who will follow the president's lead—even going so far as to float White House chief strategist Steve Bannon, a key Mercer ally, as a potential future president, according to one source.
Heritage's tolerance of Trump has sparked some criticism in conservative circles. As a 501(c)(3) nonprofit, the Heritage Foundation can't endorse candidates, but DeMint met with then-candidate Trump in March 2016 and avoided publicly criticizing him throughout the campaign. Heritage played a key role in guiding Trump's transition, helping to staff many administration posts.
"There are board members who think it got too political," said the senior congressional aide. Needham, the source said, has been doing some "pretty deft political maneuvering if you ask me. Telling each faction what they want and need to hear."
Needham, echoed another senior Republican congressional aide, is "basically telling different board members what they wanted to hear."
A Heritage employee concurred. "What I've learned is that Mike Needham will tell these board members whatever they want to hear as long as it gets them to be opposed to DeMint," the employee said.
Needham did not respond to requests for comment. On Fox News Sunday this weekend, he was non-committal when host Chris Wallace asked whether Bannon could take over after DeMint. "I can tell you there's a lot of speculation and rumor in the media that never misses a chance to divide and attack conservatives," Needham said.
Bannon also did not respond to a request for comment.
DeMint's dismissal will have immediate impact on the makeup of Heritage. As many as five DeMint loyalists including group vice president of communications Wesley Denton and group vice president for policy promotion Ed Corrigan are expected to depart the organization immediately, according to a former Heritage staffer with close knowledge of the situation, and more are expected to follow in the coming days and weeks. Denton and Corrigan did not immediately respond to requests for comment.
"I'm grateful to have worked with some of the greatest minds and talents in America and believe we've accomplished together what we set out to do," DeMint said in a statement released Tuesday evening. "The public statement released earlier is puzzling given that the board of trustees has praised our work for four years and approved performance bonuses for the entire management team each year for a job well done." DeMint's statement lists Heritage achievements under his tenure, saying "this is a record of which I am very proud, on behalf of myself, my management team and the many dedicated Heritage staff and members nationwide."
Meanwhile, DeMint's ouster is the source of a brewing backlash on Capitol Hill, where some conservatives are talking about boycotting the Heritage Foundation in solidarity with their former colleague. Much of Heritage's power is derived from its close ties to right-wing Republican lawmakers, who speak at the think tank's events, use its research to craft legislation, and coordinate with its political operatives. Several sources in Congress told The Atlantic that could soon change.
One prominent conservative senator, worried about Heritage's new direction, is cutting ties with the think tank for the foreseeable future, according to an aide. Another Senate source said Heritage staff are no longer welcome at Senate Steering Committee meetings or in several members' offices as a result of DeMint's ouster. Amid the upheaval, Heritage abruptly cancelled Monday's installment of a weekly meeting between conservative Congressional aides and Heritage staffers—a sign that the internal turmoil is already producing uncertainty.
Forty-eight congressional Republicans signed a letter in support of DeMint that was released on Monday night. The letter praises DeMint as a "leading advocate for America at its best" and laments that DeMint being "confronted by overwhelming opposition, bitter criticism, and nagging skepticism—not only from those who openly oppose your philosophical worldview, but occasionally (and quite painfully) from those who purport to embrace it." The letter treats DeMint's ouster as a fait accompli.
And the floating of Bannon's name, even if it wasn't done seriously, isn't going over well in some conservative circles, either.
"I would find it shocking if Mike would even promote Steve Bannon to lead that organization," said one senior Republican aide. "You would see a lot of conservative backlash. Bannon is overall a populist and I don't identify him as somebody who would be good in that situation."
"[Needham] could have easily tamped it down," said the Heritage employee. Floating Bannon, the employee said, "helps them with small dollar donors in the activist base, and I think it helps them quell a lot of the bleeding there. Because they're very upset about [losing DeMint]."
Inside the organization, there had been limited communication from leadership about the DeMint situation as it spilled into public view. An email was sent out to all Heritage staff on Saturday asking them to not talk to the media.
"A statement will be forthcoming with more information," read the email from Heritage's vice president for personnel, Wes Dyck. "In the meantime, I ask all of you to avoid speculation, especially outside the Heritage family or with the media. Further public speculation is not helpful to the cause we all share: advancing principled, conservative public policies for all Americans."
On Sunday, Dyck emailed Heritage management, re-forwarding the Saturday email and saying: "Just a reminder for your Monday department meetings, all of us should keep to the below email in our meetings and avoid engaging in speculation about the recent reports in the media. Please help your team to stay focused on the important work they are doing to advance our mission."
On Monday, sources expected DeMint's status to be resolved after Tuesday's board meeting. "I imagine he's exhausting his legal options and that's why they've been really quiet as an organization," said the senior Republican aide.
A spokesman for the Heritage Foundation didn't immediately return a request for comment.