The Campaign to Rehabilitate Sebastian Gorka
The White House aide, under fire for alleged links to a right-wing Hungarian group, was a hit at the Jerusalem Post conference—and he's had outside help.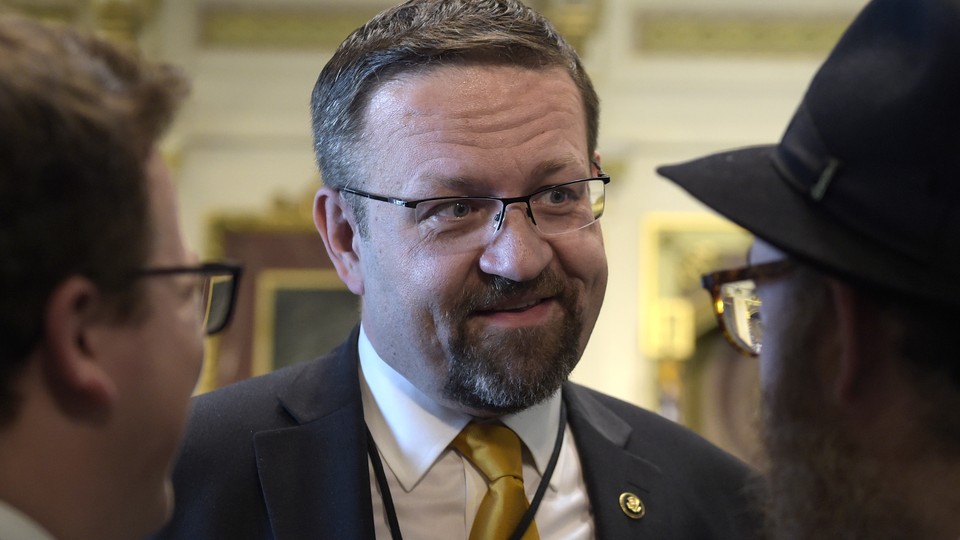 NEW YORK—Sebastian Gorka began his appearance at the Jerusalem Post Annual Conference by thanking his supporters.
"I'd like to thank everybody who has stood by me and this administration for the last 15 weeks," Gorka said. "Specifically, and I apologize in advance if I've forgotten you, but the two Davids, Ira, Bruce, Jeff, Mort, Joel, Noah, you know who you are, okay, especially thank you to Rabbi Billet, who wrote this Friday an amazing piece."
Gorka's appearance on Sunday, an onstage Q&A with the Jerusalem Post's editor Yaakov Katz, might seem surprising given everything that has transpired since he joined the White House. Gorka's image in the Jewish community has become, to say the least, fraught. He has been engulfed in controversy for weeks after a series of articles in The Forward raised questions about his connections to the right-wing Hungarian group Vitezi Rend, which had historical ties to Nazism. BuzzFeed News also reported that Gorka had been denied a Hungarian security clearance. A former Breitbart writer and author of a book called Defeating Jihad, Gorka had long lingered around the fringes of the Washington national-security scene before joining the Trump administration, with the title of deputy assistant to the president. Gorka's actual role at the White House has never been fully clear, beyond appearing on television and working for the Strategic Initiatives Group, the "internal think tank" whose purpose and nature has itself proved elusive.
Last week, it seemed as though the Gorka saga was drawing to a close, with multiple anonymously sourced news reports saying that he would be transferred to another federal agency. But Gorka is still in the White House, and a report on Friday in The Daily Beast indicated that his job may have been saved by the intervention of White House chief strategist Steve Bannon, to whom Gorka reports.
Gorka's appearance at the conference is part of a concerted effort to defend his image in the Jewish and pro-Israel communities, an effort that is being aided by several sympathetic voices outside the White House. It illuminates the extent to which Gorka has become a flashpoint for bitter intramural battles over who can accuse others, and be accused of, anti-Semitism. Pro-Gorka op-eds have popped up in the Jewish press as well as the conservative media, and Gorka is also speaking to the Christians United for Israel conference this summer. Rabbi Heshie Billet, who presides over a large Orthodox congregation on Long Island, this weekend wrote an essay for Algemeiner entitled : "End The Gorka Calumny."
Zionist Organization of America president Morton Klein, a prominent figure on the hard right of the pro-Israel community—and the "Mort" referred to by Gorka in his speech—has taken a leading role in these efforts.
"I met with him several times, once for almost an hour," Klein said of Gorka. "I called him, he did not call me. It was in response to the material that was being written about him."
Klein said he had spoken with two mutual friends: David Goldman, a columnist for PJ Media, and Jeff Ballabon, a Republican activist and lawyer.
"They told me how they know him and that this is a disgrace, he's a man who's on the side of Israel and the Jews," Klein said.
Both Ballabon and Goldman have written op-eds in defense of Gorka.
"I saw this happening and I started writing about it," Ballabon said. "I started writing about it because this is not the first time this has come up, this came up during the Bush years when the left would argue you should beware of people who like Israel because they're terrible scary evangelical Christians."
"I've gotten to know him very well," he said of Gorka.
Gorka, he said, is "collateral damage, an innocent bystander caught in what looks like an internecine Jewish war between the progressive Jewish left and more stable rational people."
Ballabon said he had not been asked to defend Gorka  by anyone in the White House, but that people in the White House had been "appreciative" of his efforts.
But Ballabon's co-author on one of the op-eds, activist and lawyer Bruce Abramson, indicated there had been slightly more outreach than that.
"I think we had initially been contacted by some people who knew the president, [had] been working with the president, who were concerned about the allegations coming out. They said it was all slander, so we started looking into it," Abramson said.
"I've met with [Gorka] at the White House," Abramson said. "Jeff knows some folks there."
"I did this sui generis without talking to him and without being asked to," Goldman said. Gorka reached out to him after Goldman wrote a column in his defense, Goldman said, and they had dinner in Washington together. Goldman was moved to act, he said, by his concern about the "politicization of anti-Semitism."
David Reaboi, a national security consultant who used to work for Frank Gaffney's Center for Security Policy and who has known Gorka for years, said he had moved to act because he had been "appalled" by the stories about Gorka. "The politics and the histories of Central Europe are complicated. Hungarian is a notoriously difficult language that very few speak. That—plus a venomous atmosphere of hyper-partisanship—creates the perfect storm for character assassination," Reaboi said.
On Sunday, Gorka was treated with a soft touch at the Jerusalem Post event. Katz opened by asking him directly about the Vitezi Rend stories—but didn't press when Gorka failed to directly address the allegations.
"I have spent my life fighting against totalitarian ideologies and so did my father," Gorka said.
No one, he said, had "ever found one sentence that I have said in the last 46 years that is anti-Semitic or anti-Israel."
Asked about reports that he would be leaving the White House, Gorka said "There's fake news and then there's very fake news" and "I will be there for as long as the president has use for me."
Gorka then spent most of the rest of the interview talking about "radical Islam."
Enthusiastic applause greeted Gorka as he took the stage, and at several points during the interview.
Gorka's defenders do not seem particularly bothered by his refusal to directly address the allegations regarding the Vitezi Rend.
"I think that there's no upside to him talking about it, he's an innocent bystander and to respond to it is to give some kind of credence," Ballabon said.
"What he has not allowed to happen, and I agree with this strategically, is he's not allowed himself to get dragged into a discussion of Hungarian history and the history of Hungarian politics," Abramson said.
"I think he should explain that maybe more thoroughly than he has," Klein said. "I can just tell you my friend David Goldman who's known him for a long time, tremendous Zionist, loves him and says he's great."
Gorka declined to comment. A White House spokesperson didn't immediately respond to a request for comment.