The Atlantic Politics & Policy Daily: Indefinite Article
During a speech at the NATO headquarters in Brussels, President Trump stopped short of explicitly endorsing Article 5.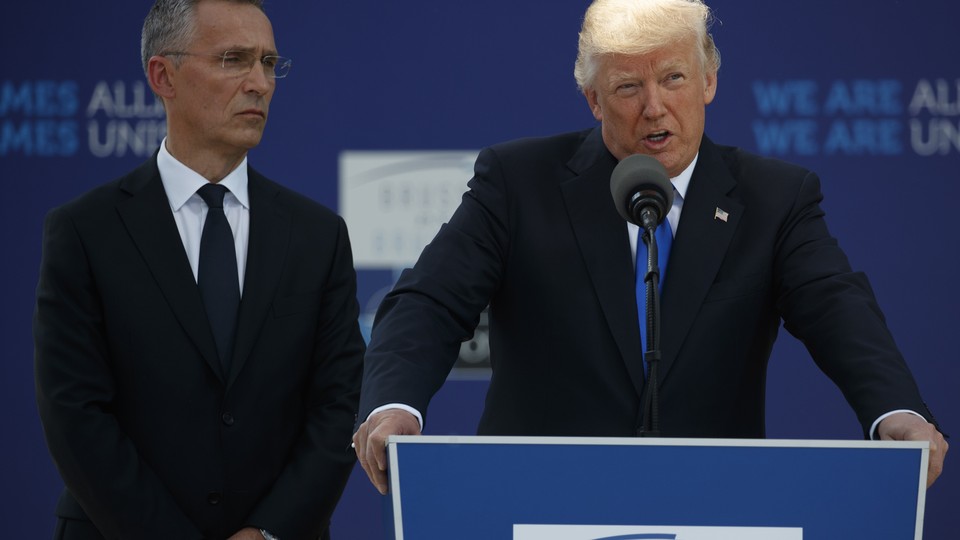 Today in 5 Lines
During a speech at the NATO headquarters in Brussels, President Trump spoke of "the commitments that bind us together as one," but stopped short of explicitly endorsing Article 5, which says that, when invoked, NATO allies must aid a fellow ally under attack. In a statement, Trump condemned "leaks of sensitive information," after the British government shared concerns that U.S. intelligence officers were disclosing confidential details of the investigation into the Manchester attack. A federal appeals court upheld a lower-court's injunction blocking Trump's travel ban against six Muslim-majority countries. Montanans are heading to the polls to vote in a special election to fill the House seat vacated by Ryan Zinke, who was sworn in as interior secretary in March. Earlier in the day, a local sheriff cited the Republican candidate, Greg Gianforte, for misdemeanor assault.
---
Today on The Atlantic
What Happens Now?: Thursday's highly anticipated special election in Montana was thrown into question after a Montana sheriff's office cited Republican candidate Greg Gianforte for misdemeanor assault. (Clare Foran)

Trump's Defender: President Trump tapped a longtime ally to represent him in the federal probe into Russia's involvement in the 2016 presidential election: New York attorney Marc Kasowitz. (Matt Ford)

The 'Deserving' Poor: Maine has become a bellwether for states considering adding working requirements to safety-net programs, reports Annie Lowrey. And the requirements "leave many individuals and families in extreme poverty, without anywhere to turn."
Follow stories throughout the day with our Politics & Policy portal.
---
Snapshot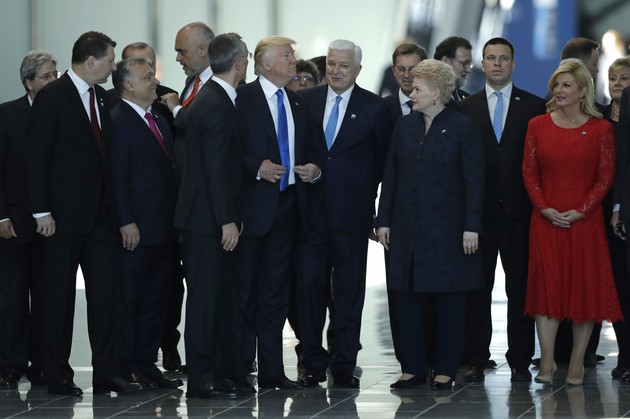 ---
What We're Reading
The CBO on Premiums: On Wednesday, the Congressional Budget Office projected that, under the American Health Care Act, 23 million more people would be uninsured by 2026. Here are the three most important lines from their report. (David Nather, Axios)
The Real Lesson From Montana: Anne Helen Petersen explains how the special election in Montana has been a master class in understanding "one of the most valuable, and increasingly rare, of political entities — the independent voter." (BuzzFeed)
So What?: Michael Flynn, Trump's former national-security adviser, refused to comply with a subpoena from the Senate Intelligence Committee, citing his Fifth Amendment privilege against self-incrimination. That doesn't mean he's guilty of anything. (Andy Wright, Politico)
Maggie's Magic: The New York Times' Maggie Haberman has emerged as one of the dominant White House reporters. Her coverage has become essential reading to understanding the president. "No matter what Haberman writes about Trump," writes Rachael Combe, "he has never frozen her out." (Elle)
Men and Maternity Coverage: Illinois Representative John Shimkus made headlines when he said he shouldn't have to buy maternity coverage in his health-insurance plan. But what his critics forget, argues Timothy P. Carney, is that there is a distinction between insurance and redistribution. (Washington Examiner)
---
Visualized
ACA vs. AHCA: These four charts show how the Republicans' new health-care bill differs from the Affordable Care Act. (Kim Soffen and Kevin Uhrmacher, The Washington Post)
---
Question of the Week
A photo of President Trump, Saudi King Salman bin Abdulaziz, and Egyptian President Abdel Fatah al-Sisi placing their hands on a glowing orb went viral, drawing comparisons online with comic-book villains and the Palantír from The Lord of the Rings. In 2015, a photo of German Chancellor Angela Merkel gesturing in front of a seated President Obama in Bavaria, Germany, was also shared widely on social media.
What moments do you remember from trips taken by past presidents?
Send your answers to hello@theatlantic.com and our favorites will be featured in Friday's Politics & Policy Daily.
-Written by Elaine Godfrey (@elainejgodfrey)