The Atlantic Politics & Policy Daily: Trump's Wish List
The White House released Trump's budget proposal, which includes significant domestic-spending cuts.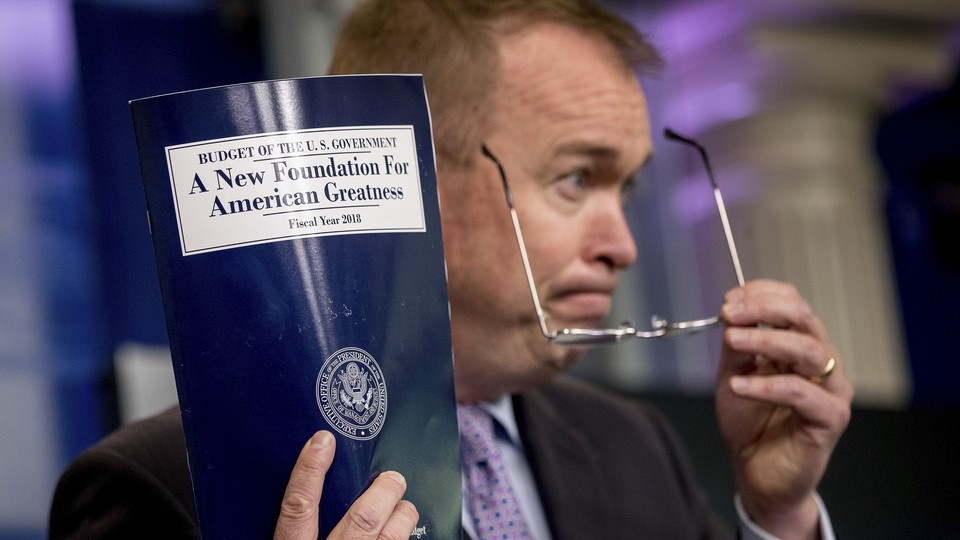 Today in 5 Lines
President Trump condemned a terrorist attack that killed 22 people at a concert in Britain's Manchester Arena, calling those responsible "evil losers" and encouraging countries to work together to "obliterate this evil ideology." Police identified the bomber as Salman Abedi, a 22-year-old British citizen. The Senate Intelligence Committee issued two new subpoenas directed at a pair of former National-Security Adviser Michael Flynn's businesses. The White House released Trump's budget proposal, which includes significant domestic-spending cuts and an increase in defense spending. Former CIA Director John Brennan told the House Intelligence Committee that he was concerned about interactions between people associated with the Trump campaign and Russian officials "because of known Russian efforts to suborn such individuals."
---
Today on The Atlantic
'Evil Losers': Uri Friedman explains why President Trump's use of a classic put-down is a compelling strategy against ISIS.

Pretty Vague: While in Israel, President Trump declared that Palestinians "are ready to reach for peace." But, writes Rosie Gray, he left the country without elaborating on the exact parameters of that deal.

Why They Came Down: Last Friday, New Orleans Mayor Mitch Landrieu gave a speech explaining why the city removed four monuments commemorating the Lost Cause and the Confederacy. "These monuments purposefully celebrate a fictional, sanitized Confederacy," he said, "ignoring the death, ignoring the enslavement, and the terror that it actually stood for." Read it here.
Follow stories throughout the day with our Politics & Policy portal.
---
Snapshot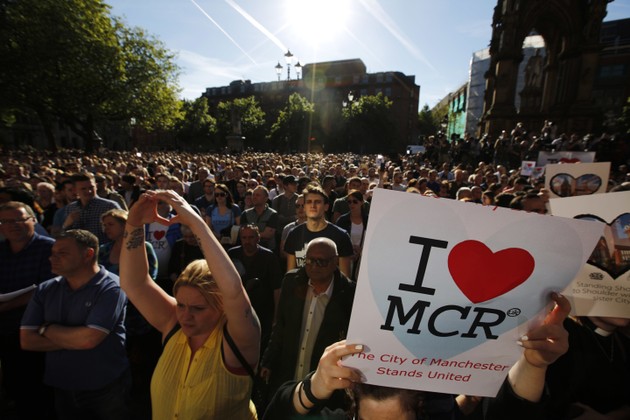 ---
What We're Reading
Health Care and Jobs: Donald Trump's presidency has changed the Democratic Party far more than it has changed the GOP, argues Ben Smith. As a result, Democratic leaders are preparing to follow through on promises Trump seems to have abandoned. (BuzzFeed)
'Warrior Monk': In an interview with The New Yorker, Defense Secretary James Mattis discusses his future hopes for the U.S. military, and shares what worries him most about his new role. (Dexter Filkins)
Battle in Big Sky Country: The special election in Montana is shaping up to be less of a referendum on President Trump and more of a test on "who is regarded as the more authentic Montanan." (Mark Z. Barabak, Los Angeles Times)
Canary in the Coal Mine: To get a sense of what health care might look like under Trumpcare, The Washington Post's Catherine Rampell suggests looking to Iowa, where the state's individual market is on the brink of collapse.
Welcome to 'Kushnerville': ProPublica spoke with residents of several Baltimore-area rental complexes who have serious complaints about their property owner. As it turns out, "their landlord is the president's son-in-law." (Alec MacGillis)
---
Visualized
Terror in Manchester: At least 22 people were killed in Monday's attack at the Manchester Arena. These charts show how the bombing compares to other recent attacks in western Europe. (Karen Yourish, K.K. Rebecca Lai, and Gregor Aisch, The New York Times)
---
Question of the Week
A photo of President Trump, Saudi King Salman bin Abdulaziz, and Egyptian President Abdel Fatah al-Sisi placing their hands on a glowing orb went viral, drawing comparisons online with comic-book villains and the Palantír from The Lord of the Rings. In 2015, a photo of German Chancellor Angela Merkel gesturing in front of a seated President Obama in Bavaria, Germany, was also shared widely on social media.
What moments do you remember from trips taken by past presidents?
Send your answers to hello@theatlantic.com and our favorites will be featured in Friday's Politics & Policy Daily.
-Written by Elaine Godfrey (@elainejgodfrey)