The Atlantic Politics & Policy Daily: At Least It's Friday
The New York Times reported that President Trump told Russian officials James Comey's dismissal eased "great pressure" on him.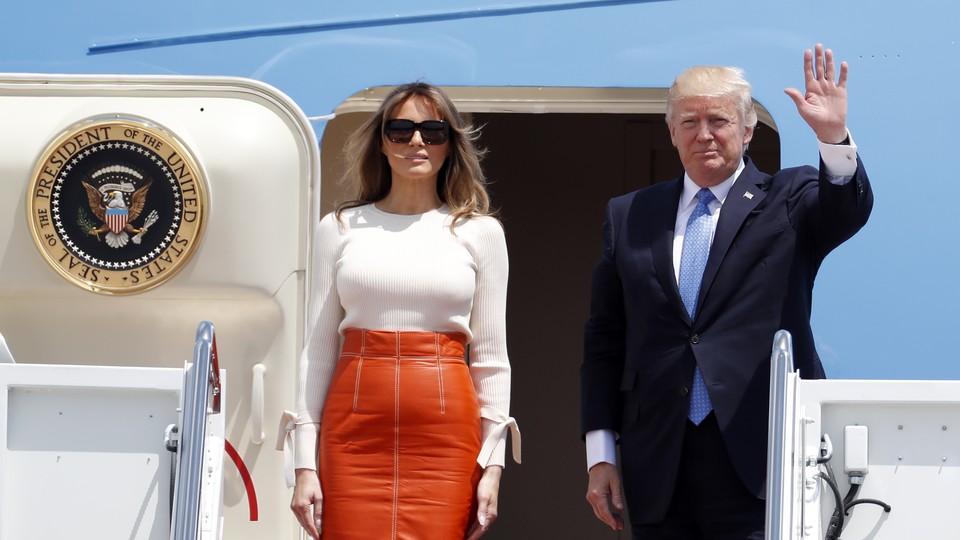 Today in 5 Lines
The New York Times reported that President Trump told Russian officials James Comey's dismissal eased "great pressure" on him, calling the former FBI director a "nut job." The Washington Post reported that a senior White House adviser has been identified as a "significant person of interest" in the Russia investigation. Trump left for Saudi Arabia, the initial stop on his first overseas trip since becoming president. Trump reportedly wants to end key Obamacare subsidies, which could threaten the insurance markets and discourage insurers from participating next year. Former U.S. Representative Anthony Weiner pleaded guilty to transferring obscene material to a minor.
---
Today on The Atlantic
A Legacy Topples: On Friday, the city of New Orleans removed a monument to the Confederate General Robert E. Lee, a figure whose role in preserving slavery and white supremacy was widely denied or glazed over after the Civil War. (Kevin M. Levin)

Say It Ain't Joe: Former Senator Joe Lieberman is reported to be President Trump's top pick for FBI director, but if Lieberman takes the position, "he will throw these decades of enlightened cultural conservatism in the trash." (Peter Beinart)

Saudi Hospitality: During his trip to Saudi Arabia, President Trump will be reversing the tone and messaging of former President Obama, writes Andrew Exum.
Follow stories throughout the day with our Politics & Policy portal.
---
Snapshot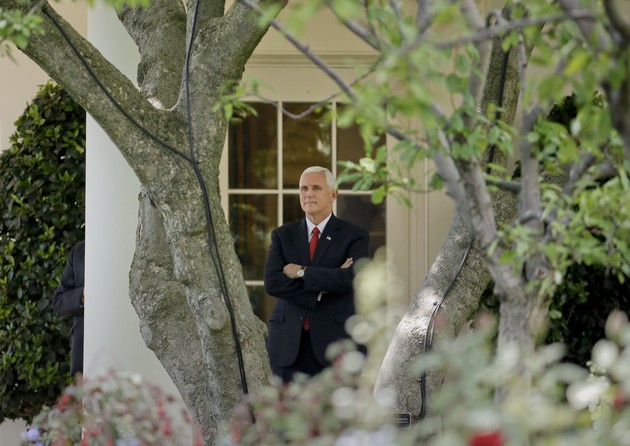 ---
What We're Reading
Keeping Trump Happy: White House staffers have spent weeks preparing for Donald Trump's first foreign trip as president: They've built free time into his schedule, advised officials to keep presentations brief, and ensured that his favorite meal will be offered in Saudi Arabia. (Julie Pace, Associated Press)
'The Crisis of the Elites': Donald Trump is unfit to be president, writes Robert W. Merry, but Trump is only a symptom of America's political problems. The root issue is elitism. (The American Conservative)
Don, Bob, and Jim: President Trump is taking on two Washington pros: special counsel Robert Mueller and former FBI Director James Comey. Garrett M. Graff explains why that "should deeply worry the Trump White House." (Politico)
Pence Is Getting Tired: CNN reports that the constant news reports about Trump are wearing on the vice president. According to one source, "We certainly knew we needed to be prepared for the unconventional," but "not to this extent." (Elizabeth Landers)
'Roger and Me': Gabriel Sherman recounts the past six years doggedly researching former Fox News head Roger Ailes, who died Thursday. (New York)
---
Visualized
Trump's Trip: The president will spend the next nine days traversing five foreign countries. These cards show the main events—and what the administration hopes to achieve—in each place. (Axios)
---
Question of the Week
Last week, President Trump fired FBI Director James Comey—a move widely criticized by Democrats and Republicans alike. This week, we asked who you might consider to replace Comey. Here's what you said:
Elizabeth Berg suggested South Carolina Representative Trey Gowdy, because "he is a man of integrity and courage. As much as I would hate to give him up as my representative, I feel he would be the best head of the FBI."
Dirk Bloemendaal thought Michigan Representative Mike Rogers would be a "no-brainer," having previously served in both the U.S. Army and the FBI.
But NPR's Nina Totenberg said at this point, it doesn't matter who she'd pick: "The problem is that even if I were in charge of picking the new FBI director, I would be making my recommendation to the current president, and anybody I would want—Republican or Democrat—wouldn't take the job."
Thanks to everyone who submitted responses, and stay tuned for next week's Question of the Week.
-Written by Elaine Godfrey (@elainejgodfrey)