The Atlantic Politics & Policy Daily: Nevertheless, She Enlisted
Hillary Clinton launched her new political group, "Onward Together," with a new slogan: "Resist, insist, persist, enlist."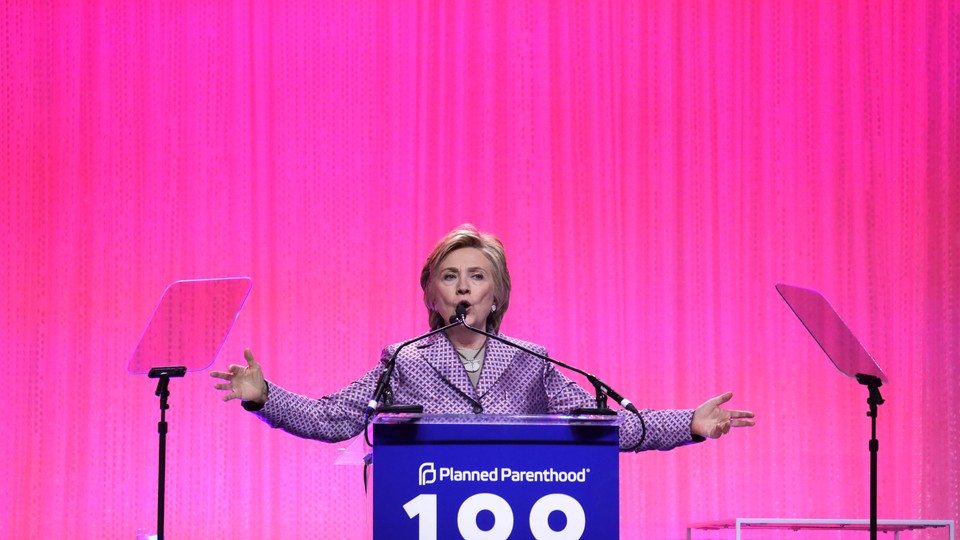 Today in 5 Lines
During an annual memorial service for police officers killed in the line of duty, President Trump said police are subject to "unfair defamation" and pledged to protect them. The Supreme Court declined to hear a case regarding a strict voter-ID law in North Carolina, leaving in place a previous ruling that struck down parts of the law for being unconstitutional. Deputy Attorney General Rod Rosenstein, who wrote a memo detailing the case against former FBI Director James Comey, will brief senators on Thursday about Trump's decision to fire Comey. Former Secretary of State and presidential candidate Hillary Clinton launched her new political group "Onward Together." The Trump administration accused the Syrian government of executing thousands of prisoners and burning their bodies in a crematorium.
---
Today on The Atlantic
A Welcome Change: On Monday, President Trump welcomed the crown prince of the United Arab Emirates, Muhamed bin Zayed, to the White House. The UAE and other gulf nations are as excited as ever about being fully embraced by the Trump administration, after being kept at arm's length under the Obama administration. (Andrew Exum)

'His Kampf': Graeme Wood, who went to high school with Richard Spencer, describes the famed white nationalist as a man who has spent decades reinventing himself, from mediocre Texas athlete to leader of the so-called "alt right."

Is Trump Breaking SNL?: Caught up in the turmoil of the new administration, the show has taken to simply listing, rather than satirizing, the week's news, argues Megan Garber. Saturday Night Live, like the rest of America, "seems to be having trouble keeping up."
Follow stories throughout the day with our Politics & Policy portal.
---
Snapshot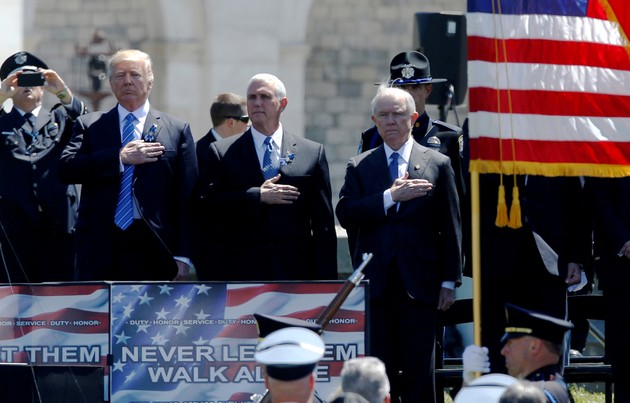 ---
What We're Reading
Raising Alarm: The Washington Post reports that President Trump "revealed highly classified information to the Russian foreign minister and ambassador in a White House meeting last week." (Greg Miller and Greg Jaffe)
Where Trump Gets His Info: Donald Trump doesn't spend much time on the internet, so White House aides reportedly leave news stories on the president's desk. Sometimes, however, those articles contain false or unverified information—and often, they directly impact Trump's decisions. (Shane Goldmacher, Politico)
Census in Trouble: Budget disagreements and the sudden resignation of the bureau's director have called the future of the U.S. census into question. Here's how the census works—and why it matters. (Henry Farrell, The Washington Post)
From Most Popular to Least Popular: Ivanka Trump has been hard working, successful, and well liked for her entire life. But as first daughter, Caitlin Flanagan writes, Ivanka is becoming something new: "deeply, personally, and venomously loathed." (New York)
When a Fire Starts to Burn: Donald Trump wants to cut taxes for individuals and businesses to spur economic growth. As written, the plan will likely have enemies in several economic sectors—and on both sides of the aisle. (Joseph Lawler, Washington Examiner)
The Tale of Corey Lewandowski: The former Trump staffer's attempts to capitalize on his proximity to the president "reveal a great deal about the temptations, the opportunities, and the avarice suddenly running wild in the swamp that Trump had once vowed to drain." (Jason Zengerle, GQ)
---
Visualized
Pin the Dot on Pyongyang: Can you locate North Korea on a map? A new study shows that if you can, you're more likely to support diplomacy, rather than military engagement, in dealing with international conflict. (Kevin Quealy, The New York Times)
---
Question of the Week
Last week, President Trump fired FBI Director James Comey—a move widely criticized by Democrats and Republicans alike. Trump told reporters that he hopes to replace Comey as soon as possible, and is currently considering several candidates. If you were in charge of selecting the next FBI director, who would you consider—and why?
Send your answers to hello@theatlantic.com and our favorites will be featured in Friday's Politics & Policy Daily.
-Written by Elaine Godfrey (@elainejgodfrey)