The Atlantic Politics & Policy Daily: The AHCA Makes a House Call
The U.S. House passed legislation to partially repeal and replace the Affordable Care Act.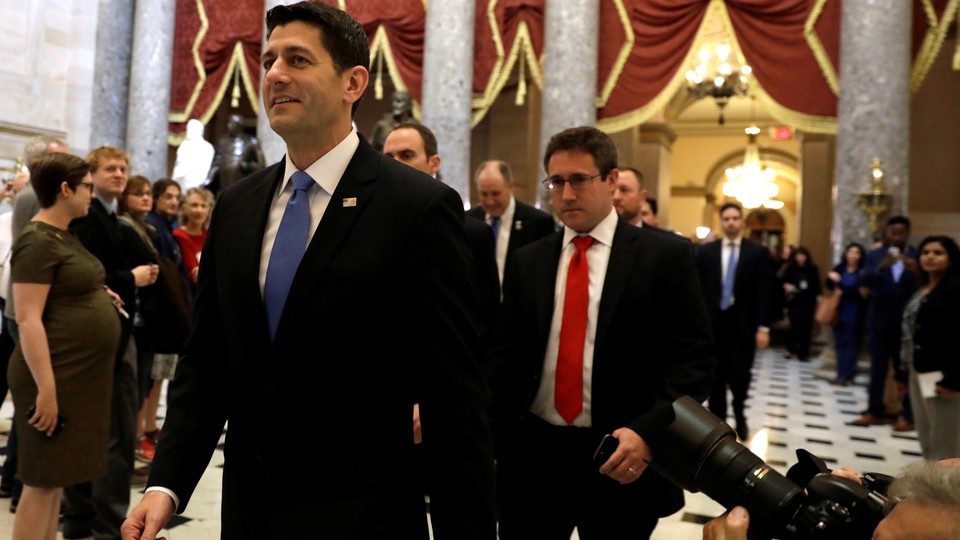 Today in 5 Lines
The U.S. House passed legislation to partially repeal and replace the Affordable Care Act in a narrow 217-213 vote, advancing it to the Senate, where lawmakers reportedly plan to write their own bill. Following the vote, House Republicans gathered at the White House Rose Garden with President Trump, who called the legislation a "great plan." Earlier in the day, Trump signed an executive order intended to allow churches and religious organizations to be more politically involved. Trump will visit Saudi Arabia, Israel, and the Vatican in his first foreign trip later this month. Former President Barack Obama endorsed French presidential candidate Emmanuel Macron ahead of the French runoff election on Sunday.
---
Today on The Atlantic
Tax-Sponsored Protection: A number of cities and states are allocating funds to provide pro-bono legal counsel to undocumented immigrants, who are not guaranteed representation. Are these programs sustainable? (Maura Ewing)

Can the Left Win?: Conor Friedersdorf rounded up journalistic work across the political spectrum to offer seven reasons why liberals are struggling to gain ground, and ways they can overcome these challenges.

How Trump Helped the Media: During his presidential campaign, Donald Trump sought to undermine public trust in mainstream media. Rather than bringing these news organizations down, Trump's war on the press contributed to record viewership for several major outlets. (Derek Thompson)
Follow stories throughout the day with our Politics & Policy portal.
---
Snapshot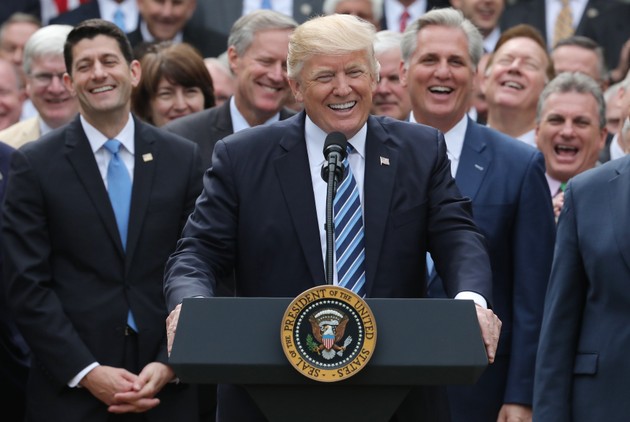 ---
What We're Reading
What Happens to Obamacare?: House Republicans' new health-care bill is headed to the Senate, where it will likely see significant revisions. But here's how the bill—in its current form—would change Obamacare. (Tami Luhby, CNN Money)
Onward Together: Former Secretary of State Hillary Clinton will reportedly launch a new political group as early as next week "to fund organizations working on the resistance to President Donald Trump's agenda." (Gabriel Debenedetti, Politico)
All Bark, No Bite: President Trump's executive order purporting to protect religious liberty is meaningless, writes David French: "To guarantee protections for religious liberty, you write those protections into law, you don't wish-cast them through executive orders." (National Review)
Can't Stop, Won't Stop: Charlie Warzel traces the growth of Alex Jones's fringe, right-wing media empire that helped pave the way for Donald Trump's election. Now, with Jones in the spotlight, the abrasive personality that led to his success could also threaten his future. (Buzzfeed)
The Case for Biden 2020: T.A. Frank argues former Vice President Joe Biden should run for president in 2020. Biden's promising attributes include his likability among Democrats and Republicans, as well as his competitive edge over Donald Trump. (Vanity Fair)
---
Visualized
217-213: These graphics break down the House's Thursday vote to repeal major parts of the Affordable Care Act, and shows which representatives switched from their past stance to back the amended bill. (Kim Soffen, Darla Cameron, Kevin Uhrmacher, The Washington Post)
---
Question of the Week
The month of May signals the start of college commencement speeches—a tradition featuring many political figures. Last year, former President Barack Obama, Massachusetts Senator Elizabeth Warren, and Supreme Court Justice Sonia Sotomayor all gave popular addresses. This year, Hillary Clinton is scheduled to speak at Wellesley College and Donald Trump will speak at Liberty University.
What is your favorite commencement address by a political figure and why?
Send your answers to hello@theatlantic.com and our favorites will be featured in Friday's Politics & Policy Daily.
-Written by Elaine Godfrey (@elainejgodfrey) and Candice Norwood (@cjnorwoodwrites)