The Atlantic Politics & Policy Daily: Where There's Firing, There's Smoke
President Trump said he fired FBI Director James Comey on Tuesday "because he wasn't doing a good job."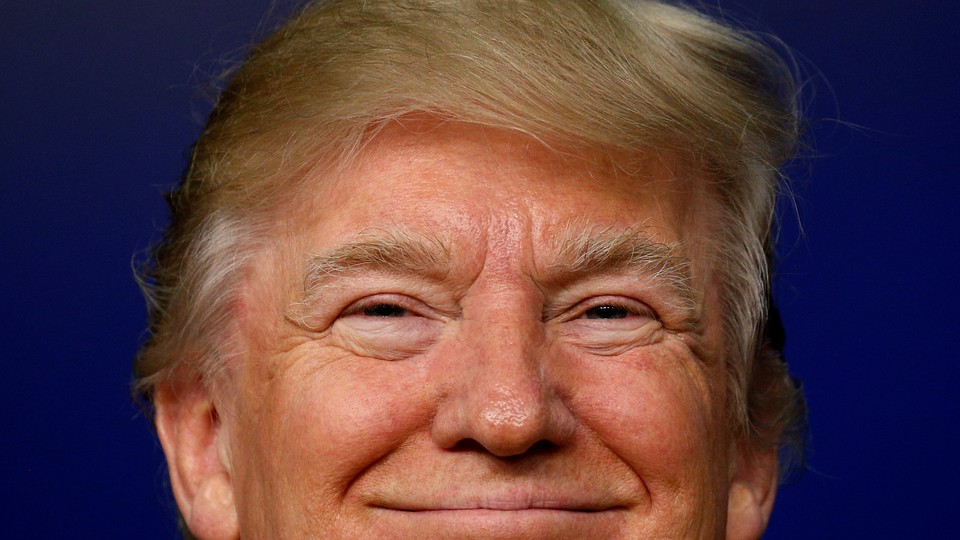 Today in 5 Lines
President Trump said he fired FBI Director James Comey on Tuesday "because he wasn't doing a good job," and called Democrats "phony hypocrites" for opposing his decision. In the days before his dismissal, Comey reportedly asked the Justice Department for more resources for the FBI's investigation into Russia's interference in the 2016 presidential election. The Justice Department denied that report. In a press briefing, White House spokeswoman Sarah Huckabee-Sanders said Trump had been considering Comey's termination "since the day he was elected." Trump met with two Russian officials, Foreign Minister Sergey Lavrov and Ambassador Sergey Kislyak, as well as former Secretary of State Henry Kissinger at the White House. The Senate rejected a resolution to repeal an Obama-era rule limiting methane emissions on public lands.
---
Today on The Atlantic
'This Is Not a Drill': In the wake of President Trump's decision to fire FBI Director James Comey, David Frum writes: "The suggestion that Comey was fired to punish him for overzealously mishandling the Clinton email investigation appears laughable." Will the American system catch on and resist?

'Trump's Nixonian Moment': FBI Director James Comey's dismissal immediately evoked comparisons to the Watergate era. Is Donald Trump acting like former President Richard Nixon or is he just being himself? (John Aloysius Farrell)

Come Together: After Richard Nixon fired the Watergate special prosecutor in 1973, some of the country's party leaders united to defend the law and demand that the investigation continue. Will Trump's dismissal of Comey have a similar effect? (Ronald Brownstein)
Follow stories throughout the day with our Politics & Policy portal.
---
Snapshot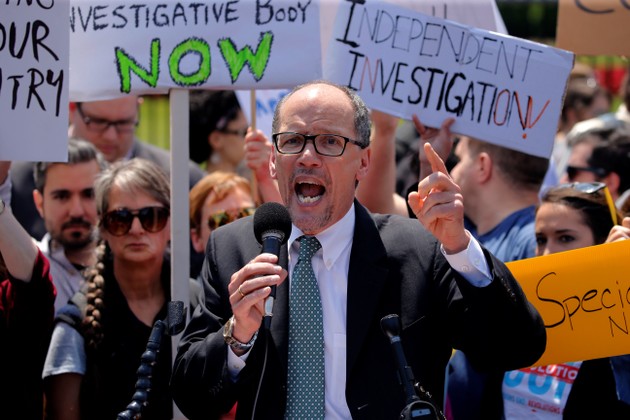 ---
What We're Reading
The Aftermath: After President Trump fired FBI Director James Comey, the White House scrambled to explain what happened—and why. Here's how Press Secretary Sean Spicer, "standing in near darkness between two tall hedges" on White House grounds, explained Comey's dismissal. (Jenna Johnson, The Washington Post)
It's Not What You Think: Democratic and Republican lawmakers are concerned that Trump might have fired James Comey to stall the Russia investigation. But, writes former CIA officer Philip Giraldi, the simplest explanation is the most likely: "Donald Trump doesn't like him much and doesn't trust him at all." (The American Conservative)
'The Engine of American Inequality': Matthew Desmond takes a look at an entitlement in the tax code, which overwhelmingly favors wealthy residents and gives nothing to renters, who are disproportionately lower income. (The New York Times Magazine)
The Rock 2020?: In an interview with GQ, the pro-wrestler-turned-actor Dwayne Johnson described himself as a feminist, explained his opposition to the so-called "Muslim ban," and said it was a "real possibility" that he will run for president. (Caity Weaver)
On the Hunt: Attorney General Jeff Sessions and Deputy Attorney General Rod Rosenstein are interviewing candidates to replace James Comey as FBI director. Sessions's involvement raises ethical questions concerning his pledge to recuse himself from investigations "of any matter relating" to the Trump campaign. (Tamara Keith, NPR)
---
Visualized
The Case Against Comey: We annotated Deputy Attorney General Rod Rosenstein's complete memo to Attorney General Jeff Sessions on James Comey. View it here. (Candice Norwood and Elaine Godfrey)
What Lawmakers Have to Say: Both Democrats and Republicans have weighed in on the president's decision to fire James Comey. Check out this database to see how lawmakers in your state have responded. (ProPublica)
---
Question of the Week
Donald Trump is expected to visit Saudi Arabia, Israel, and the Vatican during his first foreign trip as president later this month. Initial trips by Trump's predecessors include former President George W. Bush's visit to Mexico in 2001 and former President Barack Obama's visit to Canada in 2009. What countries do you think are the most important for Trump to visit now and why?
Send your answers to hello@theatlantic.com and our favorites will be featured in Friday's Politics & Policy Daily.
-Written by Elaine Godfrey (@elainejgodfrey) and Candice Norwood (@cjnorwoodwrites)