The Atlantic Politics & Policy Daily: Weekend at Bedminster
President Trump will spend the weekend at his golf club in Bedminster, New Jersey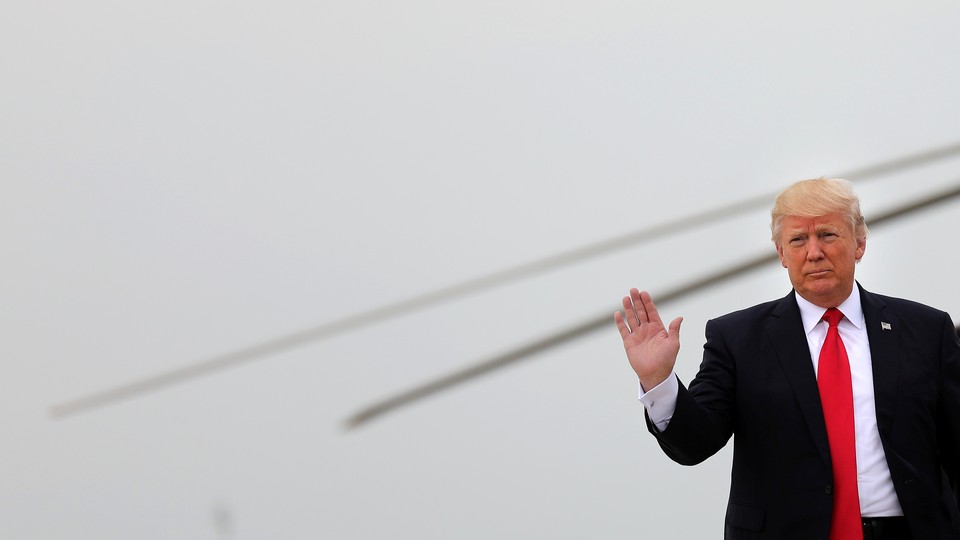 Today in 5 Lines
On Twitter, President Trump, who is spending the weekend at his golf club in Bedminster, New Jersey, said "everybody" has better health care than the United States, but that "our healthcare will soon be great." The Senate Intelligence Committee reportedly asked a number of Trump campaign aides to turn over records of their communications with Russian officials as part of its investigation into Russia's alleged interference in the U.S. presidential election. Angella Reid, the first woman and second African American to serve as White House chief usher, has left the post. A U.S. Navy SEAL was killed in Somalia, the first American combat death in the country since 1993. The U.S. economy added 211,000 jobs in April, and the unemployment rate fell to 4.4 percent.
---
Today on The Atlantic
Tillerson's Misunderstanding: During a speech to the employees of the State Department on Wednesday, Secretary of State Rex Tillerson repeatedly invoked the president's message of "America First." But, writes Eliot A. Cohen, this foreign policy strategy conflicts with the country's core values, and misreads U.S. history.

Appropriating Words: In her new book, Ivanka Trump quotes the famous and the wise—from Oprah to Toni Morrison. In doing so, Megan Garber argues, she is not just borrowing other people's words, "Trump is taking those words out of their original contexts, and blithely, if not willfully, misunderstanding them."

'Not One Bad Apple': More than 140 U.S. Customs and Border Protection agents have been arrested or convicted on corruption charges in recent years. Jeremy Raff examines how the problem could worsen as CBP relaxes its hiring standards in order to meet President Trump's mandate for 5,500 new agents.
Follow stories throughout the day with our Politics & Policy portal.
---
Snapshot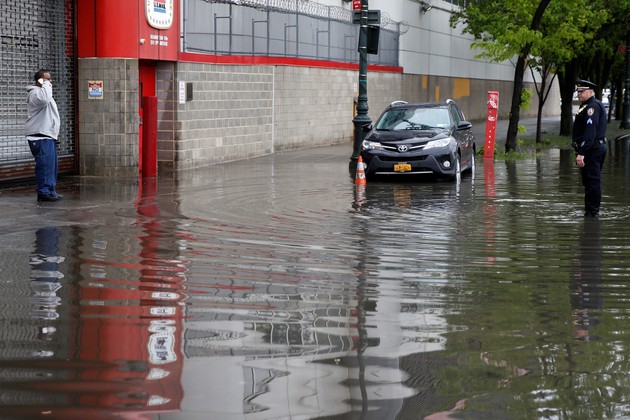 ---
What We're Reading
Republicans Should Look to Texas: Representative Will Hurd of Texas is "a young, eloquent, dark-skinned, social media-savvy legislator who solves problems like a technocrat and speaks with an earned authority on national security." He's also the future of the GOP. (Tim Alberta, Politico)
The Problem With Women Who Work: Ivanka Trump's new book ignores the struggles of working-class women outside the corporate world, writes Jia Tolentino. It should prove, once and for all, that she will not be a defender of women. (The New Yorker)
Health-Care Blueprint: Kentucky lawmakers are trying to save state money by reducing the number of people on Medicaid. If successful, Kentucky's plan could inspire similar action from other states concerned with the financial burdens of Medicaid—and thereby expedite the dismantling of Obamacare. (Yasmeen Abutaleb and Robin Respaut, Reuters)
A Broken Promise?: Donald Trump pledged to bring back jobs for blue-collar workers, winning him overwhelming support in the Rust Belt. By considering a steel tariff, however, Trump threatens to further reduce available jobs for his voter base. (Jessica Holzer, Foreign Policy)
Survival Mode: House Republican seats could be in jeopardy following Thursday's vote to repeal and replace major parts of the Affordable Care Act. Do Democrats have a shot to regain control of the House in 2018? (Cathleen Decker, The Los Angeles Times)
---
Visualized
What Happens Now?: On Thursday, the House passed legislation to partially repeal and replace Obamacare. Here's what happens next. (Troy Griggs and Karen Yourish, The New York Times)
---
Question of the Week
The month of May signals the start of college commencement speeches—a tradition featuring many political figures. This year, Hillary Clinton is scheduled to speak at Wellesley College, and Donald Trump will speak at Liberty University. This week, we asked you to share your favorite commencement addresses by political figures. For more responses, visit our Notes section, but for now, here's a preview:
Judy Share recalled the day in 2007 when her son Matthew graduated from Harvard University, and both Bill Clinton and Bill Gates spoke. "It was a wonderful day listening to these two men recount their experiences and impart their advice to the college graduates—one as a past U.S. president, and the other as founder of Microsoft."
And Paul Goode highlighted President Lyndon B. Johnson's commencement address about race and inequality at Howard University in 1965, saying "these may be the most honest words spoken by any president since Abraham Lincoln. Would that we had had the courage to hear them." Watch the speech here.
Thank you to everyone who submitted responses, and stay tuned for next week's Question of the Week.
-Written by Elaine Godfrey (@elainejgodfrey) and Candice Norwood (@cjnorwoodwrites)