The Atlantic Politics & Policy Daily: The Tapes of Wrath
President Trump suggested on Twitter that there might be tapes of his private conversations with former FBI Director James Comey.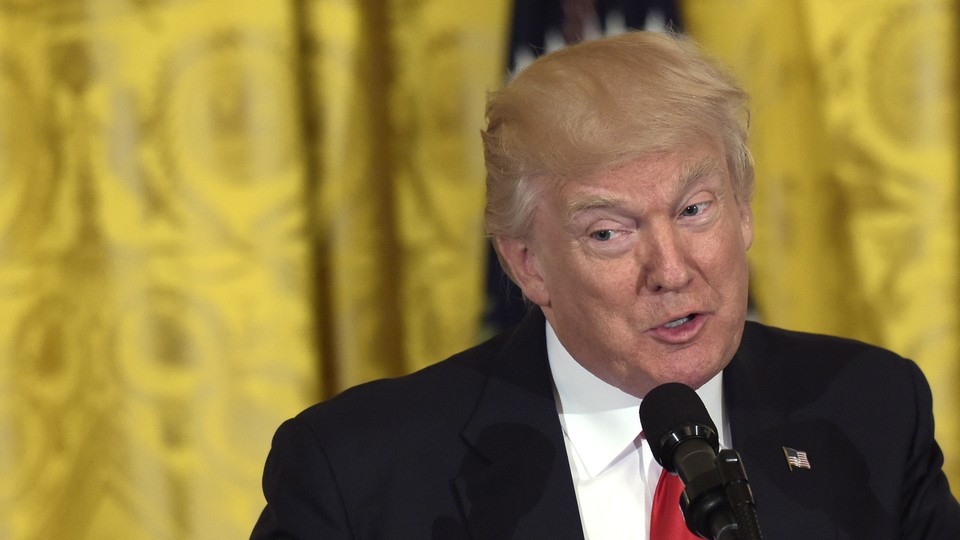 Today in 5 Lines
President Trump suggested on Twitter that there might be tapes of his private conversations with former FBI Director James Comey. When asked about the tweet, White House Press Secretary Sean Spicer repeatedly refused to answer whether or not the president is recording conversations in the Oval Office. Senator Mark Warner, the vice chairman of the Senate Intelligence Committee, said Comey declined an invitation to testify before the panel in a closed session on Tuesday. The White House released a letter from the president's lawyers that said Trump's tax returns do not reflect "any income of any type from Russian sources," with a few exceptions. In a major shift away from Obama-era policies on low-level drug offenses, Attorney General Jeff Sessions directed federal prosecutors to "charge and pursue the most serious, readily provable offense" against defendants.
---
Today on The Atlantic
Not Looking Good: James Fallows, who covered the fall of Richard Nixon 45 years ago, offers five reasons why President Trump's firing of FBI Director James Comey is worse than Watergate.

Update on the Cyber: Ransomware attacks, like the one that happened Friday, have become a kind of lucrative cottage industry, Adrienne LaFrance reports. In recent years, the rate of similar attacks has increased by more than 500 percent.

Self-Incriminating?: While President Trump's recent comments about firing Comey don't prove he was attempting to thwart an FBI investigation, they do "expose clear White House obfuscations, offer circumstantial evidence for interference, and open up Trump to a possible obstruction of justice investigation." (Conor Friedersdorf)
Follow stories throughout the day with our Politics & Policy portal.
---
Snapshot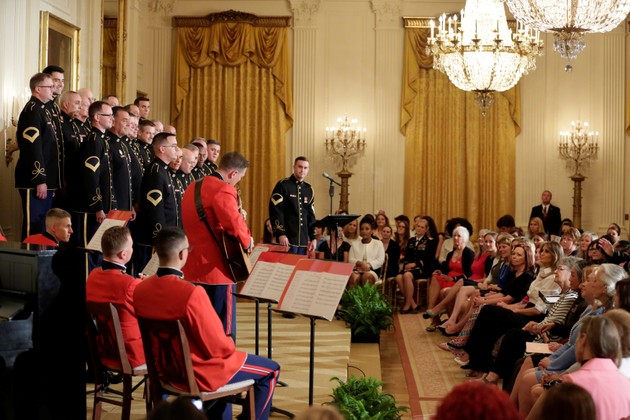 ---
What We're Reading
The Short List: President Trump is looking for a new FBI director to replace James Comey. Here are the candidates he is reportedly considering to fill the post. (Maggie Haberman and Jeremy W. Peters, The New York Times)
No Special Counsel, Please: The United States needs to get to the bottom of Donald Trump's potential ties to Russia, Jonathan S. Tobin writes, but America's history should prove that hiring a special prosecutor is the wrong way to go. (National Review)
'A Different Kind of Democrat': In order to win back their majority in Congress, Democrats have to win over voters in Trump territory. To do that, strategists say the party should be studying Illinois Representative Cheri Bustos. (Michael Kruse, Politico)
Not the Whole Story: Donald Trump continues to use a 2014 research paper as the foundation for his claim that voter fraud is rampant in the United States. But Trump gets the data wrong, Maggie Koerth-Baker points out, and leaves out important context behind the study. (FiveThirtyEight)
Dying in Childbirth: The death of Lauren Bloomstein, a neonatal nurse, highlights a shocking trend in the U.S. health system: As infant mortality numbers have dropped to historic lows, the maternal death rate is increasing—and is higher than in any other developed country. (ProPublica and NPR)
---
Visualized
Confused?: If you're having trouble following the Trump-Comey saga, this timeline could help clear a few things up. (Eric Levenson, CNN)
Celebrity Crossword: Try your hand at this puzzle, created by former President Bill Clinton and his friend, Arkansas Judge Victor Fleming. (The New York Times)
---
Question of the Week
Donald Trump is expected to visit Saudi Arabia, Israel, and the Vatican during his first foreign trip as president later this month. This week, we asked which countries are the most important for Trump to visit. Here are a few responses:
Doug Barde-MacNamara thought Trump should make a point to visit South Korea to meet the country's new leader and learn more about the region, and to visit Germany "because Angela Merkel knows, firsthand, the myriad of problems facing our NATO allies in Europe."
Dirk Bloemendaal offered two other suggestions: Canada, because "they're our number-one trading partner," and Mexico, to better understand the source of many immigration challenges.
Thanks to everyone who submitted responses, and stay tuned for next week's Question of the Week.
-Written by Elaine Godfrey (@elainejgodfrey)