The Atlantic Politics & Policy Daily: Comey's Choice
FBI Director James Comey defended his handling of the investigation into Hillary Clinton's private email server.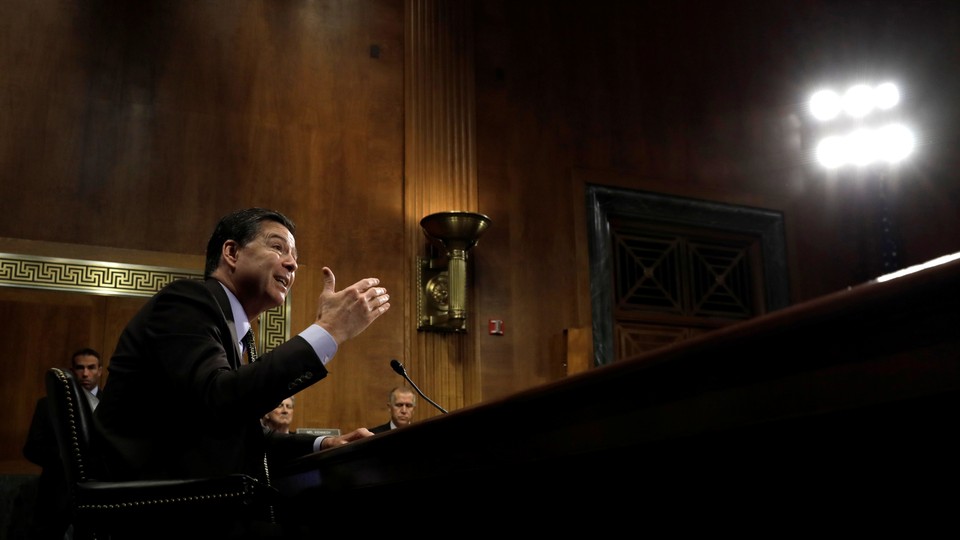 Today in 5 Lines
The House overwhelmingly approved a $1.1 trillion spending bill to fund the government through September. The White House is pushing for a vote on the GOP health-care bill after two defectors threw their support behind the legislation. During a joint press conference with Palestinian President Mahmoud Abbas, President Trump vowed to be a "facilitator" of peace between Israel and Palestine. Testifying before the Senate Judiciary Committee, FBI Director James Comey defended his handling of the investigation into former Secretary of State Hillary Clinton's private email server, but said the idea that he might have affected the outcome of the 2016 election made him "mildly nauseous." Puerto Rico filed for bankruptcy in the biggest municipal bankruptcy filing in U.S. history.
---
Today on The Atlantic
The Push to Reduce Medicaid: A number of the Republican-led states that resisted Medicaid expansion are reconsidering it in the wake of public-health concerns such as the opioid crisis. But the Trump administration is leveraging another alternative, as it tries to weaken dependence on Medicaid, and undermine Obamacare. (Vann R. Newkirk II)

Losing Faith: Democratic voters are less confident in the future of the United States than they were before the presidential election, according to a new Pew Research Center poll. The results raise questions about the party's ability to maintain voter trust in the Trump era. (Clare Foran)

An $8 Billion Shot: When two House Republicans voiced opposition to the GOP's Obamacare repeal bill, House leaders tried to persuade them to flip back. They succeeded, after agreeing to boost protections for people with preexisting conditions. Will the amendment be enough to get the bill passed? (Russell Berman)
Follow stories throughout the day with our Politics & Policy portal.
---
Snapshot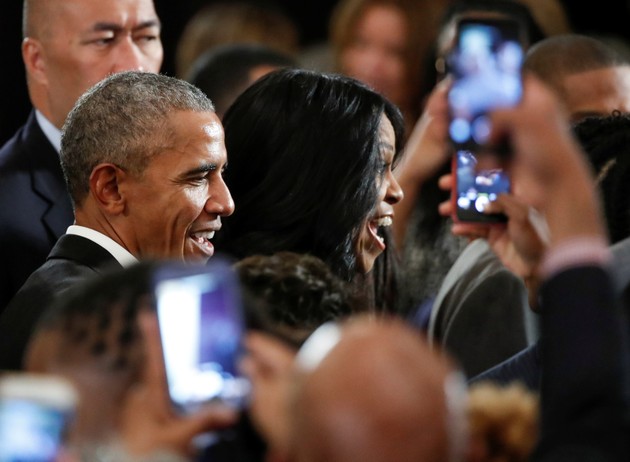 ---
What We're Reading
Pelosi's Health-Care Strategy: In an interview with The Washington Post, House Minority Leader Nancy Pelosi revealed her strategy to preventing Obamacare repeal: Keep the message simple, and stick to four talking points. (James Hohmann)
The Conservative Case for Single-Payer: Government-provided health insurance is a conservative concept, writes Matthew Walther, and Republicans "should get used to the idea of being prudent stewards of the welfare state, not its would-be destroyers." (The Week)
Inside Trump Hotel: Max Abelson spent 49 hours inside the Trump International Hotel in Washington, D.C. The property—which houses expensive rooms and luxurious amenities—"shows why it's the perfect symbol of his presidency." (Bloomberg)
Sticking With Trump: Gay Republicans are sharply divided over Donald Trump and whether he will work to help the LGBT community. A number of gay GOP leaders are coming to his defense, however, and encouraging the community to give him more time. (Katie Glueck, McClatchy)
Not a Good Look: Since 2014, at least 38 prominent Russians, and critics of Russian President Vladimir Putin, have died under suspicious circumstances. Two of the victims may be connected to a dossier written by a former British intelligence officer alleging collusion between Russia and Trump campaign staff. (Oren Dorell, USA Today)
---
Visualized
Will Repeal and Replace Happen?: If 23 or more Republicans vote "no," the GOP's revised health-care bill won't pass the House. Here's where lawmakers currently stand on the bill—and how their positions could change. (Alicia Parlapiano, Jugal K. Patel, and Thomas Kaplan, The New York Times)
---
Question of the Week
The month of May signals the start of college commencement speeches—a tradition featuring many political figures. Last year, former President Barack Obama, Massachusetts Senator Elizabeth Warren, and Supreme Court Justice Sonia Sotomayor all gave popular addresses. This year, Hillary Clinton is scheduled to speak at Wellesley College and Donald Trump will speak at Liberty University.
What is your favorite commencement address by a political figure and why?
Send your answers to hello@theatlantic.com and our favorites will be featured in Friday's Politics & Policy Daily.
-Written by Elaine Godfrey (@elainejgodfrey) and Candice Norwood (@cjnorwoodwrites)