Use It or Lose It?
The U.S. Supreme Court will review an Ohio procedure that removes voters from the rolls if they haven't cast a ballot in six years and fail to return a postcard.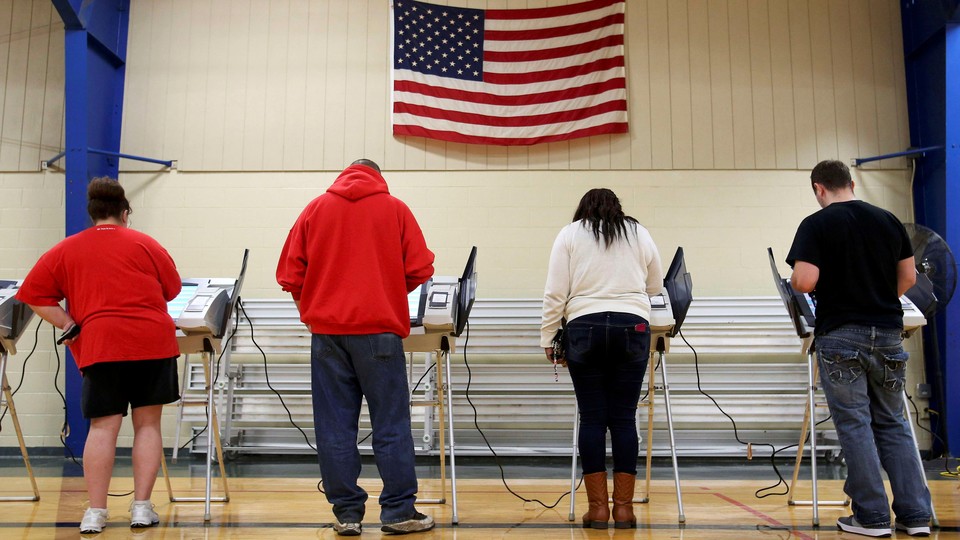 The U.S. Supreme Court will review Ohio's contested purge of its voter rolls next term, adding a potentially major case on voting rights to its docket for the first time since Justice Neil Gorsuch joined the high court.
The justices agreed to hear the case, Husted v. A. Philip Randolph Institute, in their weekly release of orders on Tuesday. At issue is the removal of tens of thousands of Ohio voters from the state's voter list ahead of last November's election. The Sixth Circuit Court of Appeals blocked the process before Election Day last year before it had fully taken effect, while a federal district court allowed 7,515 voters who had already been removed by that point to cast a ballot.
State election officials across the country routinely remove voters who have died, moved to another state, or become otherwise ineligible to vote. In 1994, Ohio added what's known as the "supplemental process" to its standard removal procedure: The Ohio secretary of state's office compiles a list of registered voters who have gone two years without any "voter activity"—which covers acts ranging from updating one's voter information to casting an absentee, provisional, or Election Day ballot—and sends them a confirmation notice. If the notice isn't returned and the registered voter doesn't participate over the following four years, he or she is automatically struck from the rolls.
A group of civil-rights organizations, including the A. Philip Randolph Institute, the think tank Demos, and the ACLU of Ohio, filed a lawsuit against Ohio Secretary of State Jon Husted challenging the supplemental process's legality in early 2016. They pointed to two federal laws, the National Voter Registration Act of 1993 and the Help America Vote Act of 2002, that forbid states from removing registered voters from the rolls for simply not voting. Husted countered that the federal provision doesn't apply because the supplemental process doesn't force voters from the rolls unless they've also failed to respond to the mailed confirmation notice. By his apparent estimation, that intervening step means the state hasn't broken either law.
A federal district court initially dismissed the lawsuit. But a three-judge panel in the Sixth Circuit sided with the organizations, ruling that the prohibition against removing eligible Americans for not voting would be meaningless if states are allowed to use inactivity as one reason, even among many, to strike their names. "In more concrete terms, a state cannot avoid the conclusion that its process results in removal 'solely by reason of a failure to vote,' by providing that the confirmation notice procedure is triggered by a registrant's failure either to vote or to climb Mt. Everest or to hit a hole-in-one," the court wrote.
Husted appealed the decision to the Supreme Court in February and applauded the justices for agreeing to hear it. "Maintaining the integrity of the voter rolls is essential to conducting an election with efficiency and integrity," he said in a statement. "The decision by the Court to hear this case is encouraging. I remain confident that once the justices review this case they will rule to uphold the decades-old process that both Republicans and Democrats have used in Ohio to maintain our voter rolls as consistent with federal law."
The organizations that brought the lawsuit, for their part, reiterated their view that the purge wrongly targeted disadvantaged Ohioans for disenfranchisement. "In Cuyahoga County alone, approximately 40,000 individuals were unlawfully purged merely for choosing not to vote, and a disproportionate number of those people came from low-income neighborhoods and communities of color," Andre Washington, the president of APRI's Ohio chapter, said in a statement. "The Supreme Court must uphold the Sixth Circuit's decision to ensure that all Ohio citizens have the opportunity to exercise their right to vote."
Freda Levenson, the director of the ACLU of Ohio, went even further, describing the supplemental process as "a powerful mechanism" of voter suppression that violates federal law. "We are confident that the Supreme Court will uphold the correct decision from the Sixth Circuit Court of Appeals, and will ultimately ensure that eligible Ohio voters may not be stricken from the rolls," she said in a statement.
A ruling in Ohio's favor would broaden states' powers to remove otherwise-eligible voters from their lists. It would also come as multiple states have pursued tougher measures to constrain voter registration and participation. President Trump frequently invokes the specter of voter fraud and has ordered a commission to tackle its perceived threat. His remarks aside, virtually all election experts have concluded the United States' highly decentralized electoral system makes systemic voter fraud all but impossible.
Laws purportedly targeting voter fraud often face uphill battles in the judiciary. Earlier this month, the Supreme Court declined to review a Fourth Circuit ruling that found North Carolina's voter ID law targeted black voters with "surgical precision," thus ensuring lower participation. Even lesser restrictions can have a significant effect on the electorate: A recent study found voter ID laws in general double the turnout gap between white and black voters in general elections.
Whether the Supreme Court will obstruct or uphold those efforts remains to be seen. Husted v. AFRI will be the first major election-law case at the high court since Gorsuch joined it in April. He is expected to be a reliably conservative jurist, potentially giving Chief Justice John Roberts and his right-leaning colleagues a fifth vote in upholding Ohio's supplementary process.
But it's unclear if he'll match the intensity of his predecessor. Antonin Scalia, who held Gorsuch's seat before his death in February 2016, generally favored more restrictive electoral practices. In 2013, he mused aloud during oral arguments in Shelby County v. Holder that "racial entitlements" like the Voting Rights Act of 1965 are difficult to remove "through the normal political process." His fifth vote to curb the VRA's protections in that case helped usher in the restrictive era on which his successor will soon weigh in.