Sessions's Climbdown on Sanctuary Cities
The administration backed away from its aggressive January order punishing jurisdictions that limit collaboration between local law enforcement and federal immigration agents.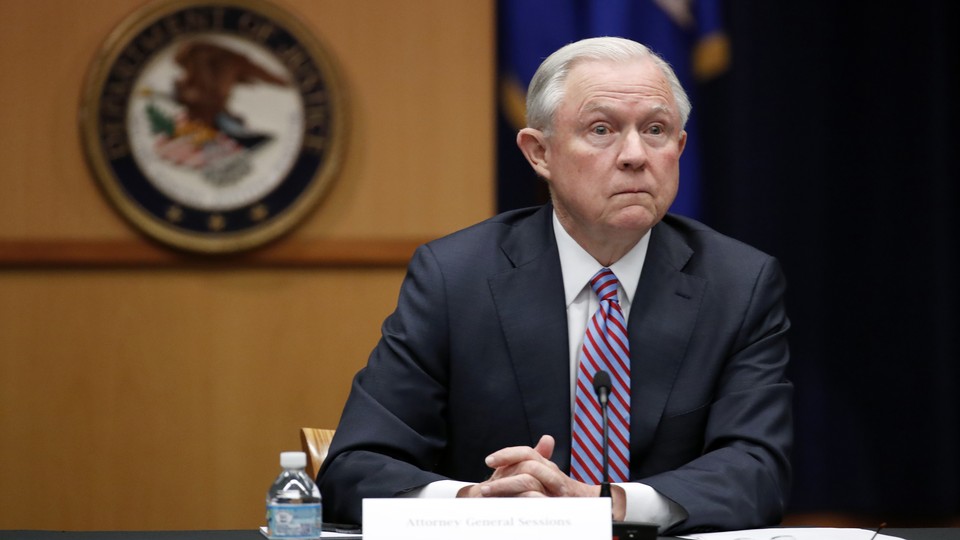 Attorney General Jeff Sessions pulled back on President Trump's January executive order cracking down on "sanctuary cities" on Monday, releasing a memo that represents a significant retreat from the order's original goal of punishing jurisdictions that limit collaboration between local authorities and federal immigration agents.
The memo narrowly defines sanctuary cities to "refer only to jurisdictions that 'willfully refuse to comply with 8 U.S.C. 1373.'" Section 1373, which was signed into law in 1996, prohibits jurisdictions from preventing any government entity or local official from exchanging information on an individual's immigration status with federal immigration agents. There's no clear definition for sanctuary cities. Sessions's latest memo, which comes after a federal court in California blocked the president's threat against sanctuary cities, concedes that using Section 1373 as the administration's definition is perhaps the most legally sound approach.
The problem for the administration's immigration crackdown is that definition of "sanctuary city" exempts all but a few jurisdictions, as most found ways around that criteria years ago.
"If sanctuary just means violation of 1373, that law has been around since 1996 and for the most part… most major cities have dealt with this, most legal departments in major cities have dealt with this [and] have already written around 1373," said Rick Su, a law professor at the University at Buffalo who has researched immigration and local government. Su noted that Section 1373 is a "don't-tell policy," so to work around it, some localities changed it to a "don't-ask policy" or a "don't-use-municipal-resources" policy. In doing so, it became difficult to differentiate who is and isn't in compliance with Section 1373, since some localities simply don't collect information on an individual's immigration status in the first place and therefore don't have anything to share with federal immigration officials.
Last year, the Office of the Inspector General studied a handful of state and local jurisdictions to see if they were in compliance with Section 1373. In April, the Justice Department sent letters to nine jurisdictions identified in the report "as having laws that potentially violate 8 U.S.C. 1373."
The executive order had left open to interpretation how the administration was going to define sanctuary cities. "It was not clear as to what the vehicle that they would use for finding that someone was going to be penalized for being a sanctuary city," said Muzaffar Chishti, the director of the Migration Policy Institute's office at New York University School of Law, adding that Sessions suggested in March that the Justice Department would use Section 1373 as a threshold.
U.S. District Judge William Orrick issued a preliminary injunction against the president's order in April, saying, "Federal funding that bears no meaningful relationship to immigration enforcement cannot be threatened merely because a jurisdiction chooses an immigration-enforcement strategy of which the president disapproves."
"This is the Trump era," Sessions said in a statement responding to the ruling. "Progress is being made daily, and it will continue. This will be the Administration that fully enforces our nation's immigration laws."
Session's memo states that grants will only be withheld from jurisdictions that are not in compliance with Section 1373. That is similar to Orrick's ruling on the administration's interpretation of sanctuary jurisdictions: "This interpretation renders the order toothless," Orrick wrote. "The government can already enforce these three grants by the terms of those grants and can enforce 8 U.S.C. 1373 to the extent legally possible under the terms of existing law."
In doing so, the administration appears to be reconciling their aggressive rhetoric on illegal immigration and their immigration-enforcement initiatives on paper. "This seems to be an effort by Jeff Sessions to say, 'no really the lawyers' position for the most part is a representation of my and the Department of Justice position and indirectly the president's position on what the executive order says," Su said.
To some degree, the administration's hands are tied. They can't change immigration law unilaterally, and they'd need congressional approval to withhold certain funds from localities. Even then, however, the administration runs the risk of facing more legal challenges. Lena Graber, a special projects attorney at the Immigrant Legal Resource Center, pointed to a 2012 ruling that upheld Obamacare in our conversation in January. That ruling found that requiring states to expand Medicaid by threatening to revoke funds is unconstitutionally coercive.
For now, the memo notes that the requirement that jurisdictions comply with Section 1373 only applies to Department of Justice and Department of Homeland Security grants, though it adds that the Department of Justice "may seek to tailor grants to promote a lawful system of immigration." The burden is on localities to prove that they are in compliance with Section 1373. Chishti noted that it's unlikely that many will be: "No jurisdiction in the country has been penalized or formerly found in violation of Section 1373 ever since it was enacted in 1996," he said.
Jessica Vaughan, the director of policy studies for the Center for Immigration Studies, which supports reduced immigration, is confident in the administration's approach. "I think they're going about this the right way. This is what I expected. It's what was outlined in the executive order and again, we have to remember that isn't the only action that the Trump administration is taking to address sanctuary."
Indeed, the administration has also ramped up arrests of undocumented immigrants. But in its pursuit of sanctuary cities, the administration appears to have retreated to a more modest approach, despite the scope of the president's executive order months earlier.