Jeff Sessions Reinvigorates the Drug War
The U.S. attorney general is bringing back the harshest sentences for low-level drug offenses, rejecting Obama-era reforms.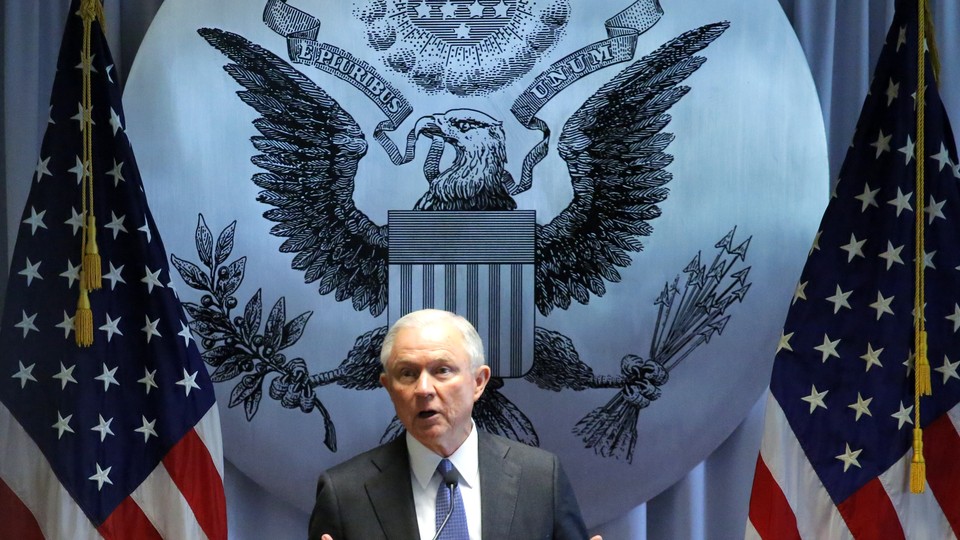 Updated on May 12 at 11:37 a.m. ET
Democratic and Republican officials alike took up the banner of criminal-justice reform over the past five years, hoping to reduce the nation's unprecedented prison population and scale back the harshest punishments of the tough-on-crime era. Now Attorney General Jeff Sessions has taken a major step toward rolling back their efforts.
In a memo released Friday, Sessions instructed federal prosecutors nationwide to seek the strongest possible charges and sentences against defendants they target. "It is a core principle that prosecutors should charge and pursue the most serious, readily provable offense," he wrote. "This policy fully utilizes the tools Congress has given us. By definition, the most serious offenses are those that carry the most substantial guidelines sentence, including mandatory-minimum sentences."
Friday's policy change effectively rescinds Obama-era guidelines for federal prosecutors that were designed to curtail the harshest sentences for defendants charged with low-level drug offenses. The previous memo, first promulgated by then-Attorney General Eric Holder in 2013, reserved the most severe options in the federal sentencing guidelines for "serious, high-level, or violent drug traffickers" instead of defendants charged with lower-level offenses.
Holder's changes addressed longstanding criticisms of the federal posture toward drug crimes. "In some cases, mandatory-minimum and recidivist-enhancement statutes have resulted in unduly harsh sentences and perceived or actual disparities that do not reflect our Principles of Federal Prosecution," he wrote at the time. "Long sentences for low-level, non-violent drug offenses do not promote public safety, deterrence, and rehabilitation."
To that end, he instructed prosecutors not to list the quantity of drugs seized when charging a defendant unless he or she was "an organizer, leader, manager, or supervisor of others within a criminal organization," had used violence, or had a lengthy criminal history. Prosecutors should also consider, he said, if their charges "would create a gross sentencing disparity" compared with other defendants.
Sessions's new memo effectively rejects that stance, insisting on seeking the maximum punishments lawfully possible. "Prosecutors must disclose to the sentencing court all facts that impact the sentencing guidelines or mandatory-minimum sentences, and should in all cases seek a reasonable sentence under the factors" prescribed by federal drug laws, he wrote. Any deviations from the policy require "supervisory approval" from the Justice Department.
In a statement shortly after Sessions's memo was issued, Holder castigated his successor's move.  "The policy announced today is not tough on crime," he said. "It is dumb on crime. It is an ideologically motivated, cookie-cutter approach that has only been proven to generate unfairly long sentences that are often applied indiscriminately and do little to achieve long-term public safety."
Monday's "absurd reversal," Holder added, "is driven by voices who have not only been discredited but until now have been relegated to the fringes of this debate."
The shift underscores the central role prosecutors play when determining how long Americans spend behind bars. Prosecutorial discretion, like gravity, is the unseen force that binds the American criminal-justice system together. Federal prosecutors have a broad array of legal mechanisms at their disposal with which they can ratchet a defendant's punishment higher or lower, depending on which charges they file and which sentencing enhancements they seek. Roughly 95 percent of federal criminal cases are resolved through plea deals, making the prosecutor the most influential actor in the modern system.
It also highlights the influence of Sessions, one of President Trump's earliest high-profile supporters, in shaping the administration's stance on criminal-justice issues. Rolling back Justice Department policies to a more draconian era wouldn't be a surprising move for the former Alabama senator. As policing and justice issues rose to the forefront of the national conversation in recent years, Sessions became a frequent critic of reform efforts, including federal oversight of local law enforcement. He also played a prominent role in scuttling a bipartisan sentencing-reform bill in the Senate last year that had the support of figures ranging from Barack Obama to the Koch brothers.
Framing the attorney general's policy change is a one-year uptick in national crime rates after almost two decades of precipitous decline. "My fear is that this surge in violent crime is not a 'blip,' but the start of a dangerous new trend," he said during a speech in Richmond in March. "I worry that we risk losing the hard-won gains that have made America a safer and more prosperous place." An immigration hardliner, Sessions has also tried to draw connections between immigrants and crime while criticizing sanctuary cities like New York City and San Francisco that don't cooperate with federal immigration policy.
Sessions isn't the administration's only voice for a harsher criminal-justice stance. Trump has also cast the possible threat of higher crime in dramatic terms, portraying himself as its only solution. "I have a message to every last person threatening the peace on our streets and the safety of our police: When I take the oath of office next year, I will restore law and order to our country," he said in his acceptance speech at the Republican National Convention last year. During his inaugural address in January, he told the crowd that drugs, gangs, and crime "have stolen too many lives and robbed our country of so much unrealized potential."
"This American carnage stops right here and stops right now," he added.
Proponents of criminal-justice reform haven't let the Trump administration's portrayal of crime in American life go unchallenged. In a report analyzing crime trends from 1990 to 2016 published last month, the left-leaning Brennan Center for Justice concluded that the nationwide murder rate rose an estimated 7.8 percent last year. (A complete assessment of crime in 2016 won't be available until the FBI releases its annual statistical report later this year.) But the Brennan Center noted that a large share of the increase could be attributed to a spike in homicides in Baltimore, Chicago, and Washington, D.C., instead of a nationwide surge.
What's behind the increase in homicides in those cities is also unclear. Chicago's steady increase in gun violence has drawn the most scrutiny, including from Trump himself, who threatened to "send in the Feds" if necessary. (It's unclear what that would entail.) Researchers studying the homicide rate in Chicago haven't discerned any specific cause for the rise, even among factors usually blamed for rising crime.
Friday's memo is expected to be the first of many breaks the attorney general makes with Obama-era policies on high-profile criminal-justice matters. Sessions previously ordered a comprehensive review of the Justice Department's consent decrees with local police departments. Those agreements were among the Obama Justice Department's most valued tools in reforming troubled law-enforcement agencies. Sessions, however, has been a frequent critic of the decrees in general, describing them as unnecessary federal intrusion into the local policing practices.