The Question Sally Yates Couldn't Answer
The former acting attorney general told a Senate panel she had warned the Trump administration that Michael Flynn had lied about his conversations with a Russian official—but she couldn't explain why it took another 18 days for him to be fired.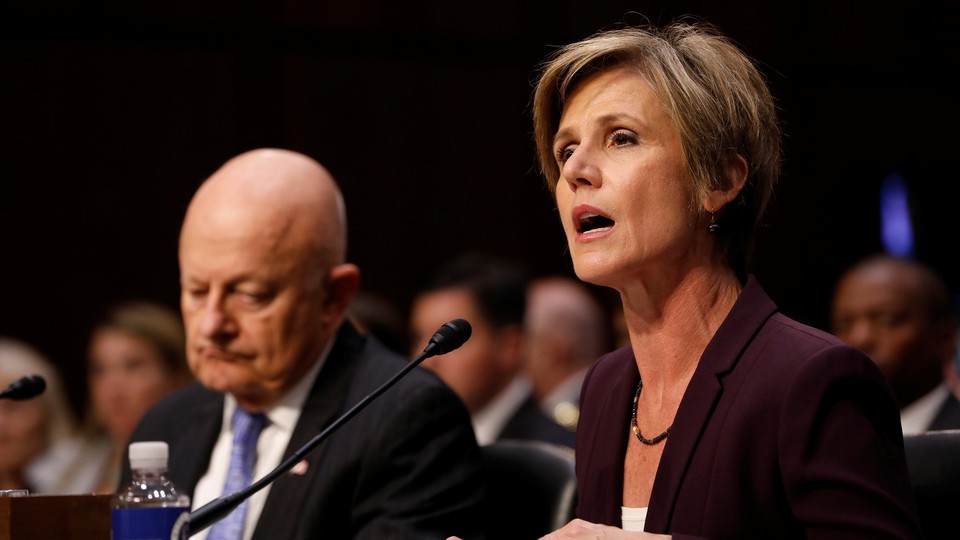 Sally Yates, the former acting attorney general, was concerned that Michael Flynn's false statements about his contacts with the Russian government had exposed him to blackmail, she testified during a Senate hearing on Monday.
During three hours of questioning by the Senate Judiciary Committee's subcommittee on crime and terror, Yates and former Director of National Intelligence James Clapper discussed Russian interference in the 2016 election. The hearing offered the fullest timeline yet of the events that led to Flynn's forced resignation on February 13, though it left significant questions unanswered.
"We were concerned that the American people had been misled about the underlying conduct and what General Flynn had done, and also that we weren't the only ones that knew all of this. The Russians also knew about what General Flynn had done, and they Russians also knew that General Flynn had misled Vice President Pence and others," Yates said. "This was a problem because not only did we believe that the Russians knew this but that they also likely had proof. This created a compromise situation … where the national security adviser could be blackmailed by the Russians."
But the hearing also highlighted the deep partisan divides even inside a small subcommittee. Democrats on the panel focused in on the putative topic of the hearing, Russian interference in the election, but many of the subcommittee's Republicans were more interested in pressing Yates on her decision not to defend President Trump's Muslim travel ban in court. (Trump fired Yates on January 30 for that refusal.) Senator Ted Cruz asked a series of questions about whether Hillary Clinton or aides should have been prosecuted for mishandling classified information. Most of the GOP members departed the hearing after asking their questions. The subcommittee's chair, Republican Senator Lindsey Graham of South Carolina, seemed concerned about Russian interference but also determined to figure out who had leaked information about Flynn's conduct to the press.
Yates—a political unknown before her firing—and her soft Georgia drawl were the stars of the show. (Clapper, a veteran of many testy exchanges with congressional panels, said at the outset that he'd thought he was done with such testimony when he left the government, and he made little attempt to conceal his displeasure at being there for the remainder of the hearing.)
Flynn, who is beset by a range of ethical questions, reportedly spoke with Russian Ambassador to the United States Sergei Kislyak on December 29, discussing newly imposed U.S. sanctions on Russia, but Flynn told Pence and others he had not discussed the sanctions. On January 24, the FBI interviewed Flynn.
Yates testified that on January 26, having been briefed on the FBI interview, she called White House Counsel Don McGahn and asked for a meeting with him. Later that day, she and another career Justice Department lawyer met McGahn, and she informed him that DOJ knew that Flynn's public accounts were untrue. She said she offered that information so that the White House could act as it saw fit, and did not advise on whether Flynn should be fired. McGahn asked how Flynn had done in his interview, she said, but Yates declined to say.
The following day, January 27, McGahn met with Yates again. She said he had four questions. First, he was curious why the Justice Department cared, as a matter of law, whether one White House official lied to another.
"Importantly, every time this lie was repeated, and the misrepresentations were getting more and more specific, every time that happened, it increased the compromise," Yates said. "To state the obvious, you don't want your national security adviser compromised with the Russians."
Yates said McGahn also wanted to know whether Flynn was likely to face criminal charges for misleading (she would not say Monday); whether any White House action would interfere with an FBI investigation (no, she said); and whether he could view the underlying evidence. Yates said she next spoke with McGahn on January 30, informing him that they'd set up a way for McGahn to review the evidence at the Justice Department. But that afternoon, Yates announced that she she would not defend the travel ban, on which she had not been consulted. By that night, Yates had been fired.
But Yates's account, while the most complete to date, left many questions still unanswered. Two pieces of intelligence jargon have become central to the debate over Russian interference, "incidental collection" and "unmasking." The former is when Americans are caught up in surveillance of lawful foreign targets. In those cases, their names and identifying information is supposed to be redacted, or masked. But some intelligence officials can ask to have their names included, or "unmasked," if they believe it is relevant to understanding the intelligence.
Yates declined to say whether Flynn's duplicity was caught because of incidental collection, saying it would reveal classified information to answer. She also would not say whether anyone asked that he be unmasked in this case. She said she had never asked for anyone to be unmasked—though she said that as deputy attorney general, she often received intelligence reports where names were already unmasked, sometimes by the originating agency. She would not describe Flynn's "underlying conduct," which he allegedly misrepresented, nor what statutes he might have violated, as she said doing either would reveal classified information.
In one intriguing exchange, Senator Chuck Grassley, an Iowa Republican, asked both Clapper and Yates whether they'd ever viewed intelligence reports in which either Trump, his aides, or members of Congress were unmasked. Both said yes, and Clapper acknowledged he'd asked for unmasking, but said he could not discuss that case in an open hearing.*
Both Yates and Clapper said they did not know how details of Yates's meetings with McGahn leaked to The Washington Post. That leak occurred more than two weeks after Yates's meeting with McGahn, a gap that Democrats homed in on. Some asked whether McGahn had appeared to take the warnings seriously, which she suggested he had. They also wondered why it had taken so long for Flynn to be fired, and what he had done during the 18 days between Yates's meeting with McGahn and Flynn's departure. Could he could have been blackmailed by Russia in that stretch? (Among other things, he participated in a January 28 phone call between Trump and Russian President Vladimir Putin.)
Senator Al Franken theorized that Trump was reluctant to fire Flynn because other members of the administration had also misrepresented their conversations with Russian officials. Attorney General Jeff Sessions, for one, was forced to recuse himself from any investigations after acknowledging he failed to disclose a meeting with Kislyak to the Senate. Several Democrats on the panel used the hearing to call for either a special prosecutor or some other independent investigation.
Some of the brightest fireworks of the afternoon were entirely unrelated to Russian interference. Several GOP senators, beginning with Texan John Cornyn, grilled Yates on her decision not to defend the travel ban, questioning her judgment that the ban was not lawful. But Yates pressed her argument, aided by the fact that several federal courts ultimately concurred that the initial version of the executive order was unlawful. She also reminded Cornyn, gently but pointedly, that he had elicited a pledge from her during her confirmation hearings as deputy attorney general that she would act independently of the president.
A few minutes later, Cruz, Cornyn's junior colleague from the Lone Star State, engaged in a somewhat testy exchange over the law, as he and Yates cited two different sections of statutes to justify differing opinions. Senator John Kennedy of Louisiana demanded to know when Yates had been appointed to the Supreme Court.
Kennedy drew laughter, unintentionally, a few minutes later, when he asked a perplexed Clapper whether he'd ever leaked unclassified information. Clapper replied that he would not characterize such a disclosure as a leak. It was not the only time the former spymaster felt compelled to define his terms. Clapper's major agenda for the meeting seemed to be to defend intelligence prerogatives and surveillance powers, and much of his opening statement was devoted to explaining unmasking, which he noted had been misdescribed in the media and by some members of Congress. In one strange exchange, Senator Ben Sasse of Nebraska sought assurances from Clapper that while the intelligence community might wish to prosecute WikiLeaks' Julian Assange, it would not target journalists, but Clapper insisted that if a journalist hurt the nation, he or she ought to be prosecuted.
In preparation for the Flynn hearing, Trump and his press secretary have argued that the Flynn fiasco is actually President Obama's fault, because Flynn's security clearance was renewed under Obama. Clapper undermined that already dubious argument. When Kennedy asked why Obama had renewed Flynn's clearance despite his talking to the Russians, Clapper noted that the renewal took place in January 2016, while the alleged conversation with Kislyak took place in December 2016. Clapper also said that the vetting for a position like national security adviser was typically "far, far more invasive and far, far more thorough" than standard security clearance.
One of the brighter moments for the Trump administration came near the start of the hearing. Clapper said he did not know of any evidence that Trump or his aides colluded with Russia to interfere in the election—although he also acknowledged he did not know about the FBI's investigation until Director James Comey publicly announced it in March. Yates said she could not say either way, because doing so would reveal classified information.
Overall, however, it was a rough afternoon for the White House—despite Trump tweeting Monday evening that "Sally Yates made the fake media extremely unhappy today—she said nothing but old news!" Since Flynn's firing, journalists and others (including me) have been asking how it was that the White House kept Flynn on for nearly three weeks after learning he'd been untruthful. With Yates's testimony, the question becomes even more pressing: Why did the White House keep Flynn in place, despite knowing he'd misrepresented his talks and knowing that the Justice Department considered him a blackmail risk? Trump has tried to shift the conversation to what Obama did or did not do, but eventually he'll have to explain his own actions on Flynn.
---
* This article originally misstated that Yates said she had not seen such intelligence reports. We regret the error.