Robert Mueller Takes the Case
The former FBI director will take over the investigation of any coordination between President Trump's campaign and Russia.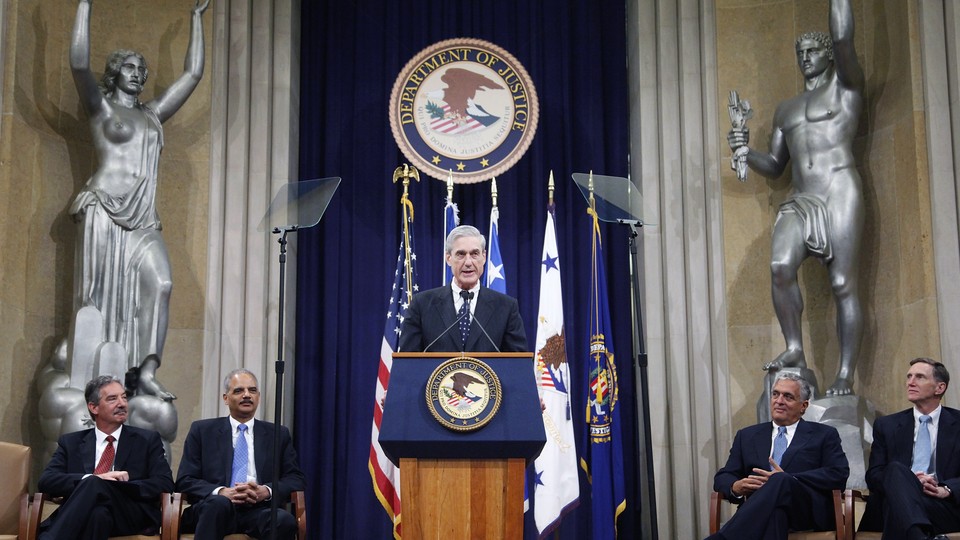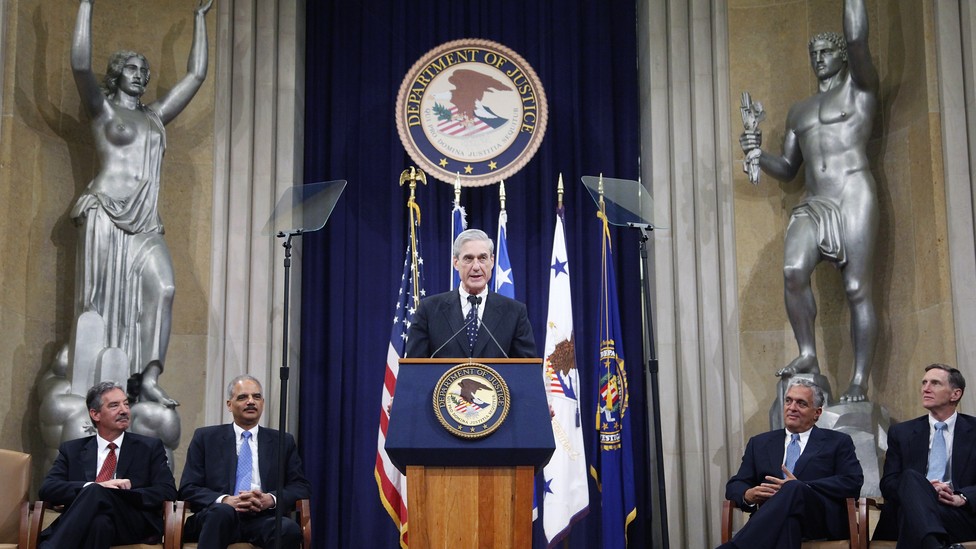 Updated on May 17 at 7:30 p.m.
The Department of Justice has named Robert Mueller, the former director of the FBI, as a special prosecutor to investigate Russian interference in the 2016 election and ties between the Trump administration and Russia.
The Justice Department made the announcement Wednesday at 6 p.m., following 10 days of political chaos and scandal that has shaken the already fragile administration of President Donald Trump. The decision follows a growing demand among Democrats and some Republicans for an outside authority to take over the Russia probe, after Trump's abrupt firing of FBI Director James Comey, which Trump acknowledged was driven in part by frustration with the FBI's examination of Russia.
According to a memo that Comey wrote, and which has been read to reporters, Trump also asked Comey to drop an FBI investigation into Michael Flynn, the fired national-security adviser, two months before he was fired.
The appearance of political interference, and perhaps even obstruction of justice, on the part of the Trump administration convinced many lawmakers that the department could not handle the probe through the normal course of business.
"I accept this responsibility and will discharge it to the best of my ability," Mueller said in a statement to CBS News.
President Trump issued a statement Wednesday evening:
As I have stated many times, a thorough investigation will confirm what we already know—there was no collusion between my campaign and any foreign entity. I look forward to this matter concluding quickly. In the meantime, I will never stop fighting for the people and the issues that matter most to the future of our country.
The decision to appoint Mueller, whose formal title is special counsel, was signed by Rod Rosenstein, who is deputy attorney general but made the appointment as acting attorney general. That's because Attorney General Jeff Sessions has been forced to recuse himself from the Russia probe, after admitting he failed to disclose meetings with Russian Ambassador Sergey Kislyak to the Senate.
Rosenstein wrote in an order that Mueller is authorized to take over the investigation that Comey confirmed to Congress in a March hearing. That includes "any links and/or coordination between the Russian government and individuals associated with the campaign of President Donald Trump" and "any matters that arose or may arise from directly from the investigation." It also gives Mueller authority to look into other crimes noted under a statute that establishes the special counsel, "such as perjury, obstruction of justice, destruction of evidence, and intimidation of witnesses; and to conduct appeals arising out of the matter being investigated and/or prosecuted."
If he believes it is necessary, Mueller "is authorized to prosecute federal crimes arising from the investigation of these matters."
Mueller is the second-longest serving director in FBI history. He was appointed by President George W. Bush and then given an unusual additional short term by President Barack Obama. The appointment quickly won praise from observers of the administration.
"It's an excellent choice," said Benjamin Wittes, a senior fellow at the Brookings Institution and editor of Lawfare. "It's good that he did it. And it's an important first step in salvaging a terrible situation."
Wittes last week wrote a fiery denunciation of Rosenstein for his role in the Comey firing, and had questioned the deputy attorney general's honor and independence.
Amy Jeffress, a former counsel to Attorney General Eric Holder, called Mueller "the best choice," citing his "rock solid integrity" and his smart, no-nonsense approach.
John Q. Barrett, a professor of law at St. John's University and a former associate counsel in the office of the Iran-Contra independent counsel, described Mueller as a "perfect fit."
"He's managed and supervised big, complex investigations, including in the national security area," said Barrett. "He's had from the line level, to the highest management level, investigative and prosecutorial roles in his background that are suited for this. He's attorney-general material, and this job is really a stand in for the attorney general."
"I cannot think of anyone better than him to lead this investigation," said Ali Soufan, a former FBI special agent. "He will get to the bottom of this. I served under Mueller, he is a man of great integrity."
Soufan noted that as FBI director, Mueller had a record of standing up to the Bush administration. "When we reported torture happening in the black sites, he supported us and pulled the FBI out of those places," Soufan said.
Mueller will step down from a position at the high-powered Washington law firm WilmerHale to avoid conflicts of interest, the Justice Department said in a statement.
"In my capacity as acting Attorney General, I determined that it is in the public interest for me to exercise my authority and appoint a Special Counsel to assume responsibility for this matter," Rosenstein said in the statement. "I have great confidence in the independence and integrity of our people and our processes [at the Justice Department]. Considering the unique circumstances of this matter, however, I determined that a Special Counsel is necessary in order for the American people to have full confidence in the outcome."
Mueller is a close friend of Comey. In 2004, when Comey was acting attorney general and Mueller was FBI director, both men nearly resigned in opposition to the reauthorization of a Bush-era surveillance program they believed was unconstitutional.
NBC News reported that the two top subjects of the investigation Mueller is taking over are Michael Flynn and Paul Manafort. Flynn, a retired lieutenant general, served briefly as national-security adviser before being fired in February, after it became public that he had lied to Vice President Pence and others about conversations with Russian Ambassador Sergey Kislyak, claiming he had not talked about sanctions on Russian prior to the election. Flynn also stands accused of accepting a payment from Russia for a 2015 trip without seeking permission, as required, and without declaring it on a security-clearance renewal. Manafort is a veteran operative who worked for Viktor Yanukovych, a Kremlin client who was president of Ukraine before being deposed in 2014, and for other Vladimir Putin-connected figures. Manafort was chairman of Trump's campaign in summer 2016.
ABC and CNN both reported that White House officials were given less than one hour notice before the announcement was made public. A special counsel is not fully independent, and can be fired.