Robert E. Lee Topples From His Pedestal
The city of New Orleans is removing its soaring monument to the Confederate general, who for decades was held up as a model for the nation and a symbol of its reunion.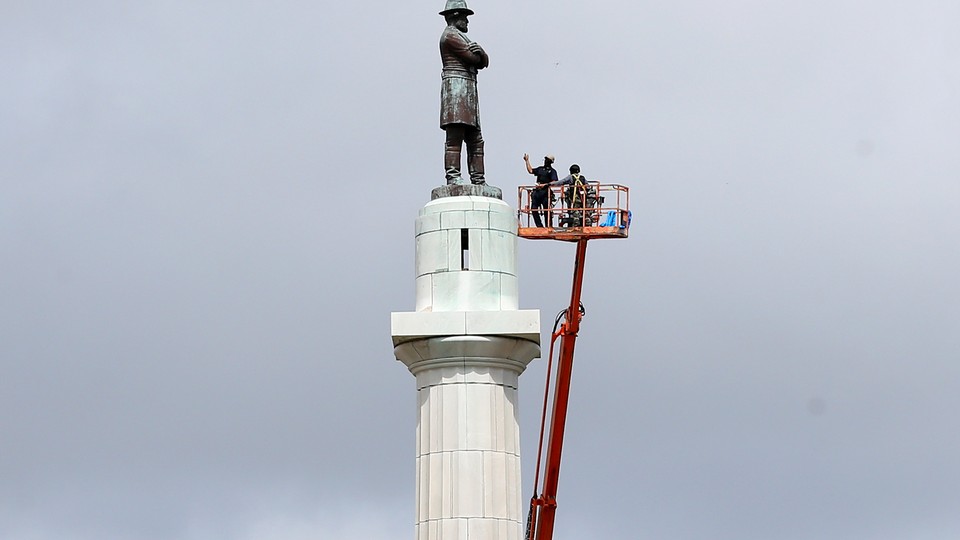 Workers began dismantling the Robert E. Lee monument in New Orleans on Friday, and will soon place it in temporary storage with three other such memorials. Once finished, their work will complete the most sweeping change to a major city's Civil War commemorative landscape since the initial calls to lower Confederate battle flags and remove Confederate monuments in 2015, following the murder of nine black churchgoers by Dylann Roof at the Emanuel African Methodist Episcopal Church in Charleston.
While calls to extract all four New Orleans monuments have been accompanied by controversy—including heated protest—the removal of the Lee monument may be the most difficult for the core defenders of Confederate heritage to accept. It may also be difficult for others who do not embrace a neo-Confederate agenda. Unlike Jefferson Davis, P.G.T. Beauregard, and other icons similarly honored in stone, only Lee managed to transcend his place in a slaveholders' rebellion to achieve mythical status on par with other vaunted historical figures.
It should come as no surprise that the general's popularity achieved its greatest ascendency in the South. Even before the end of the war, Lee became the symbol of the Confederate struggle for independence owing to his impressive string of battlefield victories.
Following his side's defeat, Lee quickly came to occupy a central place in the Lost Cause explanation of the war—an interpretation that, among other things, deified Confederates as embodying the virtues of bravery, sacrifice, and Christian morality. He epitomized the virtues of the Christian gentleman and appeared almost Christlike in Southern iconography. In the hands of Lost Cause writers, his military record and personal character served as the model of perfection for the next generation of white southerners. Finally, and perhaps most importantly, those writers used Lee to distance the Confederacy from its commitment to preserve slavery and white supremacy. Lee, it was argued, abhorred the "peculiar institution" and in the case of his own slaves exerted a gentle and humane touch.
By the early 20th century, monuments to the Confederate chieftain adorned public spaces in New Orleans; Baltimore; Dallas; Austin; Marianna, Arkansas; Richmond and Charlottesville, Virginia; and even the Gettysburg battlefield. In 1909 Virginia added a statue of Lee to the Capitol building's Statuary Hall in Washington, D.C. Motorists traversed roads from northern Virginia to Louisiana that were named after Lee, and children throughout the South were educated in buildings named in his honor.
These details probably come as no great shock to many Americans, but what may be surprising is the extent to which the memory of Lee resonated and was even embraced by individuals beyond the former Confederate states. Lee's image could be found on any number of products marketed throughout the country, including cigars, tobacco, pancakes, and whiskey. In 1920 an advertisement in the pages of the New York Tribune for a new "electric vacuum powered washing machine" featured an image of Lee and his "loyal body servant," or camp slave.
Many Northerners shared in the white South's reverence for Lee, who became a powerful symbol of national reunion and a model for the youth of the nation to emulate. Just five short years after his surrender at Appomattox Court House in Virginia, the New York Herald declared upon Lee's death that "here in the North we … have claimed him as one of ourselves" and "extolled his virtue as reflecting upon us." Such sentiments only became more prevalent through the Gilded Age.
To mark the centennial of Lee's birth in 1907, Charles Francis Adams of Boston—grandson of John Quincy Adams and great-grandson of John Adams—delivered an address at Washington & Lee University in Lexington, Virginia, where Lee became president after the war and where he was eventually buried. "There is not in our whole history as a people," Adams wrote of Lee's demeanor at the surrender ceremony at Appomattox, "any incident so creditable to our manhood—so indicative of our racial possession of character. Marked throughout by a straightforward dignity of personal bearing and propriety in action, it was marred by no touch of the theatrical, no effort at posturing. … Lee, dignified in defeat, carried himself with that sense of absolute fitness which compelled respect."
Adams held up Lee as a model of masculine white superiority in an age of social Darwinism and just as the nation was emerging as an imperial power. According to historian Nina Silber of Boston University, Adams "honored Lee as a man of action, as a soldier who proved his masculinity by his willingness to fight for his commitment, irrespective of the cause." The ability to extol Lee's virtues apart from addressing "the cause" for which he fought was made possible, in part, by the nation's embrace of a Civil War memory that celebrated the bravery of the white citizen soldier and a public acceptance of sectional reunion.
Historian and Richmond newspaper editor Douglas Southall Freeman reached a national audience in the 1930s with his four-volume, Pulitzer Prize-winning biography R.E. Lee. Freeman interpreted Lee's personal character and military career as embodying the spirit of the South's collective identity. Charles Willis Thompson concluded in the pages of The New York Times Book Review: "You rise from the completed work with the conviction here is Lee's monument. … Dr. Freeman has left nothing for any after-sculptor to carve." The Christian Science Monitor struck a similar chord in its description of Freeman's Lee "as a man in whom character and intellect were so balanced that he is like a Greek temple." Freeman's work helped ensure that Lee would remain in the pantheon of national heroes.
Lee's national reputation remained secure right through the period following the Second World War. In 1955 the federal government designated Arlington House— Lee's former home, located on the very ground that contains the remains of thousands of black and white Union soldiers—a national monument. Dwight Eisenhower told a national TV audience that Lee was one of the "four great Americans" whose portraits the president displayed in the Oval Office. In response, a dentist from New York wrote Eisenhower a note to remind him that Lee's "best efforts" were directed at the destruction of the Union. But Eisenhower pushed back in a letter of his own, claiming that Lee was, "in my estimation, one of the supremely gifted men produced by our nation"—"selfless almost to a fault, … noble as a leader and as a man, and unsullied as I read the pages of our history."
"Indeed, to the degree that present-day American youth will strive to emulate his rare qualities," the president continued, "we, in our own time of danger in a divided world, will be strengthened and our love of freedom sustained." For Eisenhower, Lee's character could continue to serve to rally Americans around a national standard—this time, at the height of the Cold War with the Soviet Union.
In 1975, in a ceremony at Arlington House that Eisenhower would no doubt have approved, President Gerald Ford signed a resolution that restored Lee's U.S. citizenship. In his speech, Ford stated what many Americans had already come to believe: "General Lee's character has been an example to succeeding generations, making the restoration of his citizenship an event in which every American can take pride." But even as the audience applauded, cracks in the Lee edifice were becoming increasingly visible.
His iconic status was challenged on two fronts. The first involved new scholarship on slavery that challenged deeply engrained myths and helped to highlight emancipation and the abolition of slavery as central themes of the Civil War. As a result it became increasingly difficult to commemorate the Confederacy without identifying the preservation of slavery and white supremacy as its central goal. Lee may have expressed some doubts before the war about the morality of slavery, but he felt it was "a greater evil to the white man than to the black race." And recent research reveals that he could be an especially violent taskmaster, especially toward his own escaped slaves.
Lee's war record points to a commitment to white supremacy as slavery began to unravel by 1863. Lee described Abraham Lincoln's Emancipation Proclamation as a "savage and brutal policy" and urged the government to make every effort to "save the honor of our families from pollution [and] our social system from destruction." Five months later, while marching into Pennsylvania in a campaign that culminated in the three-day Battle at Gettysburg, Lee's army rounded up suspected fugitive slaves to stem their tide from the Upper South. Lee's fears surrounding the effects of emancipation were on full display outside of Petersburg, Virginia, on July 30, 1864, where his men executed upward of 200 black Union soldiers both during and after what became known as the Battle of the Crater.
The rise of this new scholarship was accompanied by more determined political action that emerged from the civil-rights movement. In recent decades, changes in the racial and ethnic profile of local governments throughout the former Confederate states for the first time has made possible a more inclusive discussion about what existing monuments mean to their communities and which individuals and events deserve to be remembered and commemorated in public spaces. The ongoing debate in cities and towns across the South over Confederate iconography is a testament to this dramatic shift.
Shortly after the dedication of the Lee monument in Richmond in 1890, John Mitchell, the editor of the Richmond Planet, noted that, "He [the African American] put up the Lee monument, and should the time come, will be there to take it down." Mitchell's protests and those of others throughout much of the 20th century went largely unheard owing to a Jim Crow system that Confederate monuments themselves helped to cement. Now a major city is taking the general down from atop his pedestal. For Lee it represents another chapter in the slow decline of a once-revered national icon, but for the city of New Orleans it offers an opportunity for the first time to think carefully as a community about how its past can inspire it to move forward.