Republicans Reluctantly Accept a New Role: Trump Inquisitors
After new allegations against the president, Speaker Paul Ryan on Wednesday vowed that the House would conduct its oversight role "regardless of which party is in the White House."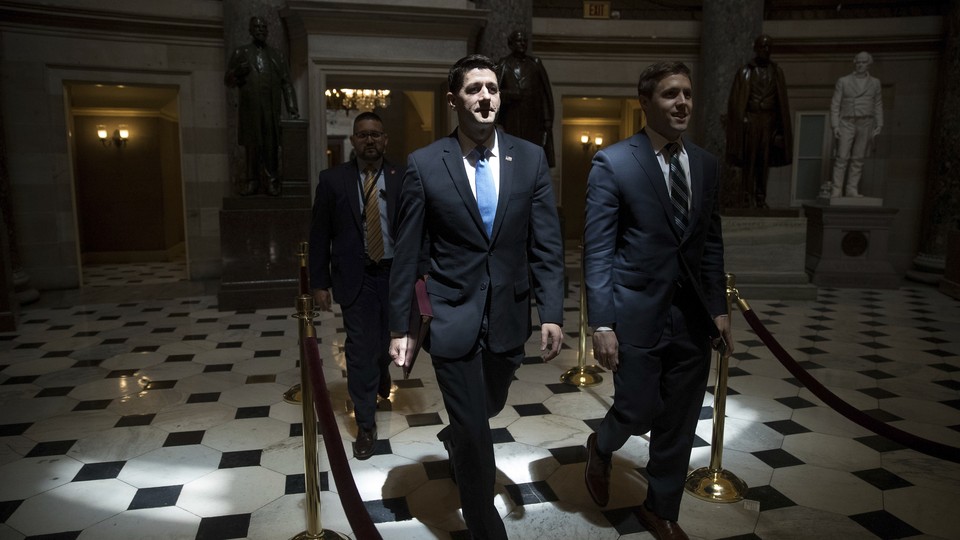 Updated on May 17 at 2:21 p.m. ET
It wasn't even two weeks ago that Republicans were back-slapping with Donald Trump at the White House, celebrating the passage of a health-care bill they hoped would rejuvenate their legislative agenda. Now, however, top GOP lawmakers are grimly accepting a role they wanted desperately to avoid—leading a presidential inquisition.
Speaker Paul Ryan on Wednesday said House committees would investigate whether President Trump asked then-FBI Director James Comey to end the bureau's investigation into his former national security adviser, Michael Flynn, a day after The New York Times reported that Comey, who Trump fired earlier this month, had documented the request in a contemporaneous memo. "We need the facts," Ryan told reporters at a press conference. "It is obvious that there are some people out there who want to harm the president, but we have an obligation to carry out our oversight regardless of which party is in the White House. And that means before rushing to judgment, we get all the pertinent information." The speaker was repeating a message he had just delivered to GOP lawmakers in private, according to a Republican in the room. "We should take our oversight responsibilities seriously regardless of who is in power," Ryan said in the meeting.
Three congressional committees and the FBI have already launched inquiries into Russian interference in last year's election and possible collusion by the Trump campaign. But a string of damaging reports this week has prompted a distinct shift in tone among Republicans who had brushed aside the seriousness of earlier allegations involving the president. Representative Jason Chaffetz of Utah, the chairman of the House Oversight Committee, immediately wrote to the FBI demanding copies of Comey's memos and threatened to subpoena them if necessary. Ryan backed the move, which ostensibly opened a fourth congressional probe into Trump's activities by a chairman who had previously shown little interest in confronting the White House and had announced plans to retire from the House. Chaffetz said on Twitter he had scheduled a hearing for May 24, although he had yet to confirm that Comey would appear.
On Wednesday, the Republican and Democratic leaders of the Senate Intelligence Committee sent Comey a new invitation to testify both in an open hearing and a classified session, and they wrote to acting FBI Director Andrew McCabe seeking copies of the same Comey notes and memos as Chaffetz. Later in the afternoon, the Senate Judiciary Committee made an even broader request, seeking memos from the Justice Department dating back to the Obama administration as well as records from the White House documenting Trump's conversations with Comey. Senators also sought any "audio recordings" that may have been made, an allusion to the president's mention of a possible taping system at the White House.
The GOP's changing attitude toward the Russia investigation was evident in other ways. A number of House Republicans indicated they would support calls from Democrats for a special prosecutor or an independent investigatory commission, and one frequent GOP Trump critic, Representative Justin Amash of Michigan, told reporters that if Comey's allegation against the president were true, it would warrant impeachment. When the House gaveled into session, Democratic Representative Al Green of Texas delivered a speech calling for Trump's impeachment on charges of obstruction of justice.
Ryan, however, preached patience and caution. He said he would not prejudge the investigation, but at the same time he echoed other Republicans in questioning why Comey did not "take action" immediately after Trump asked him to shut down the Flynn investigation. "So there are a lot of unanswered questions," he said. "Our job is to be responsible, sober, and focus only on gathering the facts. That is what Congress does in conducting oversight of the executive branch."
To be sure, Republican leaders have not made a complete reversal on the Russia allegations, nor have they turned on Trump. When Ryan was asked on Wednesday whether he still had confidence in Trump, he replied, "I do." Neither Ryan nor Senate Majority Leader Mitch McConnell are backing calls for an independent investigation or a special prosecutor. Republicans in the House and Senate have gamely tried to highlight their focus on legislative priorities—tax reform and health care, respectively—even as talk of scandal swirls around the White House and the Capitol. "We're going to walk and chew gum at the same time," Ryan vowed. "We're going to keep doing our jobs. We're going to keep passing our bills. We're going to keep advancing our reforms that we were elected to advance while we are doing all these other things that are within our responsibility and that's what we will be judged [by] in 2018."
But the speaker on Wednesday was not the same smiling, steely defender of the "unconventional" Trump he has been since November, a recognition perhaps that his party's steadfast support for the president had begun to fray.