The Upcoming Votes Republicans Are Really Dreading
In the next two months, Congress will have to raise the debt ceiling and pass a budget. GOP leaders don't know how they're going to do either of them.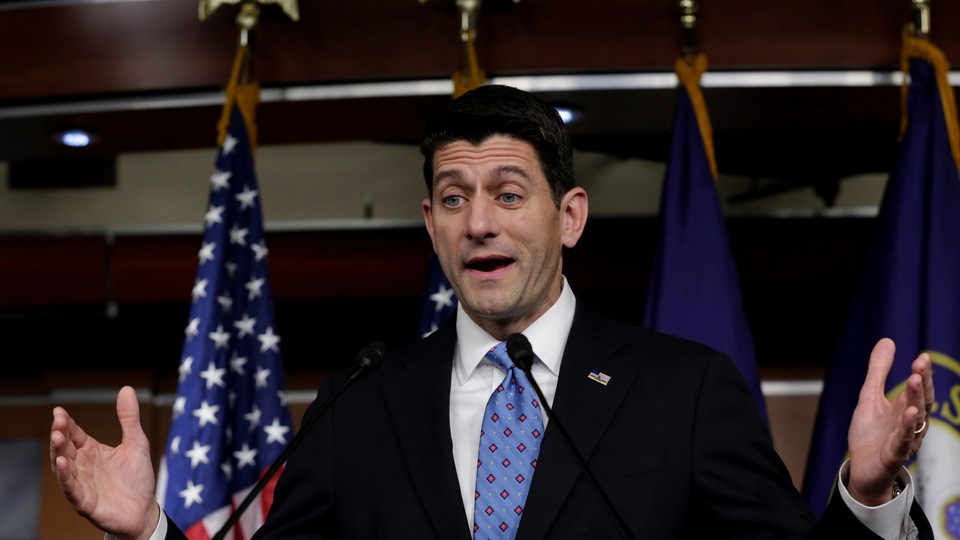 There's nothing that united Republicans more tightly during the Obama years than their shared criticism of all the debt that racked up under the president's watch. They raised political hell every time Democrats needed to raise the debt ceiling, and in 2011 they brought the country to the brink of default by insisting on spending and reforms in exchange for their votes.
This year, however, it's all on them.
Trump administration officials told lawmakers this week that the Treasury Department would need authority to issue more debt earlier than expected this year, urging Congress to act before its traditional summer recess begins in August. Republican leaders initially believed they would have until the fall before the Treasury Department exhausted the "extraordinary measures" it undertakes to buy more time, but Trump's budget director, Mick Mulvaney, testified that tax receipts have come in slower that expected.
In a separate appearance, Treasury Secretary Steven Mnuchin told lawmakers that he preferred they pass a "clean" increase in the debt limit—that is, without conditions or extraneous provisions. That request was both entirely expected and somewhat galling, coming from the administration of a party who for years had opposed that position when it was advocated by a Democratic president.
Mnuchin's push drew a swift rebuttal from the House Freedom Caucus, which adopted an official position in opposition to a "clean" debt-limit hike calling for Congress to pair the new authority with spending reforms. The pushback set up an all-too-familiar quandary for Republican leaders: Negotiate with conservatives on a bill that might turn off moderates and fail in the Senate, or abandon the party's right flank and turn to Democrats for help.
"We're going to be talking with our members and with the administration on how we resolve the debt ceiling," Speaker Paul Ryan told reporters on Thursday. "The debt ceiling issue will get resolved." He acknowledged that the administration's demand for an earlier vote had forced them to move up their timetable for acting on the debt ceiling, but he didn't flinch at Mnuchin's request for a clean bill. "Every treasury secretary says this and every treasury secretary needs to say this," Ryan said.
Other Republicans suggested the Trump administration was borrowing a negotiating tactic from Obama by dialing up the urgency; Congress rarely acts without a deadline, and telling lawmakers the markets will crash in early September is probably the best way to get them to vote in July before heading home for a month. In the last couple of years, GOP majorities have mostly given up on debt ceiling fights; instead of trying to woo conservatives, Republican leaders have swallowed hard and asked Democrats to bail them out. That might be the likeliest outcome this year, and so far, Democrats have given no indication—yet—they'll try to extract policy concessions in exchange for their votes. Watching Republican endure a round of embarrassing headlines has been reward enough.
For a time prior to the brinksmanship of the Obama years, congressional majorities approved debt-ceiling increases alongside their annual budget resolutions. That might be an appealing option for Republicans, who could meet the Freedom Caucus's demand for spending reforms in the budget and demonstrate their continuing desire to erase longterm deficits.
The problem is that the budget isn't proving any easier to pass.
As a non-binding statement of priorities, the budget had once been a point of pride for House Republicans, who rallied behind the entitlement reforms and tax cuts in the blueprints Ryan wrote as chairman of the Budget Committee. But this year, GOP lawmakers have spent more time picking apart President Trump's proposal than debating their own. The party is divided about how deeply to cut domestic spending and worried about endorsing policies that could offer more political fodder for an energized Democratic opposition.
The budget process is already about two months behind schedule, and as with health care, there is growing skepticism among senior Republicans that they can pass anything in the more conservative House that could gain the support of the far narrower GOP majority in the Senate. "I'm always leery of the Senate, because their record on this is frankly not nearly as good as the House," said Representative Tom Cole of Oklahoma, a senior member of both the budget and appropriations committees. "But I think there's cause for concern on the House side, too."
"We're still a ways away," Cole told me.
Another obstacle for House Republicans is the underlying mistrust between the members who write the budget proposals setting strict caps for departments, and the appropriators who then draft spending bills that must adhere to those spending levels. In recent years, those appropriations bills have often failed to pass out of the House, frustrating committee members who feel their colleagues have given them unrealistic spending targets only to abandon them on tough votes later on. "That's starting to wear on some people," Representative Charlie Dent of Pennsylvania, co-chairman of the moderate Tuesday Group and a member of the Appropriations Committee.
Republicans got away without passing a budget last year, relying on a two-year agreement they struck with the Obama administration a year earlier. But that's not an option this year if the party wants to enact tax reform, its top priority after repealing and replacing Obamacare. Passing a budget resolution is necessary to start the reconciliation process that Republicans are relying on to cut taxes without running into a Democratic filibuster in the Senate. As a last resort, the GOP might even skip all the details about entitlement reform and budget cuts, slap a top-line spending level and instructions for tax reform on a few pieces of paper, and call it a budget. "Much of the rest of it is aspirational and messaging," Dent said. "But this is what is real."
A stripped-down budget would serve the GOP's immediate needs, but it risks adding to the list of complaints that conservatives have lodged against the party leadership—and which might grow longer still if Republicans cave on the debt ceiling. With their promises on health care and tax reform each in doubt, it would mark yet another opportunity gone by for a party that hasn't proven itself to voters, one that began the year with grand ambitions but finds itself merely treading water instead.