Republican Loyalists Are Dooming the Obamacare Repeal Bill
For the second time, GOP leaders have lost the support of a key House veteran for the American Health Care Act at a critical juncture.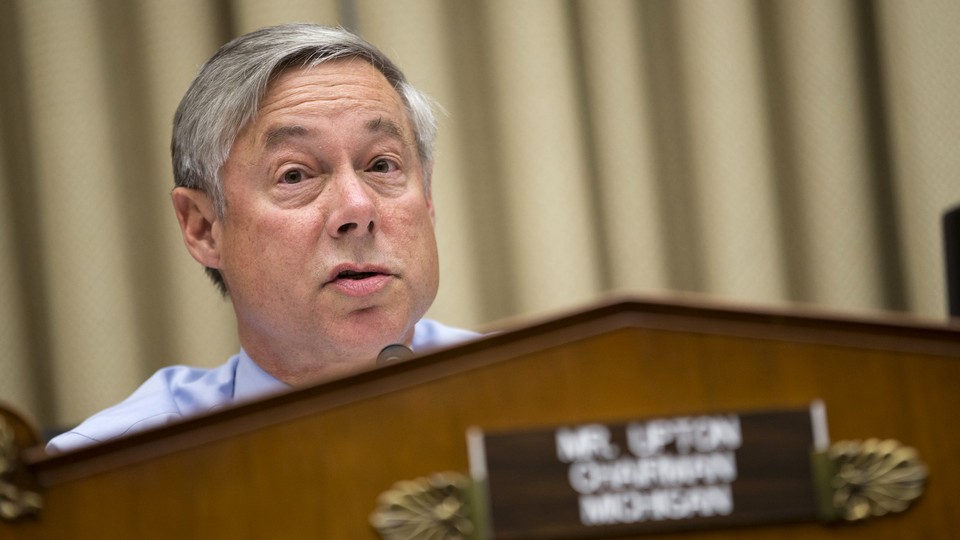 When the American Health Care Act died its first death in March, the House Republican who dealt the final, fatal blow to the bill was not a conservative member of the Freedom Caucus, nor was it a freshman worried about his or her chances of reelection.
It was Representative Rodney Frelinghuysen, a 22-year House veteran, scion of a New Jersey political dynasty, and chairman of the House Appropriations Committee. Though the committee's influence has diminished amid the GOP's spendthrift ways of the last decade, its chairman sits on a perch just below the party leadership in the informal hierarchy of the House.
Frelinghuysen had been on few of the public whip counts listing who might vote against the health-care bill; his loyalty to Speaker Paul Ryan was assumed. But on the day the House was set to vote, Frelinghuysen blindsided his Republican colleagues by releasing a statement opposing the legislation on the grounds that it would impose "significant new costs and barriers to care" on his constituents in New Jersey. In the hours after his announcement, similar statements from fence-sitting Republicans flooded in, and Ryan pulled the bill from the floor.
Six weeks later, GOP leaders are once again scrambling to pass their replacement for the Affordable Care Act, having secured the support of the Freedom Caucus with an amendment weakening the current law's insurance mandates. Again they appear short of votes, and again they find themselves reeling from the surprising defection of a party stalwart. This time it was Representative Fred Upton of Michigan, a 30-year House vet who until January served as chairman of one of the two committees charged with writing Republican health policy. As head of the Energy and Commerce Committee, Upton was instrumental in the dozens of bills the House GOP passed to repeal or roll back Obamacare, along with its largely undeveloped plans to replace it. The only reason he isn't still chairman of the panel—and as such, an architect of the AHCA—is that House Republicans bar their members from leading a single committee for more than three terms.
On Tuesday, Upton officially withdrew his support for the bill, telling a local radio station that he had informed the GOP leadership that he could not vote for it as long as it included the Freedom Caucus-backed provision allowing states to opt out of the requirement that insurers charge people with preexisting conditions the same premiums as everyone else. As with Frelinghuysen's announcement, Upton's reveal had the feel of a death knell for the latest Republican proposal. Under pressure from the White House, the leadership has been pushing for a vote by the end of the week, whipping lawmakers and trying to cobble together the 216 votes it needs to pass.
What made Upton's decision so damaging for Ryan is that he decided to make it public at all. Neither he nor Frelinghuysen is considered at risk of defeat in next year's elections, so their vocal opposition is probably not necessary for their political survival. The public whip counts list around 19 or 20 Republicans formally opposed to the current bill, and the leadership can afford no more than 22 defections. (Frelinghuysen has not come out for or against this version.) Dozens of members remain undecided, or at least publicly undeclared; they might genuinely be torn, or perhaps they don't want to vote for the bill and are hoping it doesn't come up at all, but as a favor to GOP leaders they are keeping their position quiet. It's common in close votes for reluctant members to tell their leaders that they'll vote for a bill on the floor only if their support is absolutely needed for it to pass.
Upton chose not to go that route. He made his opposition public, and then he went a step further by telling The Hill that adding more money to treat sicker people in high-risk pools would not be enough to win his support. His explanation hurts the leadership's cause even more, because it directly contradicts the argument Ryan made only a couple hours earlier. Ryan said the GOP's bill would strengthen protections for preexisting conditions rather than weaken them, because it would give states more flexibility in crafting insurance regulations. As Rich Lowry notes in the National Review, Upton risks charges of hypocrisy in citing his support for preexisting conditions. He wrote and voted for numerous bills over the years that would have repealed Obamacare entirely, including all of its consumer protections. But when Republicans wrote legislation that actually has a chance of becoming law, he and other moderate members of the conference have scurried away.
With the legislation again in doubt, Republican leaders are reportedly considering another round of changes to the bill, perhaps to bolster the high-risk pools or to revisit the preexisting-condition provision. But a vote by Thursday is looking less and less likely, and the House is scheduled to break for another recess next week. "It's hard to see how this Obamacare replacement passes," tweeted Doug Heye, a GOP former top adviser to then-Majority Leader Eric Cantor. "And if it has to be pulled for the second time, can it ever pass?"
Upton was not the only surprising "no" vote to emerge this week. Representative Billy Long of Missouri, a close ally of President Trump who is neither a moderate nor a member of the Freedom Caucus, cited the same preexisting-condition provision in opposing the bill on Monday. And several Republican deputy whips who are responsible for persuading rank-and-file members to back leadership bills are themselves unwilling to commit to the legislation. But like Frelinghuysen before him, it is Upton whose defection resonates the loudest—a siren blasted by an elder statesmen toward the leadership, and a warning that their faltering health-care bill might be doomed yet again.