A Montana Candidate Is Cited for Assaulting a Reporter on the Eve of Election Day
Witnesses say a Guardian reporter was attacked by Greg Gianforte, the Republican candidate for a hotly contested House seat, following a question about the American Health Care Act.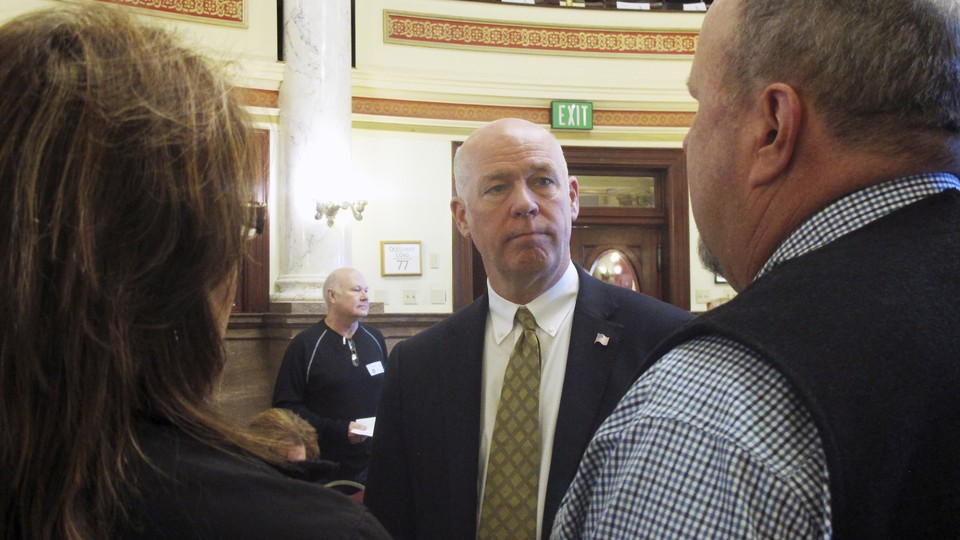 Greg Gianforte, a Republican candidate in the closely watched race for Montana's House seat, was cited for misdemeanor assault just hours before polls were scheduled to open. Multiple witnesses said that Ben Jacobs, a political reporter for The Guardian, was attacked by Gianforte on Wednesday afternoon after asking the candidate a question regarding the Republican health-care plan.
In a 911 call, Jacobs reported that Gianforte "body slammed" him to the ground, breaking his glasses in the process:
Greg Gianforte just body slammed me and broke my glasses

— Ben Jacobs (@Bencjacobs) May 24, 2017
The alleged assault took place at Gianforte's campaign headquarters in Bozeman, Montana. Gianforte was in a side room with a local news crew, The Guardian reports, when Jacobs entered and attempted to ask him a question. According to the Bozeman Daily Chronicle, Gianforte spoke with deputies from the Gallatin County Sheriff's Office following the incident, but left the scene without speaking to reporters.
The race for Montana's only House seat had already drawn national attention. Both Democrats and Republicans view the contest to fill the seat vacated by Ryan Zinke, who left to become the Trump administration's interior secretary, as a potential bellwether for the upcoming 2018 midterm elections and a gauge of the president's popularity. Despite being a solid-red district that Trump won by double digits, Democrats believe their nominee, Rob Quist, has the potential to pull off an upset.
"Following multiple interviews and an investigation by the Gallatin County Sheriff's Office it was determined there was probable cause to issue a citation to Greg Gianforte for misdemeanor assault," said Sheriff Brian Gootkin in a statement. "The nature of the injuries did not meet the statutory elements of felony assault." Gianforte received the citation on Wednesday night, and must answer it in Gallatin County Justice Court by June 7. If convicted, he faces up to six months in jail, or a fine of $500, or both.
The citation for assault was an eleventh-hour twist in a race where as many as two-thirds of the ballots had already been cast. Several of the state's largest newspapers, including The Billings Gazette, The Missoulian, and The Helena Independent Record withdrew their endorsements of Gianforte.  "This incident is not Montana. It's not America," said the Gazette. "It's not who we are, and attacking — literally — those with whom we disagree cannot be justified, tolerated or explained away."
Jacobs released an audio recording of the encounter with Gianforte on Wednesday night, which seems to confirm that a physical confrontation indeed took place. "I'm sick and tired of you guys," Gianforte can be heard saying. "The last guy who came here did the same thing. Get the hell out of here." Gianforte then asked Jacobs whether he wrote for the The Guardian, to which Jacobs replied, "Yes! You just broke my glasses." "The last guy did the same damn thing," Gianforte said again.
Alexis Levinson, a reporter for BuzzFeed News who was present at the time, has confirmed much of Jacobs's account. Although Levinson tweeted that she didn't witness the entire incident, she described how it looked from behind "half a closed door." From Levinson's point of view, "Ben walked into a room where a local [TV] crew was set up for an interview with Gianforte. All of a sudden I heard a giant crash and saw Ben's feet fly in the air as he hit the floor." Levison wrote that she "heard very angry yelling," which sounded like it was coming from Gianforte.
Later in the evening, a crew from Fox News published an article saying they, too, witnessed Gianforte attack Jacobs. While their account was consistent with that of Levinson and Jacobs, it also claimed that Gianforte punched Jacobs and grabbed his neck:
Gianforte grabbed Jacobs by the neck with both hands and slammed him into the ground behind him. Faith, Keith, and I watched in disbelief as Gianforte then began punching the man, as he moved on top the reporter and began yelling something to the effect of, "I'm sick and tired of this!"

Jacobs scrambled to his knees and said something about his glasses being broken. He asked Faith, Keith, and myself for our names. In shock, we did not answer. He then said he wanted the police called and went to leave. Gianforte looked at the three of us and repeatedly apologized. At that point, I told him and [Shane Scanlon], who was now present, that we needed a moment. The men then left.
The crew added that they did not witness any physical aggression on Jacobs's behalf, and were cooperating with local authorities.
In the wake of the incident, Jacobs issued a statement to The Guardian over the phone from the back of an ambulance. "He took me to the ground," Jacobs said. "This is the strangest thing that has ever happened to me in reporting on politics." Jacobs echoed these same comments later in a conversation with NBC's Chris Hayes, adding that his elbow was injured during the confrontation:
A spokesperson for Gianforte's campaign issued a response shortly following the allegations, offering a very different account of their encounter, including statements not in evidence on the recording:
Tonight, as Greg was giving a separate interview in a private office, The Guardian's Ben Jacobs entered the office without permission, aggressively shoved a recorder in Greg's face, and began asking badgering questions. Jacobs was asked to leave. After asking Jacobs to lower the recorder, Jacobs declined. Greg then attempted to grab the phone that was pushed in his face. Jacobs grabbed Greg's wrist, and spun away from Greg, pushed them both to the ground. It's unfortunate that this aggressive behavior from a liberal journalist created this scene at our campaign volunteer BBQ.
Gianforte's statement is at odds with the audio; at no point in the recording can Gianforte be heard to ask Jacobs to lower his recorder.
At a press conference at 8 p.m. local time on Wednesday, the Gallatin County Sheriff's Office revealed that five people were present for the incident. The county sheriff, Brian Gootkin, said that Jacobs was being interviewed by the police. According to Gootkin, the sheriff's office did not know if any video footage existed, but they did retrieve an audio recording from Jacobs. Gootkin added that Montana's house election would have no bearing on the investigation.