Q of the Week: What Was Your Favorite Moment From a Presidential Trip?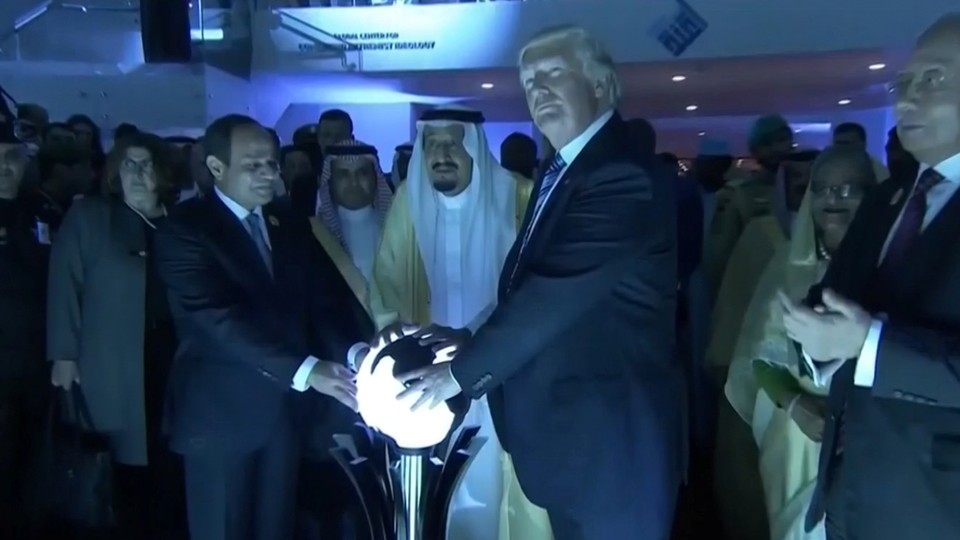 Editor's Note:
This article previously appeared in a different format as part of The Atlantic's Notes section, retired in 2021.
A photo of President Trump, Saudi King Salman bin Abdulaziz, and Egyptian President Abdel Fatah al-Sisi placing their hands on a glowing orb went viral this week, drawing comparisons online with comic-book villains and the Palantír from The Lord of the Rings. So we asked our Politics & Policy Daily readers to share the most memorable moments from trips taken by past presidents. Here's what they said:
Several of you pointed to the infamous dinner when President George H. W. Bush vomited on the lap of Japanese Prime Minister Kiichi Miyazawa, and then fainted. Reader Anna Bucciarelli felt for him: "I remember it so well and felt such empathy with the president. It had to have been the most embarrassing moment of his entire life."
On June 26, 1963, former President John F. Kennedy said "Ich bin ein Berliner," in an attempt to show support to West Germany after the construction of the Berlin Wall. Reader Peter Bonde wrote that "nothing Trump has said or done shows that he is emotionally or intellectually capable of such a gesture."
Others, like Viane, remember the speech differently: "We Americans were impressed that [Kennedy] greeted the crowd with a German phrase, until we learned that he had told them, 'I am a donut.'" Actually, he didn't.  But it is a common misconception that the president accidentally changed the meaning of the phrase by including the indefinite article "ein."
Reader Brian Moore brought up another memorable diplomatic misspeak that happened in Poland in 1977, when a translator for President Jimmy Carter incorrectly translated Carter's innocuous message to something more … sexual.
Howard Cohen said he vividly remembers the criticism President Reagan received in 1985, when he visited a military cemetery in Bitburg, Germany, that contained the graves of some SS troops. The visit, Howard noted, also drew public criticism from Elie Wiesel, the late Holocaust survivor and author.
And finally, another reader remembered that this photo of former President Obama taking a selfie with then-British Prime Minister David Cameron and Danish Prime Minister Helle Thorning-Schmidt at Nelson Mandela's funeral stuck out.