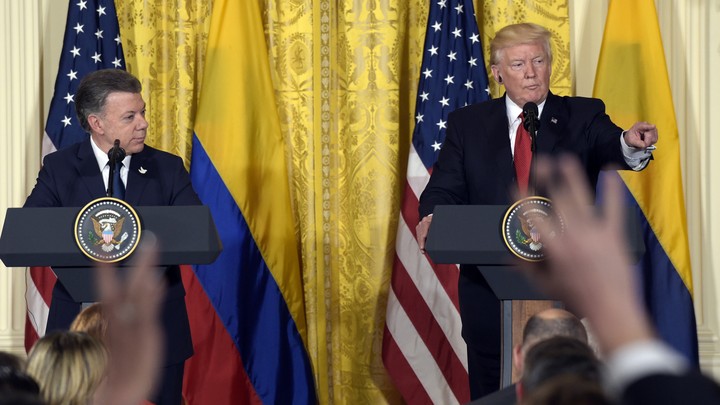 President Trump categorically denied Thursday that he asked former FBI Director James Comey to scale back an investigation into former National Security Advisor Michael Flynn, repeating his claim that the federal investigations into Russian interference in the 2016 presidential election constitute a "witch hunt."
At a press conference alongside Colombian President Juan Manuel Santos in the White House, Trump visibly lacked the verve and vigor he demonstrated on the campaign trail, as if the weight of the growing scandals had begun to take their toll. Asked about the appointment of Robert Mueller to take over the FBI's inquiry as special counsel on Wednesday, the president began by simply stating, "I respect the move."
Then he strenuously denied any wrongdoing and depicted the Russia investigation as harmful to national unity. "I think it divides the country. I think we have a very divided country because of that, and many other things," Trump said, before recounting his administration's accomplishments to date on economic issues, the fight against ISIS, and undocumented immigration.
Trump's rebuttal of the latest bombshell report about Comey—that he drafted memos describing the president's attempts to influence the Flynn investigation—was the first he'd offered in public. "Did you at any time urge former FBI Director James Comey in any way, shape, or form to close or back down the investigation into Michael Flynn?" a reporter asked.
"No. No. Next question," he responded curtly.
His responses, which included multiple references to the dire state of American life and his desire to tackle the problems people face, seemed to reflect public suspicion that the growing Russia investigation could derail his nascent presidency. Instead, Trump suggested it was the FBI's "special" reputation that had been tarnished the most by the sprawling scandals over the past year.
"I cherish the FBI," he told reporters. "The FBI has not had that special reputation, with what happen in the campaign, what happened with respect to the Clinton campaign, and even you could say directly or indirectly with respect to the much more successful Trump campaign."
His sudden firing of Comey last week, Trump argued, was an attempt to restore that reputation. He cited erroneous testimony about Clinton aide Huma Abedin's handling of classified information that Comey made the week before his ouster, as well as Deputy Attorney General Rod Rosenstein's memo castigating Comey's actions during the investigation into Hillary Clinton's private email server.
"I actually thought when I made that decision—and I also got a very, very strong recommendation, as you know, from the deputy attorney general, Rod Rosenstein," Trump asserted. "But when I made that decision, I actually thought it would be bipartisan. People on the Democratic side, not only the Republican side, were saying such terrible things about Director Comey."
His account differs from the reported sequence of events that unfolded last week. Rosenstein made no such specific recommendations in his memo, although Attorney General Jeff Sessions recommended Comey's dismissal in a separate letter. And shortly before the press conference began, multiple Democratic senators said Rosenstein told them during a briefing for the entire Senate that he drafted the memo after Trump had decided to fire Comey.
Trump also praised his imminent, unnamed pick to take over the bureau. "We're going to have a director who is going to be outstanding," he said. "I will be announcing that director very soon, and I look forward to doing it. I think the people in the FBI will be very, very very, very thrilled." The president told a group of reporters shortly before the press conference that Joe Lieberman, a former Democratic senator from Connecticut, is among the current frontrunners for the job.
Nominating a new FBI director may draw the immediate crisis for the Trump administration to a close. But the long-term strain of the ongoing Russia investigation will continue to linger as Mueller takes control of the inquiry. Asked about his broader concerns of possible illegality on his part, the president again painted the allegations and suspicions against him as unfounded.
"I think it is totally ridiculous," Trump said. "Everybody thinks so. Again, we have to get back to working our country properly so that we can take care of the problems that we have. We have plenty of problems."
We want to hear what you think about this article. Submit a letter to the editor or write to letters@theatlantic.com.
Matt Ford
is a former associate editor at
The Atlantic
.