The Progressive Civil-Rights Lawyer Philadelphia Wants for District Attorney
Larry Krasner has big goals for the city's justice system. But there's no telling if he'll succeed where others have failed.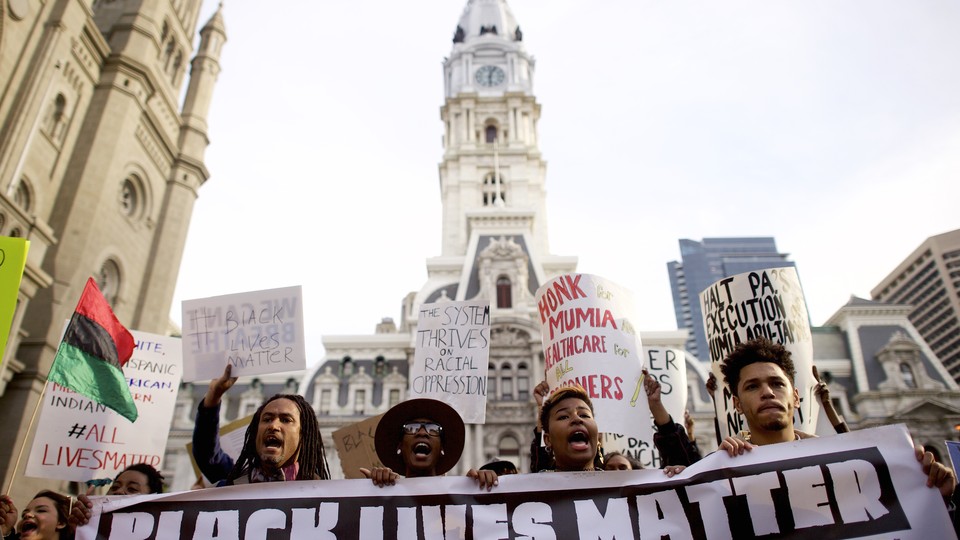 Updated on May 17 at 10:25 a.m. ET
PHILADELPHIA—Civil-rights lawyer Larry Krasner, known here for defending activists and suing law enforcement, roundly beat six fellow Democrats in Tuesday's primary for district attorney. The contest was a de facto election in this solidly blue city, and Krasner should have an easy time against his Republican opponent in the fall.
Krasner's victory—he won with roughly 38 percent of the vote—is a signal that the appetite the city's voters have shown for criminal-justice reform in recent years has only grown stronger. The primary was crowded with reformists, all of whom ran on popular ticket items for the small but growing wave of "reform-minded" prosecutors assuming office across the country. But as Philadelphia magazine's Holly Otterbein notes, Krasner was the most progressive of the bunch: He promised "to end mass incarceration by effectively starving the criminal-justice system," eschewing the death penalty and cash bail for nonviolent offenders, and supporting greater access to diversion programs and drug courts.
Philadelphia is a city with deep tough-on-crime roots, but Krasner is one of several reformers it's backed in top positions. Last year, the city elected a mayor, Jim Kenney, who ran on a platform with criminal-justice reform at its center, and six years earlier backed the now-outgoing DA, Seth Williams, who'd similarly offered change. Together they perhaps represent two stages in the life cycle of reformists: Kenney with his plans still unfolding, and Williams with his largely dashed.
Though Williams was ultimately undone by a still-ongoing corruption scandal—he is currently under federal indictment for bribery, extortion, and fraud—he also wasn't able to fulfill most of his campaign promises. Between the systemic and cultural obstacles to change in the criminal-justice system, even reformist DAs who are assumed to be operating in good faith have difficulty executing their plans. Should voters expect Krasner to be any different?
He would undoubtedly say "yes." Krasner has defended Occupy and Black Lives Matter protesters in court, and he received endorsements from the city's most prominent BLM organizer, Asa Khalif. He had the highest national profile as well, attracting support from billionaire donor George Soros, New York Daily News writer and activist Shaun King, and Grammy-winning musician John Legend.
Krasner's opponents were perhaps more traditional: five candidates who've worked as assistant DAs and a Philadelphia Municipal Court judge. Reflecting on a recent Democratic debate he moderated, civil-rights attorney David Rudovsky gave me his impression: "At the end of it, I said to myself, 'It sounds like they're all running for public defender.'"
Rudovsky saw the Democrats' similarities as indicative of the community's changing opinion of what an effective criminal-justice system looks like. "A lot of people, regardless of their political views, now think that mass incarceration is a total failure, as is the War on Drugs and so on. Which has led to this kind of discussion," he said. "It's more than just locking up as many people as you can and winning as many cases as you can."
Krasner has never been a prosecutor, often described as the most powerful actor in a criminal-justice system. As the DA, or lead prosecutor, in this large city, he'd also play an additional role as the public face of criminal justice. Philadelphia's law-enforcement legacy is a controversial one, especially with regard to the tenure of former mayor and police commissioner Frank Rizzo, who served in the 1960s and 1970s and whose figure still looms large in debates about policing (sometimes literally so). These days, crime has fallen in Philadelphia, but it has the highest rate of incarceration among the 10 largest U.S. cities. Roughly 30 percent of its roughly 6,000 jail detainees are awaiting trial, unable to afford bail, and five class-action lawsuits have been brought against it in the past five decades for allegedly overbooking its jail.*
DAs have a tremendous amount of discretion in shaping what law enforcement looks like in a city: deciding who is put on trial; making plea deals; and suggesting bail amounts, punishment, and length of sentencing, where applicable. They can have influence beyond their jurisdictions as well. "I don't think one should underestimate the bully-pulpit role of being the DA in Philadelphia, or Chicago or Los Angeles. These are huge leadership roles. It's not just about the local community—it's about how they're moving the justice system in their state and in the nation," said Miriam Krinsky, a former federal prosecutor and current executive director of Fair and Just Prosecution, a new national network designed to share best practices and other resources for reformist prosecutors.
Of the dozen or so members of Krinsky's organization, some have fully implemented policies traditionally associated with criminal-justice reform. Cook County State's Attorney Kim Foxx, who presides over the second-largest prosecutors' office in the nation, changed her jurisdiction's guidelines to raise the bar for what is considered a felony, for example. And the DA of Texas's Harris County, Kim Ogg, has ceased prosecuting possession of four ounces or less of marijuana.
But DAs nationwide face significant barriers to carrying out a reformist agenda, in large measure due to the broader justice system. They don't work in isolation, but rather in concert with law enforcement, other political offices, and the other arms of the judiciary. The big-ticket items that Krasner and other prosecutors have campaigned on—reforms of asset forfeiture, bail, and the death penalty—are not entirely under a DA office's purview. That's not to say that DAs can't make significant and swift changes: They can move to divest their offices from asset-forfeiture revenue, advise that certain types of defendants aren't held on cash bail, or refuse to use evidence obtained through stop-and-frisk techniques.
But the kind of deep and lasting change that reformist DAs like Krasner promise comes through shared vision and cooperation with other offices and agencies that may not actually exist. Completely overhauling a jurisdiction's criminal-justice system requires judges and lawmakers with potentially varied beliefs about reform to also play ball.
The cooperation of state legislatures is particularly salient in Pennsylvania. Despite political will in its largest and most liberal city to implement reforms, there's been very little actual change in terms of new legislation. One recent example: After six years and pushback from the local FOP, last fall outgoing DA Seth Williams enacted guidelines to say that investigative files related to officer-involved shootings, including the names of officers, be released to the public before police are charged. The rules seemed to fulfill his promise to increase transparency in such cases. But resistance from conservative state lawmakers—with the backing of a statewide coalition of DAs—have prevented this reform from becoming law.
DAs promising to shake things up can also face challenges from their own staff. The offices they take over are often heavy with career prosecutors and a deeply ingrained office culture. "Lawyers and prosecutors can be change-adverse," Krinsky said. "There is a need for a new leader to come in and win the hearts and minds of those in the office—and if they can't, decide what their team looks like," she said. In other words, those not in line with the new agenda should be let go.
High turnover when a new lead prosecutor comes into office is traditionally seen as a negative—that something must be wrong if experienced staff is leaving. But efforts to keep them on may, in effect, encumber reform. Philadelphia DA staffers have the option to stay or leave, but elsewhere in the country, the hiring protocol runs the gamut. The Florida state attorney's office has in the past required all of its lawyers to resign from their positions and reapply (though the current SA has chosen not to continue the tradition). By contrast, all employees in the Los Angeles city attorney's office have civil-service protections ensuring job security after a new head is elected.
Regardless of how much of the old guard remains, reform-minded prosecutors are tasked with developing new metrics of success for their offices, both to keep lawyers on track and to be able to articulate their wins, if any, to the public. "You need to make sure that prosecutors in the office are rewarded not just for getting convictions, but exercising good judgment," said David A. Sklansky, a professor at Stanford Law School who follows the trend of reformist DAs closely. "Even when that means dismissing a case or declining to prosecute a case in the first instance."
Krinsky is working on developing a model to assess and articulate reformers' work product. It is "still very much a work in progress," she said, but added that she is looking to public-health models for guidance on measuring signifiers beyond rates of crime and incarceration.
"It's tricky," Sklansky said, referring to how DAs are judged. "There are lots of things we want from prosecutors and they are often in tension. We want them to be fair and objective officers of the court, but we also want them to be zealous and effective advocates. We want them to faithfully follow the law, but we also want them to exercise mercy in appropriate circumstances, sometimes we want them to reflect community sentiment." These contrasts ring as true in Philadelphia as they do anywhere else in the country.
Sklansky suggested that this new breed of prosecutor starts their tenure with clear, measurable objectives that can be tracked quantitatively, such as reducing jail population by a certain amount annually, or sending a certain number of juveniles to diversion programs instead of detention.  "If they're elected on those issues, that's how they should be assessed," he said.
---
* This article originally misstated that half of the pretrial detainees in Philadelphia can't afford bail. We regret the error.