Older Voters Are Complicating the GOP's Plans for Health Care
Republican members of Congress who oppose the Obamacare replacement have something in common: Their constituents—who tend to be older—fear losing benefits.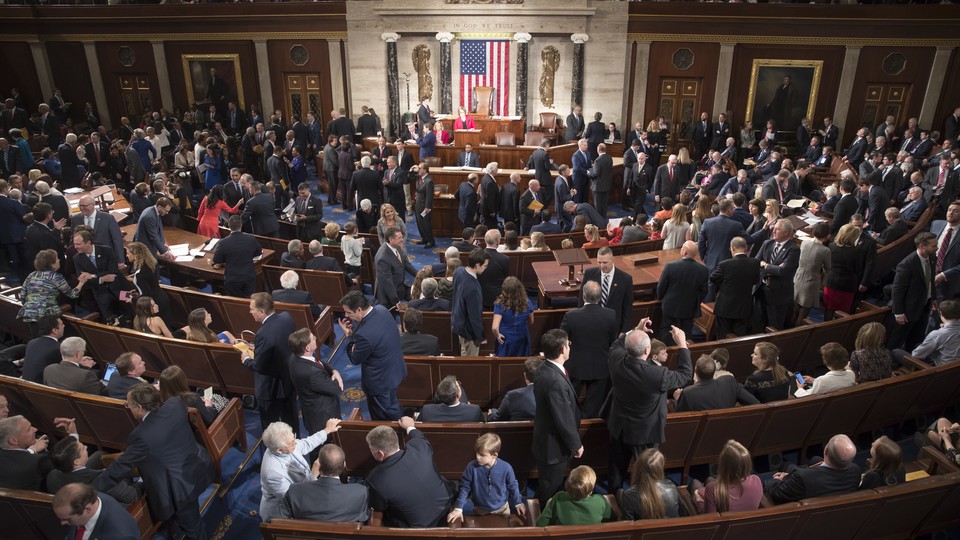 House Republican leaders struggling to pass their alternative to the Affordable Care Act are colliding head-on with the GOP's new demographic reality: Their coalition is centered on older white voters, many of whom fear losing benefits from the Obama-era law.
An Atlantic analysis shows that House Republicans who have expressed opposition to the GOP's replacement plan are heavily concentrated in districts where the median age, the number of seniors, or both exceed the national average. Because President Trump ran so well in older and often blue-dollar districts, that dynamic produces a paradoxical result: Most of the House Republicans expressing hesitation about the bill, whose passage Trump supports, represent districts he carried. In most of those seats, Trump improved on the performance of 2012 GOP nominee Mitt Romney.
That unexpected pattern underscores the GOP's continuing difficulty reconciling its traditional small-government ideology with the material needs of the older and lower-income whites increasingly central to its coalition. While retaining the traditional conservative skepticism of programs targeted at the poor, those older whites have departed from conservative dogma by consistently expressing support in polling for government programs—from Medicare to Social Security—that they believe would benefit their own families. As the House's legislative struggle suggests, it appears the ACA may be joining that list.
The continuing internal House GOP division over the health-care legislation follows a Congressional Budget Office analysis that found the party's initial ACA replacement could lower premiums for many younger and healthier consumers, but significantly raise costs for older working-age adults. Surveys have consistently shown the bill facing intense resistance among adults ages 50 to 64. In a late March Quinnipiac University poll, over three-fifths of those adults opposed the House GOP plan, more than in any other age group. Almost exactly half of adults in this age group said they strongly disapproved of the bill.
Likewise, in a recent ABC/Washington Post national survey, over three-fourths of adults 50 and older opposed allowing states to opt out from the ACA's nationwide protections for insurance consumers with preexisting health conditions, as the latest version of the GOP bill allows. The same survey found three-fifths of adults in that age range opposed the bill's provision allowing states to opt out of providing a menu of essential health benefits, such as covering substance abuse. Those sentiments loom over the pattern of opposition and hesitation on the bill that's detailed in an unofficial whip count published by The Hill.
As of Monday afternoon, that count identified 22 House Republicans opposing the bill, potentially enough to sink the measure. Just eight of those 22 declared opponents represent districts that Hillary Clinton carried last fall. Fourteen represented districts that Trump carried. And in 15 of the districts, Trump performed better than Romney did in 2012.
Those numbers mean the bill's opponents are still more likely than the GOP caucus overall to hold seats that Clinton carried: A little more than one-third of the opponents are in such split-ticket districts, compared with only about 10 percent of all 238 House Republicans. But the number of opponents from split-ticket districts is more modest than many might have expected—and limited enough that most of the declared opponents of this urgent priority for Trump represent districts that he carried, often by a stronger margin than Romney did four years ago.
Age may help explain why so many Trump-district Republicans are resisting him. Fully 17 of the 22 declared opponents to the legislation hold seats where the median age exceeds the national average of 37.8 years old. Sixteen of the 22 hold seats where the share of seniors 65 and older exceeds the national average of 14.9 percent. In another three districts, the share of seniors is just 1 percent or less than the national average. That means over three-fourths of the bill's declared House Republican opponents represent districts older than the national average. That significantly exceeds the nearly three-fifths of all House Republicans who represent such greying districts, according to Atlantic calculations. (Updates to the whip count published Tuesday morning did not significantly change any of the patterns described here.)
Districts of House Republicans Who Oppose the GOP Health-Care Plan
Age was a more consistent thread than class: The 22 declared opponents split about evenly between districts where the share of whites holding at least a four-year college degree exceeded (10 districts) or lagged (12) the national average of 34.2 percent.
About half of the bill's opponents are members representing districts where the median age is 40 or above, which is well above the national total. That list includes Daniel Webster and Ileana Ros-Lehtinen of Florida; Brian Fitzpatrick, Patrick Meehan, Ryan Costello, and Charlie Dent of Pennsylvania; and Frank LoBiondo, Chris Smith, and Leonard Lance of New Jersey. (Webster late Monday left open the possibility of supporting the bill.)
Several members in that group have specifically cited the revised bill's impact on older adults to explain their opposition. "It will make coverage more expensive for older Americans as they near retirement," Meehan tweeted. LoBiondo said: "It's bad on seniors."
Republican Billy Long, who represents a heavily rural Southwest Missouri district, turned heads when he declared his opposition to the bill on Monday, citing the amendment ending the nationwide guarantee to affordable coverage for people with preexisting conditions. Though Trump carried Long's district by nearly 46 percentage points, it contains more than the national share of seniors and ranks below the national average in median income and white college graduates.
The broader group of 55 House Members that The Hill identified as expressing at least some hesitation about endorsing the bill looks largely similar. Just nine of the 55 represent districts that Clinton carried, a percentage only slightly greater than the average for the caucus overall. In 35 of these 55 seats, Trump gained ground relative to Romney, almost exactly the same share as within the caucus overall.
But 31 of those still hesitating about the bill, a clear majority, represent seats with a median age older than the national average. In contrast to the declared opponents, that percentage doesn't differ much from the average in the overall GOP caucus. But that convergence underscores how broad a range of congressional Republicans must now consider the needs of older voters, many of them economically strained. Reinforcing that economic vulnerability, the share of whites holding a college degree trails the national average in 41 of those 55 seats, and the median income lags the national average in 30 of them.
Another list of opposed and undecided House Republicans produced by NBC yielded similar results. Among the 20 members NBC listed as opposed, four-fifths represented districts older than the national average and three-fourths held seats with a larger-than-average number of seniors. Of the 16 NBC identified as undecided, three-fourths held seats where the median age exceeded the national average; the same share held districts with an above-average share of seniors.
Older whites have been trending steadily Republican since 2000, and Trump put an exclamation point on that movement with a commanding performance last fall: According to exit polls, he carried about 60 percent of whites older than 45. (House Republicans did even better, the polls found.) Those older whites provided a majority of all of Trump's votes. He was especially dominant among older working-age whites without a college degree: Trump carried fully 71 percent of non-college-educated whites ages 45 to 64, his best performance among blue-collar or non-college-educated whites in any age group.
Ironically, it now appears that one of the principal obstacles Trump faces in resurrecting the GOP drive to repeal the health-care law is the fear among many House Republicans that the bill will hurt—and provoke a backlash from—the older whites at the core of the president's electoral coalition.