Democrats Target Vulnerable Republicans Over Health-Care Vote
Will opposition to GOP efforts to dismantle Obamacare become an effective rallying cry for the left?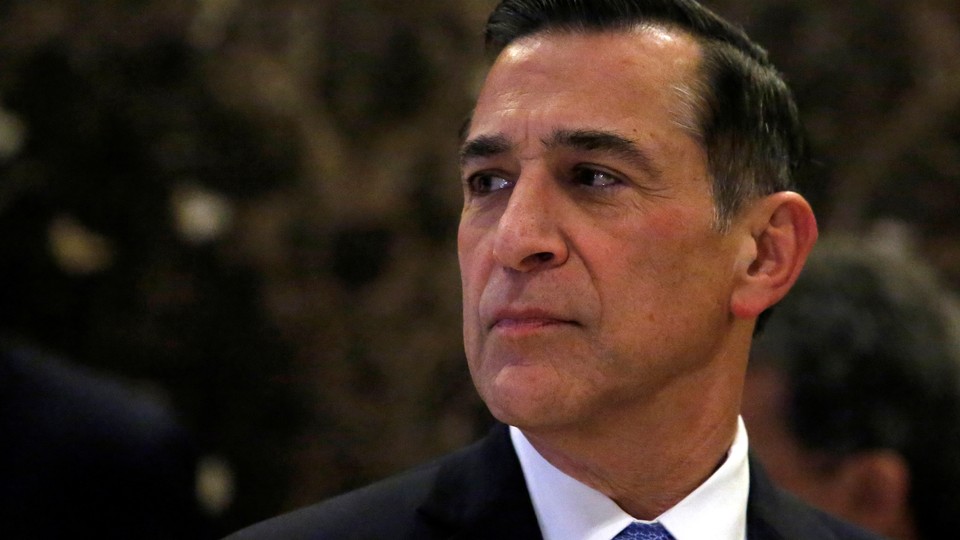 Updated on May 5, 2017 at 10:25 a.m.
Democrats are targeting House Republicans who voted in support of legislation to repeal and replace major parts of the Affordable Care Act. Activists are hoping to channel opposition to GOP efforts to dismantle former President Obama's signature health-care law into fundraising that will help back Democratic candidates in the 2018 midterm elections, though it's unclear how much the issue will galvanize Democratic voters and donors.
Democrats sent out a flurry of fundraising appeals after House Republicans passed the American Health Care Act on Thursday, raising at least $1,213,387 as of 10:27 a.m. EST Friday morning through online donation pages set up through ActBlue, a website that raises money for Democratic candidates.
Democrats may feel a particular sense of urgency to rally opposition to the GOP health-care law in part because liberal activists were caught off guard by its successful passage in the House. The bill now faces an uncertain future in the Senate.
Progressives mobilized in opposition to a Republican health-care overhaul by showing up at town halls and calling up their members of Congress to protest early in the Trump administration. But as Jeff Stein reported for Vox, after House Republicans failed to pass legislation in March, some activists "largely moved onto other priorities."
Now, locked out of power in Congress, Democrats' best hope at pressuring Senate Republicans not to pass the bill is to send a message that any Republican who supports it will pay a political price.
It may be more difficult to raise money in fundraising drives not directly tied to a specific candidate, however. The current effort will test how much Democrats are willing to shell out in opposition to a specific piece of legislation, or in service of the overarching goal of winning back the House, in the Trump era.
It's still less than 24 hours since House Republicans passed their legislation, but so far the fundraising drive has generated far less money than several relatively recent and high-profile fundraising pitches associated with a particular political candidate.
Zeynep Tufekci, the author of a new book titled "Twitter and Tear Gas: The Power and Fragility of Networked Protest", commented on Friday morning on Twitter that the roughly $1.2 million raised so far is "a paltry sum."
I won't sugarcoat. This is a paltry sum. The left/DEM donors/rich ppl are MIA. Grassroots energy not matched/helped. https://t.co/1TsgQFtEXf

— Zeynep Tufekci (@zeynep) May 5, 2017
Donald Trump's presidential campaign reported an $18 million online fundraising haul in a 24-hour period after a presidential debate. Bernie Sanders raised roughly $6 million in just over 20 hours after he won the New Hampshire Democratic primary. And Jon Ossoff, a Democratic candidate running in a Republican district in a Georgia special election, has raised over $8 million in his race, a total that has also been spurred on by online donations and appears to have set a record for a congressional candidate.
If Democrats can expand their online fundraising beyond specific candidates, that could open up new possibilities for amassing reserves of money in advance of elections.
In its pitch for donations, the liberal website Daily Kos argues that a surge in donations "would both terrify Republicans and boost Democratic efforts to recruit good candidates … [and] help us defeat these Republicans next year." The appeal directs readers to an ActBlue page raising money that will be earmarked for future Democratic challengers in 24 Republican-controlled districts where Trump won less than 50 percent of the vote in November and whose lawmakers voted in support of the GOP health-care bill.
Republican lawmakers who represent districts that Clinton carried, including Martha McSally in Arizona, Carlos Curbelo in Florida, and Darrell Issa in California, all appear on the list. As of 10:27 a.m. EST on Friday, the fundraising page had raised $807,604.
A separate ActBlue page for Democratic challengers to any House Republican who voted to support the bill had raised $405,783 by 10:27 a.m. EST on Friday. And Hillary Clinton took to Twitter to promote what appeared to be a different ActBlue page to fund challengers to Republicans who voted for the bill in swing districts.
There are some indications that Democratic digital fundraising has seen a spike during the Trump administration. Last month, ActBlue announced that in the first quarter of 2017 the site "handled nearly $112 million from over 4 million contributions." A blog post chalked up the numbers to the new administration. "The reaction to the Trump administration and the surge in action is unlike anything we've seen before," it reads.
If Democrats can raise substantial amounts of money, it may encourage would-be party candidates to more seriously consider running against House Republicans in the upcoming midterm elections. The risk for Democrats, though, is that if they fail to generate big money, their fundraising drives could embolden swing district Republicans, convincing them they won't in fact face formidable challengers in 2018.