Can the Democrats Convince Millennials to Vote in 2018?
The party has a boom-and-bust coalition: Some of its most reliable voters during presidential elections—young people and minorities—don't turn out as enthusiastically for midterms.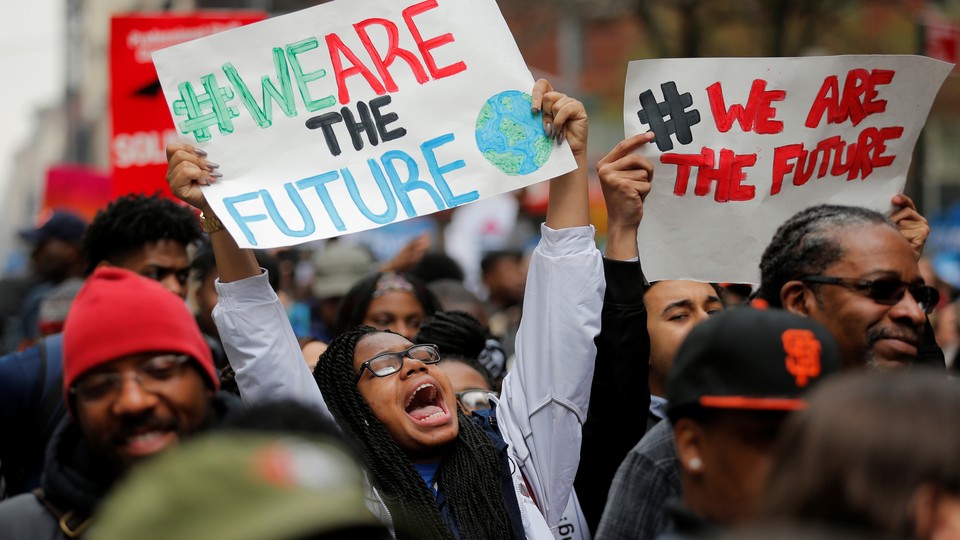 President Trump's historically low approval ratings provide Democrats legitimate reasons for optimism about their prospects in the 2018 elections, especially in the House. But that confidence rests on a contradiction: Minorities and Millennials, the groups most alienated from Trump, are traditionally the constituencies least likely to vote in midterm elections.
The contrast between the electorate's composition in presidential and midterm elections has confounded Democrats since the 1990s. Over the past two decades, the party has grown more reliant on a coalition revolving around college-educated whites (especially women), minorities, and Millennials. That new configuration has left Democrats with a boom-and-bust coalition, because the latter two groups are much more likely to vote in presidential elections than midterms; that off-year falloff has been particularly severe among young people. As those Democratic-leaning groups recede in midterms, the older whites who increasingly favor the GOP cast a larger share of ballots.
That dynamic helped fuel the GOP sweeps in both the 2010 and 2014 contests under former President Barack Obama, and offers a warning for the next one. "If the 2018 electorate resembles a typical midterm electorate, Democrats won't take back the House," said Tom Bonier, chief executive of the Democratic voter-targeting firm TargetSmart. "The question of millennial turnout is the biggest question to that end, and it will remain an open question until Election Day 2018."
The challenge is especially urgent for Democrats because Trump divides younger and older Americans so sharply. Though Trump showed strength among blue-collar white Millennials, he carried just 36 percent of young people overall last November. Polls show he's lost ground since. Both the CNN/ORC and NBC/Wall Street Journal surveys released last week found his approval rating among adults ages 18 to 34—almost exactly the Millennial generation's boundaries—falling below 30 percent. That's much lower than his ratings among older adults, especially those 50 or older.
Polls have also found that over three-fourths of Millennials oppose both Trump's Mexico border wall and his push to repeal Obama's climate-change agenda. Eliminating funding for Planned Parenthood, cutting taxes for top earners, barring Syrian refugees—each Trump priorities—all face preponderant Millennial opposition in surveys.
That hostility has produced a pronounced Democratic lean in early tests of 2018 attitudes. Millennials said they preferred Democrats for Congress by crushing margins of nearly 30 percentage points in both the NBC/Wall Street Journal and CNN/ORC surveys. That's more than double the party's advantage among younger voters in NBC/Wall Street Journal polls from 2010 and 2014. By contrast, Americans 35 years old or more divide exactly evenly between the parties on that ballot test in the CNN/ORC survey and slightly prefer Republicans in the other.
With Millennials poised to eclipse baby boomers as the largest generation of eligible voters in 2020, their widespread antipathy toward Trump's insular vision for the country looms as a long-term GOP challenge. Democrats, though, face the bigger near-term problem: motivating them to vote in 2018. As Bonier suggests, the balance between how many younger and older voters turn out could decide control of the House.
Figures compiled by CIRCLE, an institute that studies voter engagement at Tufts University, found that turnout among eligible voters ages 18 to 29 plummeted by more than half from the 2008 presidential election to the 2010 midterms and by that much again from 2012 to 2014. That decline was proportionally far greater than among older generations. (It was also greater than the falloff among minority voters from presidential to midterm elections.)
The result is that while young people ages 18 to 29 comprised nearly one-fifth of all voters in 2008 and 2012, their share collapsed to about one in eight in 2010 and 2014. Seniors, in turn, cast considerably more of the total vote in those midterms than in the presidential years. If that dynamic persists, it will measurably boost Trump and the GOP. In the CNN survey, over seven in 10 Millennials said they want candidates who will oppose Trump. A slight majority of seniors said they want candidates who will support him.
Can Democrats avoid another midterm Millennial malaise? They start with less enthusiasm than under Obama. With Hillary Clinton topping the ticket, Bonier's analysis of state voter files found, turnout was strong among Hispanic young people, weaker among younger African Americans (especially men), and mixed among whites.
CIRCLE Director Kei Kawashima-Ginsberg thinks Millennials may be more motivated than usual to vote next year because many believe Trump's agenda threatens advances they considered settled, from gay rights to confronting climate change. Trump "seems to be causing serious anxiety among women, minorities, and Clinton voters," she said, "so we might see something entirely different."
Two young Democratic operatives have approached the problem from the supply side by forming an organization called Run for Something that assists progressive Millennials seeking state or local office. Amanda Litman, the group's co-founder, said it is building a network of campaign consultants and donors to help young candidates for offices from school board to state legislatures; it has already advanced about 800 potential candidates past its initial screening process.
That many more young candidates knocking on doors could engage more young voters. "Our candidates have told us," Litman said, "that their friends and their communities are getting more involved because they have a personal connection." Rather than waiting for Democratic organizations to groom young candidates and mobilize young voters, she added, "people like me, my candidates, and their supporters are stepping up and not waiting for the committees."
Litman pins responsibility in the right place. Whether or not the Democratic Party musters effective turnout efforts, the Trump years will test whether Millennials can bear the weight of politically defending the values that most of them say define their generation.