McMaster's Dilemma
The national-security adviser is the latest well-regarded official to risk his credibility for President Trump.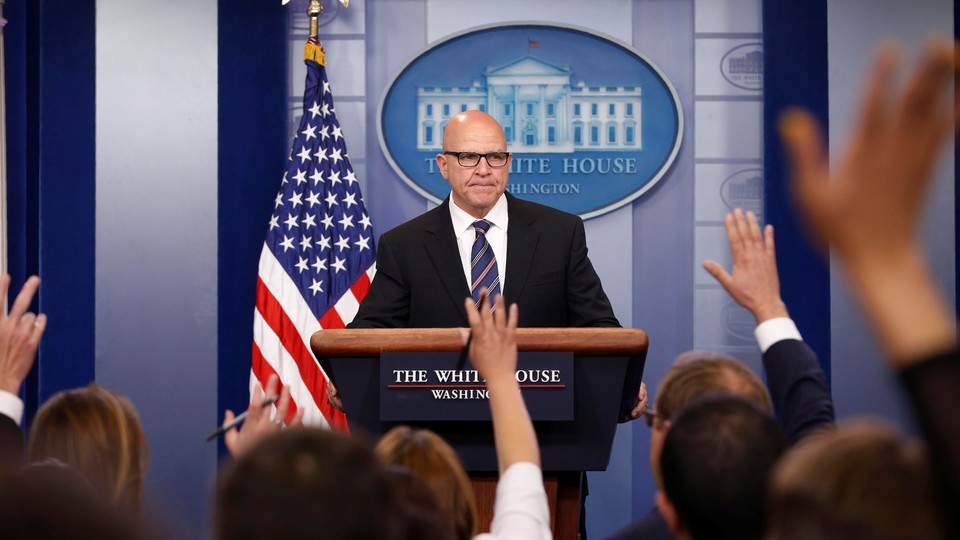 Donald Trump campaigned against the "swamp" and the establishment—but as president, it is respected professionals with government experience to whom he's turned in times of crisis. The latest well-regarded official to find his credibility pulled into Trump's maelstrom of scandal is National Security Adviser H.R. McMaster.
"The place that has the highest risk is in the White House," said Eric Edelman, a former Bush administration Pentagon and White House official. "If you're in the orbit of Donald Trump personally you're likely at some point to be called upon to defend something that's not defensible by normal standards."
McMaster was the official charged with Trump's defense after The Washington Post reported that in a meeting, Trump had shared highly classified information with the Russian foreign minister and ambassador, who were accompanied by aides and a state media photographer.
The explosive story sent the White House—still reeling from days of drama following the president's firing of FBI Director James Comey, and  not yet grappling with the most recent New York Times report—into a communications tailspin. Three statements were sent out in tandem, from McMaster, Secretary of State Rex Tillerson, and Deputy National Security Adviser Dina Powell, each slightly different. Reporters huddled in the "upper press" area where the senior communications staff has offices, until being alerted that McMaster would speak to press in the stakeout area in the White House driveway.
McMaster spoke for less than a minute, didn't take questions, and didn't really deny the substance of the Post's story, instead saying that the president had not divulged sources and methods to the Russians—an allegation not made in the story. McMaster said the story "as reported is false."
On Tuesday morning, Trump himself tweeted a tacit confirmation of the Post's scoop, saying he had the "absolute right" as president to share the information with Russia.
Later that same morning, McMaster shouldered the bulk of the work explaining the story to reporters in a high-stakes briefing, in which he hewed to the administration's line that the real problem is those who leak to the press, said Trump's conversation with the Russians was "wholly appropriate," and ended by acknowledging that Trump didn't even know the source of the intelligence.
"Nothing in General McMaster's statement or press briefing contradicted in any way what the president said," said National Security Council spokesman Michael Anton. "General McMaster accurately characterized the content of the president's conversation with the Russian foreign minister based on the clear recollection of four people who were in the meeting and all of whom spoke on the record."
McMaster was being a good soldier, said someone who knows him well who spoke on condition of anonymity.
"It does fit into his sense of duty," this person said. Of the situation McMaster's been put in: "I'm not surprised. I expected something like this and I don't think it'll be the last time."
The episode recalled the White House's deployment of deputy attorney general Rod Rosenstein as cover for its firing of Comey—a scheme that has damaged the reputation of Rosenstein, who reportedly complained about the way the firing had been portrayed and even threatened to quit.
It's the experienced professionals like Rosenstein who are staking their own credibility on Trump as his presidency spirals out of control. McMaster's moment in front of the cameras came even before the latest bombshell, a New York Times report that Trump had asked Comey to shut down the investigation into former National Security Adviser Michael Flynn.
"For those of us who like and admire HR, and I count myself among those, what's hard to watch is someone who, starting from when he wrote his doctoral dissertation on military truth to power, having developed a reputation as a kind of truth teller and someone with a lot of integrity and great honesty, being put in the position of having to parse words and be disingenuous," Edelman said.
What makes McMaster's situation even more striking is that his book on the Vietnam War criticizes generals for not standing up to the administration.
"I think he is carrying a particularly heavy load because of his reputation," said Eliot Cohen, a former Bush Administration State Department official and Atlantic contributing editor who knows McMaster, but is not in touch with him. "He knows that, I'm sure. He's also carrying a heavy load—this is me, not him speaking —because of the man he's working for."
"He's a loyal soldier and any military person is used to having sooner or later a really difficult boss and operating within the hierarchy, so undoubtedly he's wrestling with all those things," Cohen said.
In a letter to Foreign Policy's Tom Ricks, retired Lieutenant Colonel Paul Yingling, who served under McMaster in Iraq, appeared to implicitly criticize McMaster's behavior:
"An officer may not tolerate a lie," Yingling wrote. "This standard requires not only that everything an officer says is true and complete, but also that an officer must correct anyone who lies in his or her presence. An officer can never be content with a half truth when the whole can be won."
McMaster's plight is the kind of scenario that gave many Republican national security professionals pause when thinking about entering the Trump administration.
McMaster's graduate adviser, Richard Kohn, a professor at UNC, wrote in the Washington Post in November that they had a duty to do so.
"Like dozens of other prominent GOP national security leaders, you may have publicly opposed Donald Trump's presidential campaign in harsh terms. (Or perhaps you found him appalling but kept your views to yourself.)," Kohn wrote. "Now that he will be moving into the White House, however, you must serve in a Trump administration if given the opportunity."
"To succeed, you will have to be prepared to speak truth to power, and then to be ignored, overruled, dissed and otherwise embarrassed," Kohn wrote. "The people in charge may not be principled or capable and, including in Trump's case, perhaps even disparaging of those around them and working for them."