Who Is Marc Kasowitz?
President Trump's lawyer for the Russia investigation doesn't have much criminal-defense experience. But he does provide something even more valuable to his client: loyalty.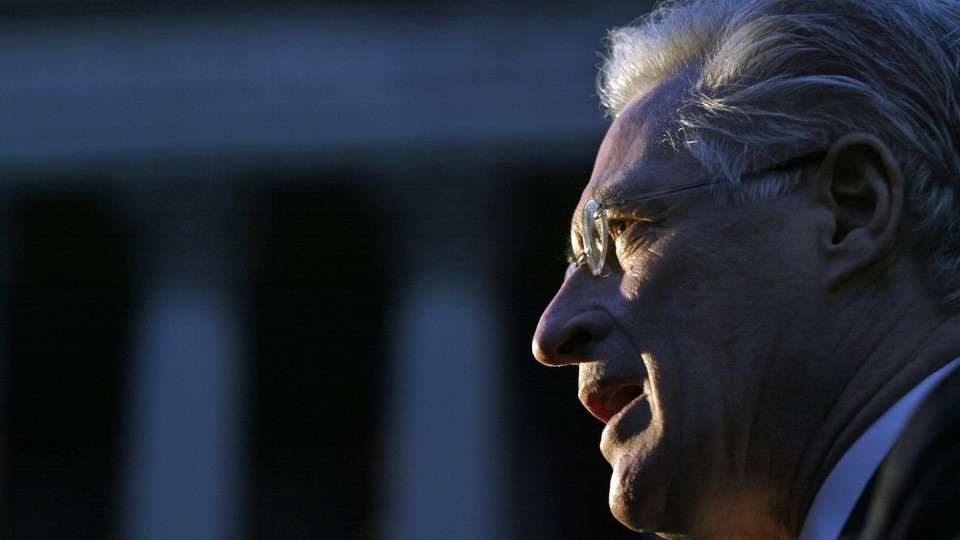 President Trump is turning to a longtime ally to represent him in the federal probe into Russian interference in the 2016 presidential election: Marc Kasowitz, a prominent New York corporate attorney who's acted as an off-and-on legal fixer of sorts for the president for almost two decades.
The appointment prompted former Connecticut Senator Joe Lieberman, whom Trump described last week as a frontrunner to replace former FBI Director James Comey, to withdraw himself from consideration on Thursday. (Some news outlets reported earlier this week that the White House had already decided to pass over the former legislator and start the process anew.)
"With your selection of Marc Kasowitz to represent you in the various investigations that have begun, I do believe it would be best to avoid any appearance of a conflict of interest, given my role as a senior counsel in the law firm of which Marc is the senior partner," Lieberman wrote in his letter.
Trump tapped Kasowitz to join a team that'll function as his private counsel during the Russia investigation. His role will be distinct from that of Michael Cohen, Trump's longtime personal attorney and a former Trump Organization counsel. Kasowitz and the other lawyers on the team will instead focus on representing Trump personally in matters specifically related to the inquiry. They'll also act independently of White House Counsel Don McGahn, who represents the office of the presidency and not Trump himself.
The selection of Kasowitz comes amid growing legal trouble for Trump over the Russia investigation and his controversial ouster of Comey. After his removal, The New York Times reported Comey kept contemporaneous notes about conversations with Trump in which the president allegedly asked him to drop the investigation into his former national-security adviser, Michael Flynn. Those memos, as well as other public remarks by Trump about Comey, could potentially prompt a federal investigation into obstruction of justice on the president's part.
Kasowitz is a founding partner of Kasowitz Benson Torres, a high-profile law firm with headquarters in New York City. His profile on its website describes him as an "uberlitigator" and "the toughest of the tough guys." Established in 1993, Kasowitz Benson primarily handles litigation for large corporations and real-estate cases. It's also drawn attention for its close ties to the president. The firm was previously known as Kasowitz, Benson, Torres & Friedman, for example, until David Friedman, who headed the firm's bankruptcy division, resigned to join the Trump administration as the U.S. ambassador to Israel.
Kasowitz himself has a long history of working high-profile cases, ranging from tobacco company lawsuits in the 1990s to those of large banks and insurance companies in recent decades. In the mid-2000s, he represented the Port Authority of New York and New Jersey in a negligence lawsuit brought by victims and their families over the 1993 World Trade Center bombing. More recently, he signed on in March as lead attorney for OJSC Sberbank, one of Russia's largest state-run banks, in a fraud lawsuit involving the institution's takeover of a granite-mining company.
But he's perhaps best known for his long history representing Trump in a multitude of legal matters. In that role, he's been an aggressive defender of the real-estate businessman's interests and reputation. At times he's played a role in the Trump University fraud litigation saga, which ended in January with a $25 million settlement from Trump. In 2006, he sued Trump biographer Timothy O'Brien on his client's behalf, claiming the author had inaccurately described Trump's net worth as a paltry $1 billion. (A New Jersey court eventually tossed out the lawsuit.)
Another high-profile incident came during last year's presidential campaign when the Times published interviews in October with two women who accused Trump of inappropriately groping them years earlier. Trump immediately threatened to sue the newspaper in retaliation. In a letter to the newspaper on Trump's behalf, Kasowitz called the article "per se libel" and asked the newspaper for "a full and immediate retraction and apology."
David McCraw, the Times's legal counsel, responded by noting that American libel law exists to protect a person's reputation from malicious attacks. "Nothing in our article has had the slightest effect on the reputation that Mr. Trump, through his own words and actions, has already created for himself," McCraw wrote. If Trump believed the First Amendment would allow him to punish the Times for its reporting on a subject of national interest, he added, "we welcome the opportunity to have a court set him straight." No lawsuit has been filed.
Trump is not the first president to rely on outside legal help during his time in office. Richard Nixon hired a stately Massachusetts lawyer named James St. Clair to defend him during the Watergate scandal. Bill Clinton also relied on a team of attorneys to help him navigate through scandal throughout his presidency, including Robert Bennett, who represented him during the Paula Jones lawsuit, and Greg Craig, who led the lawyers defending Clinton in his impeachment trial.
In selecting Kasowitz, Trump ultimately opted against an attorney with more experience in criminal-justice matters or one who brings a stronger familiarity with federal law enforcement's practices and procedures. Instead he's selected what he'll likely value most in the months and perhaps years to come: a familiar ally in what could become the legal fight of his life.