The Federal Prosecutors Backing Jeff Sessions on Mandatory Minimums
The National Association of Assistant United States Attorneys lobbied against the last major push for criminal-justice reform in Congress. Now their former president is working in the Justice Department.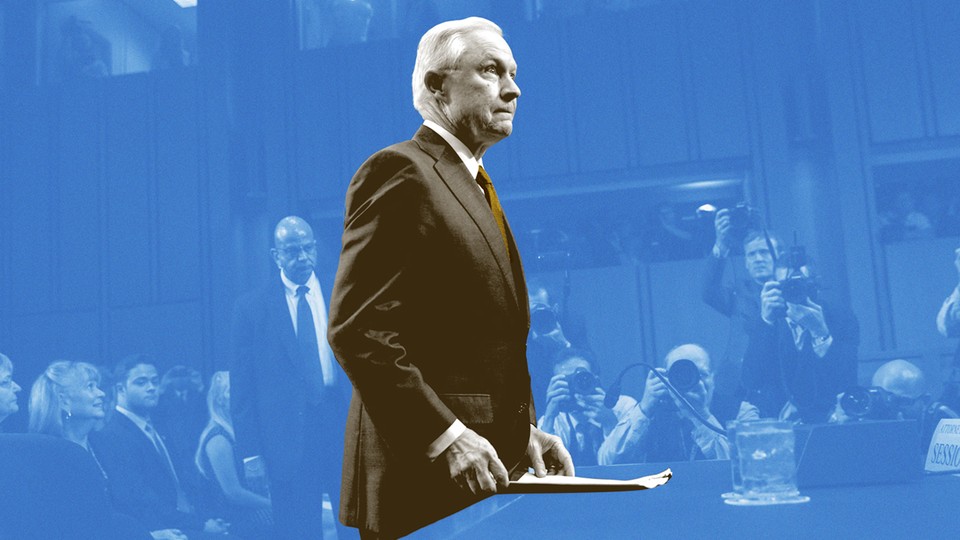 Attorney General Jeff Sessions's recent directive to federal prosecutors to seek the harshest charges and sentences against defendants drew swift opposition from criminal-justice reform advocates both in and outside of government. The policy contrasts sharply with recent efforts to reduce America's prison population—a goal that's made odd bedfellows from across the political spectrum—and effectively rolls back Obama-era sentencing reforms. Not surprisingly, former Attorney General Eric Holder chimed in with a rebuke, saying in a statement that the directive was driven by "voices who have not only been discredited, but until now have been relegated to the fringes of this debate."
One such controversial voice is the National Association of Assistant United States Attorneys, a union-like organization representing a conservative bloc of AUSAs, the trial lawyers who litigate on behalf of the U.S. government in federal cases. The group has long lobbied for policies that give federal prosecutors more power in the courtroom and against reforms, like those generated under the Obama administration, to limit the use of mandatory-minimum sentences and give prosecutors more discretion, particularly with nonviolent drug offenses.
But while its members constitute a minority of these lawyers—roughly 1,500 of the 5,000 total AUSAs nationwide—the group's relatively small size does not seem to correlate with its level of influence in the Trump administration. Indeed, some members of NAAUSA, along with other federal prosecutors, were contacted by the Justice Department before Sessions's memo was released, the group's president, Larry Leiser, told me in an interview. Though he declined to confirm whether the department solicited input on the policy shift, he claimed it was met with "overwhelming" support.
There's good reason for the memo to be popular with his organization, aside from its ideological underpinnings: Leiser's predecessor works alongside Sessions in the Justice Department, and the attorney general's memo marked the first time that the group's fingerprint was traceable on federal policy under the new administration. (A Justice Department official declined to comment on NAAUSA's purported role in the directive's crafting.)
Only three years ago, Washington Post columnist Radley Balko described the association's lobbying efforts against lighter sentences for nonviolent drug convictions as "more of a death rattle than a significant pushback against reform." NAAUSA was one of seemingly few groups opposed to a sentencing-reform bill that had broad bipartisan support in Congress before becoming stuck there last year. The legislation united, as Matt Ford recently put it, "figures ranging from Barack Obama to the Koch brothers." In a letter to Holder protesting his support for the bill, NAAUSA defended mandatory minimums as only used to sentence "the most serious criminals" and as measures to "protect law-abiding citizens and help hold crime in check."
That viewpoint has found new life in the Trump era. Sessions, who was one of the NAAUSA's few allies in Congress and similarly opposed the sentencing bill, became the nation's chief law-enforcement officer earlier this year. And he took with him the group's former president, Steven Cook, who testified against reform in the Senate and whose "arguments on behalf of [his organization] laid the groundwork" for the current push for stricter policies, as The Trace reported. In March, Sessions appointed Cook deputy associate attorney general, putting him in charge of addressing urban violence.
Watching Cook ascend with Sessions seemed to verify the administration's intention to turn back the clock on criminal-justice reform for Kevin Ring, president of Families Against Mandatory Minimums, which has lobbied against NAAUSA for years. "It wasn't like I thought Sessions was going to turn around and become some reformer," Ring said. "But it made it real." AUSAs are hired to carry out government policy, not influence it, he said, making the group's presence in Washington "strange": "You don't see career bureaucrats at the Commerce Department go to the Hill and lobby against NAFTA when the administration they work for supports it."
Plenty of lawyers remain on the sentencing-reform side of the argument. "Prosecuting everyone without having to execute sound judgment is easier in many ways, but isn't how we truly make our communities safer and how we rebuild trust," said Miriam Krinsky, a former AUSA in California. "Bottom line, what's going to happen is this is going to put a lot of people in jail," Thomas Bergstrom, a former AUSA in Pennsylvania, told the National Law Journal. "It looks like all U.S. attorneys are going to be under the thumb of the attorney general."
Some lawyers are even scrambling to push cases through before the new policy takes effect. In Florida, the acting U.S. attorney for the state's Middle District sent defense lawyers a letter telling them they have just two weeks to finalize plea deals.
Leiser, who took over NAAUSA's reins when Cook left, disputed the notion that his group will have more influence because of Cook's power in the Justice Department. But he did say, somewhat paradoxically, that he expects its "voice to have more of an impact" because the new administration is "receptive" to members' positions.
In Leiser's view, the notion that mandatory minimums too severely punish nonviolent drug offenders with lengthy sentences—which is generally accepted among public-policy experts—is misleading. "Drugs by their very nature are violent," he told me, echoing a claim Cook made in a Fox News interview last June. Leiser added that drug trafficking "requires the kind of violence that is necessary to survive in competing with other drug traffickers—in getting people to pay you the money they owe you."
During the Obama administration, the number of drug cases prosecuted at the federal level dropped. According to Justice Department data, there was a 20 percent decline between 2012 and 2015. The federal prison population fell under Holder's tenure for the first time since 1980. There are currently 188,686 federal inmates, down from a peak of 216,000 in 2013.
Leiser told me Sessions's directive will ensure the law is implemented evenly in jurisdictions across the country. The cost of incarceration should not be measured in dollars, he said, apparently referring to arguments that mass incarceration hurts public coffers in addition to its other drawbacks. Rather, the cost should be "in terms of the horrific damage that drug addiction has done to our society—not only the people who are addicted, but the people who love them and care for them."
With sentencing concerns now off its plate, NAAUSA has a policy recommendation coming soon on asset forfeiture, another powerful prosecutorial tool that allows governments to seize the property, cash, and other assets of those accused of crimes. Its use has been heavily criticized by reformers and federal watchdogs as a revenue-generating machine, allowing governments at all levels to make money from people who in some cases won't ever be charged with a crime. "We believe that asset forfeiture is a good and viable tool, but some changes need to be adjusted to make it fairer," Leiser said. That position puts NAAUSA in an unusual place: between reformers who loathe the practice and an attorney general who supports it.