An $8 Billion Shot in the Arm for the GOP Health-Care Bill?
Republican leaders have flipped a pair of crucial defectors, Representatives Fred Upton and Billy Long, by adopting their amendment to modestly boost protections for people with preexisting conditions.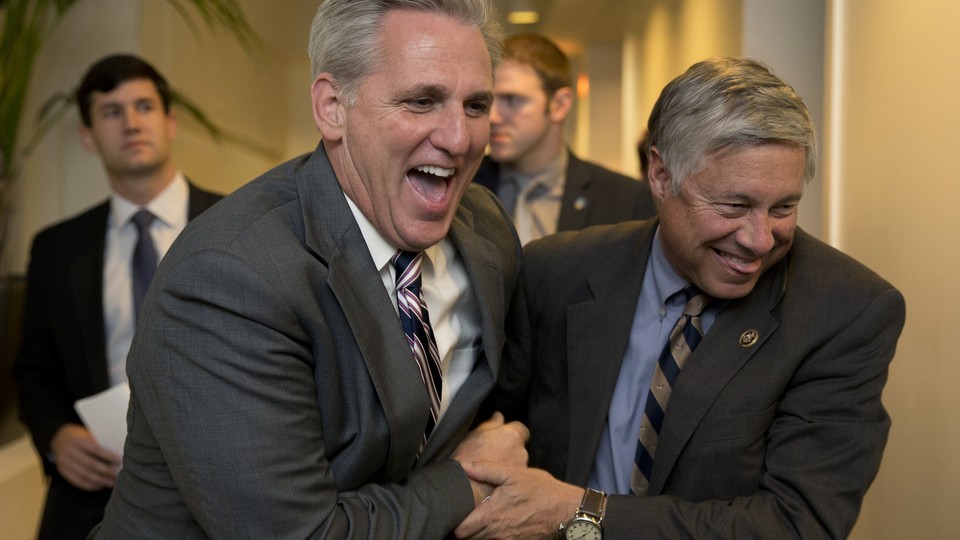 Updated on May 3 at 11:37 a.m. ET
Republican leaders are now hoping an extra $8 billion is enough to get their stalled American Health Care Act across the House floor.
The GOP effort suffered what appeared to be a mortal blow on Tuesday when Representative Fred Upton of Michigan, a 30-year Hill veteran and the former chairman of the Energy and Commerce Committee, announced his opposition to the Obamacare repeal bill because it weakened protections for people with preexisting conditions. But by Wednesday morning, Upton had flipped back to supporting the bill after President Trump and House leaders agreed to adopt an amendment providing another $8 billion to help people with those conditions afford care.
"His amendment that he's working on is something that nobody has a problem with, and it's actually helping," Speaker Paul Ryan said in a morning appearance on the Hugh Hewitt Show. Upton, he added, was "trying to be constructive and improving this bill so that people who are undecided can feel better about supporting this bill."
Republicans had hoped to vote on the revised plan as early as Thursday before the House breaks for a weeklong recess. But Ryan has said he would only bring the bill to the floor if it had the 216 votes it needs to pass, and it isn't there quite yet. "We're getting extremely close," he said. The leadership can lose no more than 22 votes from Republicans, and media whip counts list about 20—including Upton—in opposition, with more than a dozen others either leaning "no" or undecided. Upton worked on his amendment with Representative Billy Long of Missouri, a Trump ally who surprised Republicans earlier in the week by coming out against the bill. After a meeting with Trump, they emerged from the White House to announce they would support the GOP bill.
Both Upton and Long had protested changes negotiated by Representative Tom MacArthur of New Jersey, a leading moderate, with the House Freedom Caucus that would allow states to opt out of Obamacare's prohibition on insurers charging higher premiums to people with preexisting conditions. "I've supported the practice of not allowing preexisting illnesses to be discriminated against from the very get-go. This amendment torpedoes that," Upton told a local radio station in Michigan.
But it's not clear that his proposed changes would be any more than a fig leaf. According to the Associated Press, Upton's amendment would create a fund of $8 billion over five years to help people with preexisting conditions who cannot afford the higher premiums they could be charged under the new system.
Health-care policy analysts, however, have said Republicans would need to send hundreds of billions of dollars more to states to have any chance of covering people with preexisting conditions, who would be lumped together in high-risk pools separate from the main insurance market. Topher Spiro, vice president for health policy at the progressive Center for American Progress, called the $8 billion "chump change" that would cover just 4 percent of the funding shortfall. Senate Minority Leader Charles Schumer said the amendment was "like trying to cure stage four cancer with cough medicine."
Politically, the amendment allows Upton and Long to say they tried to bolster support for people with preexisting conditions after conservatives succeeded in weakening those protections. But the proposal's modest funding suggests they perhaps weren't ardently opposed to the AHCA to begin with.
The questions now are how close GOP leaders were to having 216 votes before Upton's and Long's defections, and how many other undecided or "no" votes their amendment can bring along. Upton predicted it would likely pass in the House on Thursday, but Republicans have made those forecasts at earlier points in the proposal's rocky journey. The bill still faces long odds, and significant additional revisions, in the Senate, but at least for the moment, it may have one more chance in the House.