West Virginia's Conservative Democrat Gets a Primary Challenger
West Virginia senator Joe Manchin has become a target of the left, but a progressive challenger may fail to gain traction in a state with a large share of moderate and conservative Democrats.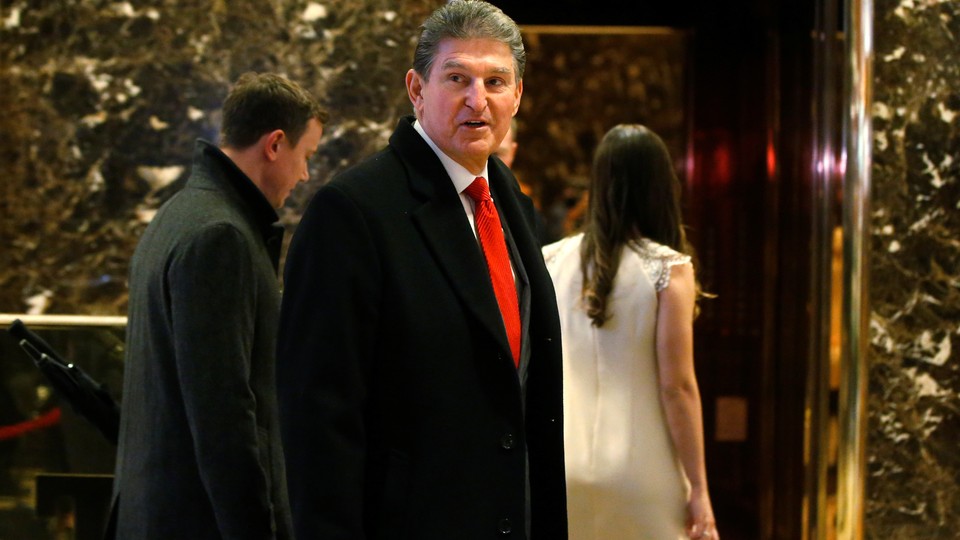 Joe Manchin, the Senate's most conservative and Donald Trump-friendly Democrat, is facing a primary challenger. Paula Swearengin, a coal miner's daughter and environmental activist, plans to run for the senator's West Virginia seat in the 2018 Democratic primary election.
Manchin is now facing opponents from the left and the right. West Virginia Republican Representative Evan Jenkins announced on Monday that he will run against the senator in 2018. Manchin has supported most of president's cabinet picks, and voted in line with the president's agenda more often than not—and more than any other Senate Democrat. That could help him win re-election in a state that Trump won by double digits in November, but it has also made Manchin a top target of the activist left at a time when progressives are calling for all-out opposition to the president.
Swearengin has the backing of Brand New Congress, a group formed by former Bernie Sanders campaign staffers and volunteers to support primary opponents against Democrats and Republicans in 2018. She also has the support of Justice Democrats, a group whose mission statement is to run "congressional campaigns that lead to a progressive and un-bought congress in 2018" and WeWillReplaceYou.org, a group that says it is "dedicated to challenging establishment Democrats unwilling to resist Trump's agenda."
Her platform calls for universal healthcare, free in-state public university tuition, and a multi-billion dollar investment in West Virginia's economy. "I plan to primary Joe Manchin in 2018, and I'm asking you to stand with me, and hopefully, hopefully we can build a better tomorrow," she says in a video announcing her candidacy on Tuesday.
The primary challenge highlights a central tension in the Democratic Party as it seeks to rebuild after its 2016 presidential election loss. Manchin's defenders argue that he's not only an invaluable member of the party, but the kind of lawmaker who can offer lessons to other Democrats hoping to win in red states. The senator's critics, on the other hand, believe he represents a centrist-establishment-status quo that the party must reject in favor of a progressive-populist agenda. The race will also test how well a Sanders-style progressive candidate can do in a conservative state.
Manchin starts out with advantages that his primary challenger lacks. The senator is well known, has a proven ability to raise money, and a deep political network as well as the support of the Democratic establishment in both Washington and West Virginia.
"Everybody knows who I am. The state knows me, I'm branded pretty well, but I would never, ever discourage anybody from running," Manchin said in a brief interview in the Capitol when asked about the primary and general election challengers. "The process is the process, it's a wonderful process, and everybody can jump in," he said, but later added: "You either run scared, or unopposed, so you always run tough, hard."
It's possible that a more left-leaning primary challenger could tap into the kind of grassroots fundraising that has benefited previously unknown candidates such as  Democrat Jon Ossoff in Georgia's sixth congressional district, who is believed to have set a record by raising more than $8.3 million in his race. Even if that happens, however, there are reasons to doubt whether a progressive candidate can succeed in West Virginia.
Though West Virginia was once a Democratic stronghold, the party's power has significantly eroded in recent years. The state currently has a Democratic governor, Jim Justice. But West Virginia voters have picked the Republican candidate in every presidential election since 2000. Republicans took control of the state legislature in 2014, seizing power from Democrats who had held a majority in both the state Senate and state House for over two decades. Jenkins, the Republican congressman challenging Manchin, used to be a Democrat until 2013 when he switched to the Republican Party.
Even West Virginia Democrats lean right. A majority of the people who voted in the state's Democratic primary during the 2016 presidential election identified as either conservative or moderate. Only 17 percent identified as "very liberal," while 28 percent described themselves as "somewhat liberal," according to exit polling.
Sanders beat out Hillary Clinton during the West Virginia primary. In exit polling, however, a plurality of primary voters said the next president should pursue a less liberal policy agenda than former President Barack Obama, including 51 percent of people who voted for Sanders. It's possible that many voters who pulled the lever for Sanders did so as a rejection of  Clinton.
"I think that folks looking at the primary election results are drawing the wrong conclusion if they think that means that Joe Manchin is vulnerable to a challenge from his left," Mike Plante, a West Virginia Democratic strategist said. "Bernie won, most of all, because he was not Hillary Clinton. He was the outsider, and he was anti-establishment." Plante added: "West Virginia is not just a state leaning to the right. In actuality, it has become one of the reddest, red states."
Some West Virginia liberals believe, however, that the Democratic Party could win back ground it has lost in the state if it unapologetically embraced a progressive-populist agenda, instead of fielding conservative Democrats, like Manchin.
"I believe Bernie Sanders' agenda should be our party's platform in West Virginia. It is the only democratic platform that has had success here," said Chris Regan, the former vice chair for the West Virginia Democratic Party who endorsed Sanders during the primary. "The way I see it you lose voters on both sides of the spectrum with the Manchin strategy. You're trying to appeal to conservative voters, but they can just go and vote for a Republican, and at the same time you alienate progressive liberal voters."
Even if there is an opening for a populist economic message in West Virginia, however, that doesn't necessarily mean any candidate who runs in a mold similar to Sanders will succeed.
While Swearengin may not have much of a political profile in the state, she appears to have something of a reputation, or at the very least an online presence, as an environmental activist.
One video uploaded to YouTube shows Swearengin asking, "Who's going to clean up the mess when coal's gone?" and saying: "Fracking is not acceptable either." Her website states: "The question we face today is: What are we going to do when the coal is gone? And make no mistake it's going. No one has given us an answer that doesn't require the sacrifice of our health and our environment. I believe our future is in building a 21st-century, clean economy."
The coal industry is indeed under threat from market forces, the most prominent of which is the cheap cost of natural gas. The coal industry's decline, which Republicans have blamed on government regulations and a Democrat-waged "war on coal," has lead to questions over what can be done to fill the economic void it has left behind.
That said, Democratic primary voters in the state won't necessarily be receptive to a message that it's time to move on from the industry. In 2016, polling in West Virginia's second congressional district found that 65 percent of Democratic primary voters believed that "supporting coal jobs" should be a major priority, according to Plante, the West Virginia Democratic strategist.
Plante added that polling in 2014 in the state's first congressional district indicated that a majority of Democratic voters preferred a candidate who would "promote West Virginia's coal industry, and stand up to the EPA [Environmental Protection Agency]' to protect coal jobs," over a candidate who would move the state away from "its reliance on coal and build a new future by creating a more diversified energy economy."
"Coal is a cultural touchstone here," Regan said. "To say that you are against it is seen as taking a stand against West Virginia itself. It's very much a part of the identity of the state." He added: "I think a message of bringing back jobs, and bringing healthcare to everyone could be a winning progressive message in this state. But you can't be hostile to coal. That just paints you into a corner."
A primary challenge against Manchin could divide Democratic voters in West Virginia, and leave the senator more vulnerable to a general election challenge, even if he prevails in the primary. On the other hand, a progressive challenger to Manchin could work in his favor if it helps him remind a conservative electorate that he's no liberal.
The senator reportedly dared activists to try and unseat him during a conference call in February. "What you ought to do is vote me out," the senator said, according to Politico. "I'm not changing. Find somebody else who can beat me and vote me out."