Joe Lieberman Is a Leading Contender for FBI Director
The former Connecticut senator would be a highly unusual pick to lead the nation's top law-enforcement agency.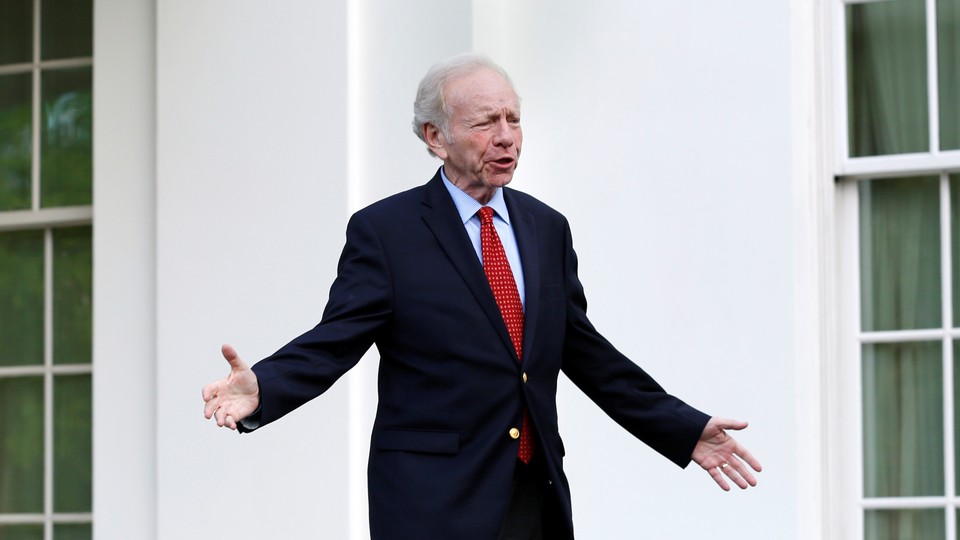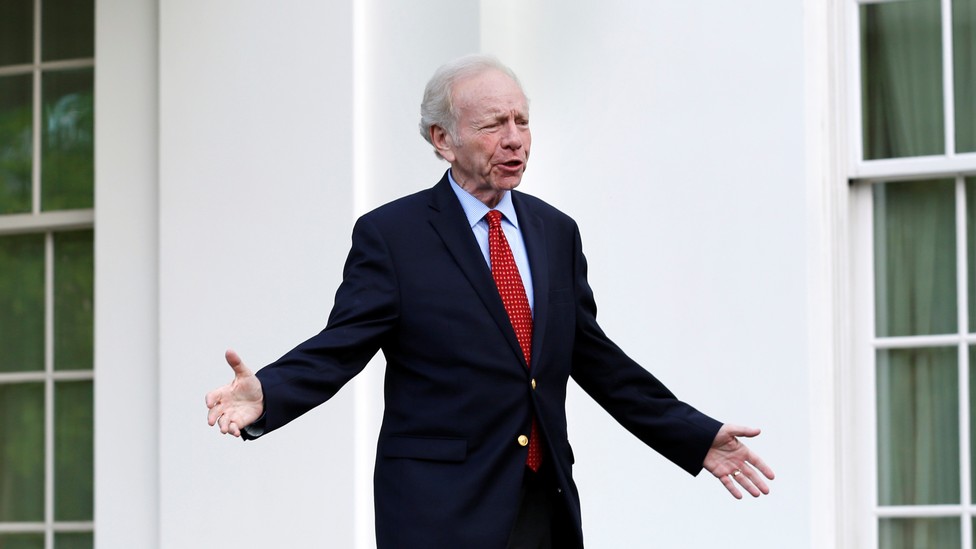 President Trump confirmed that Joe Lieberman is among his top picks to be director of the FBI,  just over a week after the stunning firing of James Comey. Lieberman, who represented Connecticut for 24 years in the Senate until 2013, would be a highly unusual choice to lead the powerful law-enforcement agency. Speaking to reporters in the Oval Office, Trump said "we're very close to an FBI director" and that the choice would come "soon."
If chosen and confirmed, he would be the seventh permanent FBI director since J. Edgar Hoover's 37-year reign over the bureau. His resume would sharply differ from those who came before him: All six of the former senator's would-be predecessors were either federal judges, federal prosecutors, or active or former career FBI agents when they were nominated for the post. Comey, for example, previously served as both the deputy attorney general and as a federal prosecutor in the prestigious Manhattan office.
Lieberman, by contrast, has no experience in federal law enforcement at any level. A Yale Law School graduate, he served as Connecticut's attorney general from 1983 to 1989 before his election to the Senate. He would also be the first elected official to lead the modern bureau, which typically prides itself on its nonpartisan, apolitical nature.
That raised red flags for some former federal law-enforcement officials. "While I have great respect for Lieberman, I don't like it, politicians shouldn't be FBI director," said Clint Watts, a former FBI agent and fellow with the Foreign Policy Research Institute, who pointed out Lieberman's lack of experience in leading terrorism, counterintelligence, or white collar crime investigations. "We should want an FBI director who has never taken money to later win votes. The rule of law should be non-partisan."
Lieberman's political experience and strong Washington ties could also boost his chances at Senate confirmation. A member of the Democratic Party for most of his career, Lieberman has strong relationships on both sides of the aisle. After his 2006 defeat in the Democratic primary and subsequent re-election as an independent, he largely continued to caucus with his former party and kept his chairmanship of the Senate Homeland Security Committee.
"Lieberman has shown himself historically to be somewhat above the normal political fray," said David Gomez, a former FBI agent and a fellow at the Center for Cyber and Homeland Security at George Washington University.
That's one thing he shares with rank-and-file FBI agents, he added. "They take great pride in remaining above politics, and having independence from government," said Gomez. "They have the same diversity of values and views that the normal population has, but when it comes to work, they want to remain independent law-enforcement officers and do their job without political interference."
Other issues could cause headaches. Senators will likely scrutinize his post-Senate career at Kasowitz Benson Torres & Friedman, a New York law firm he joined in 2013. Marc Kasowitz, a partner at the firm, has represented Trump on multiple occasions, ranging from the Trump University fraud lawsuits and defamation cases to keeping Trump's divorce records sealed. That could raise questions about whether Lieberman, who would oversee the FBI's role in the Russia investigation, is sufficiently independent of the president.
Kasowitz Benson also filed paperwork with the Justice Department in 2013 as a registered foreign agent to represent Basit Igtet, a Libyan businessman who worked with the transitional government after the fall of Muammar Gaddafi in 2011. Whether Lieberman dealt with any cases or matters involving Igtet is unclear, but the White House's experience with former National Security Advisor Michael Flynn, who registered as a foreign agent for the Turkish government in March after his dismissal, will likely intensify scrutiny of those connections.
The possible nomination would still be well-received by some of his former colleagues on Capitol Hill. "Joe Lieberman has more experience than all of my Democratic colleagues combined," Arizona Senator John McCain, a Republican, reportedly told a PBS correspondent on Thursday. "So screw them. And you can quote me."
Lieberman, who is 75 years old, would be appointed to serve a 10-year term as director if he is confirmed by the Senate.