Jared Kushner's Make-or-Break Week
The president's aide and son-in-law planned Trump's closely watched foreign trip, even as his contacts with Russian officials draw increasing scrutiny.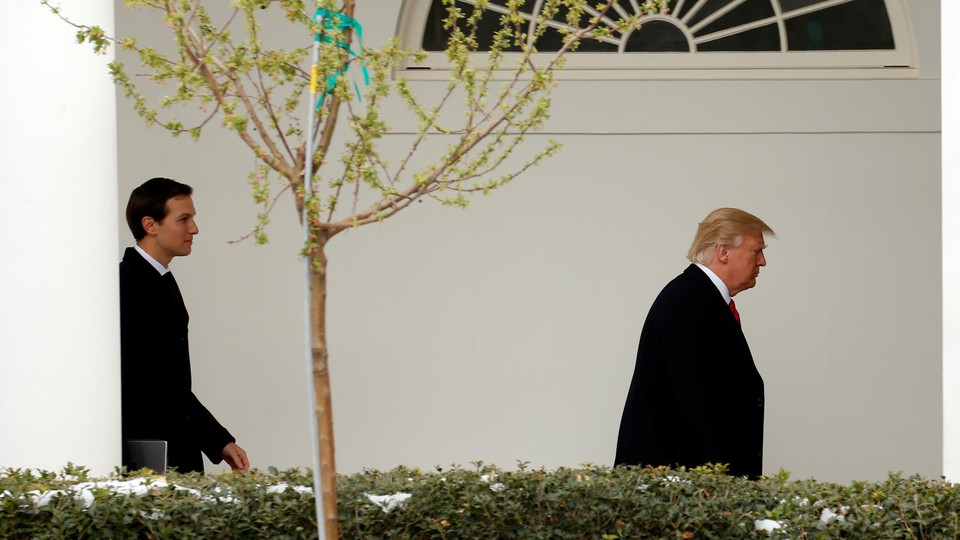 This could be the most consequential week of Jared Kushner's young life.
The 36-year-old has gone from being known mostly in New York real-estate circles, and there mostly as the scion of a powerful family with only a mediocre track record of his own, to wunderkind senior adviser—and, oh yeah, son-in-law—to President Trump. Now Trump is headed abroad on his first foreign trip, which has largely been Kushner's project. Meanwhile, an increasingly hot investigation into the Trump White House's ties to Russia threatens to ensnare Trump.
Even though Kushner has no background in politics or foreign policy, the president has given him vast leeway over global issues—one of the many portfolios Kushner has taken on. The trip that Trump is planning is an ambitious one. The president is headed first to Saudi Arabia, where he intends to give a speech on Islam. Then he'll go to Israel, followed by the Vatican City, before attending summits of the G7 and NATO.
If Trump can pull off a successful trip, it would be a major accomplishment for Kushner. But few things go off without a hitch for this administration. The New York Times reported Trump viewed the journey with dread and wanted to shorten it, and each stop is charged with danger. The Islam speech is a risky move for a president who has long denigrated the faith. In Israel, he already faces controversies over the location of the American embassy, control of the Western Wall, and now reports that Trump blurted out highly sensitive Israeli intelligence during a White House meeting with top Russian officials. Trump has already had to cancel one planned event, a speech at Masada, after Israeli officials refused to let him land his helicopter there, for fear of damaging the hilltop fortress. In Europe, Trump has traded barbs with the pope, and he has managed to chill relations with some of America's closest allies.
Meanwhile, continued investigations into Russian interference in the election and whether the Trump campaign colluded with it have begun producing increasingly frequent revelations. Now, with the firing of James Comey, the White House's admission that the firing was intended to stifle the Russia probe, and the appointment of a special counsel, there are serious questions about whether the Trump administration obstructed justice or broke other laws in an attempted cover-up.
When the Justice Department announced the appointment of the special counsel on Wednesday, the decision came as a surprise to the White House, which was not given advance warning. During a strategy session, Kushner was said to favor an aggressive response, attacking the move, but Trump opted for a bland, conciliatory statement instead.
On Friday, The Washington Post reported that investigators are looking closely at a senior White House aide who is close to Trump. It has long been known that former Trump officials, including fired National-Security Adviser Michael Flynn, former campaign chairman Paul Manafort, and former campaign aide Carter Page, were under scrutiny. The Post's sources did not indicate who the person of interest was or even whether they're suspected of any crime.
Many Trump administration aides are tangled up in Russian relations; word that the probe now extends to an actively serving official in the White House may worry all of them, including Kushner. In April, he acknowledged that he had failed to disclose dozens of contacts with foreign officials, including a conversation with Russian Ambassador Sergey Kislyak and a meeting with the head of Vnesheconombank, a state-owned Russian bank. The Wall Street Journal also reported this week that the bank financed a large deal with a Trump business partner.
At least one person has suggested that Kushner's ties to Russia posed a threat to the White House: Trump's top strategist, Steve Bannon. The New York Times reported in April, "Mr. Bannon has told confidants that he believes Mr. Kushner's contact with Russians, and his expected testimony before Congress on the subject, will become a major distraction for the White House."
At the time, Bannon and Kushner were locked in a heated intramural battle for power in the White House. And back then, it appeared that Kushner had vanquished Bannon, whose duties were curtailed. After all, it is difficult to win a workplace battle against the boss's son-in-law. But it is not too late for Bannon to be proved correct.
Today the White House is once again, as it was during the Kushner-Bannon contretemps, in turmoil. The Times reported that even Kushner was not spared the president's rage this week, as he branded staffers "incompetent." It is true that administration staffers have not covered themselves in glory, but many of Trump's troubles seem to stem from his own actions, including frequently undercutting aides' credibility.
Kushner, whose work remains behind the scenes and who seldom speaks to the press, has so far avoided the public embarrassment that staffers from Sean Spicer to H.R. McMaster have suffered. The progress of Trump's trip and the Russia probe over the next seven days will test that.