A Populist Test in Trump Country
The upcoming special election in Montana could highlight a path forward for Democrats in Congress.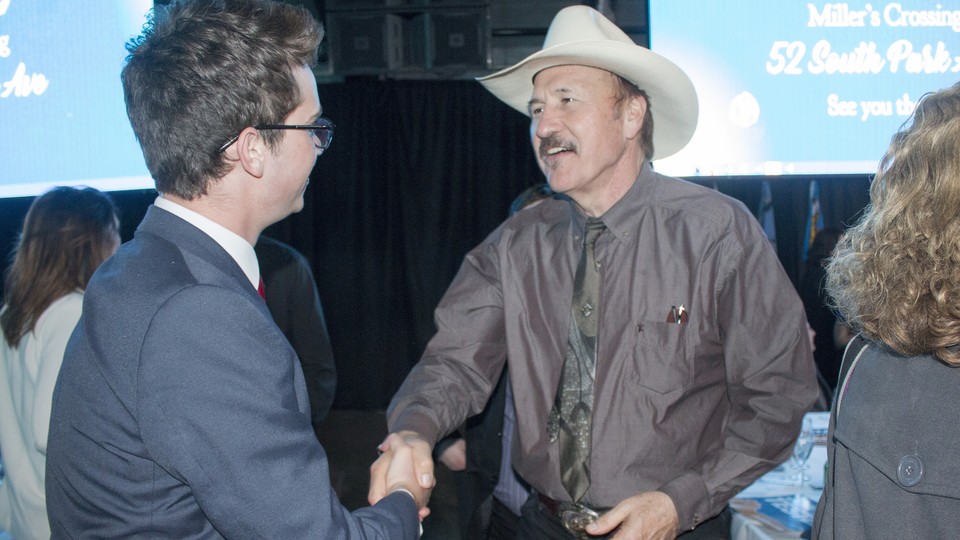 Since Donald Trump's inauguration, Democrats have been seeking evidence that vociferous opposition to his actions can yield seats in Congress. Much attention thus far has been paid to the special election in Georgia, which was labeled as an early referendum on the Trump presidency. But the real test of Trump's popularity may be taking place in Montana, where Bernie Sanders supporter and bluegrass musician Rob Quist is attempting to fill the state's congressional seat vacated by Ryan Zinke, who was sworn in as interior secretary in March.
An easy win by Republican Greg Gianforte, Quist's primary opponent, would indicate rural America's support for Trump, who won Montana by 20 points, remains steadfast. But if Quist is able to come close—or even win—in a race Democrats haven't topped since 1994, it would be evidence that supporting populist candidates in the mold of Sanders might be Democrats' best chance at regaining congressional seats in middle America.
"The GOP knows from Georgia they shouldn't be patting themselves on the back," said Republican strategist Ford O'Connell, referencing Democratic newcomer Jon Ossoff's near-win in Georgia's reliably Republican sixth congressional district, which is headed to a runoff in June. "What they don't want to do is give the Democrats a narrative that says, 'We've broken the Trump metric.'"
Though it has barely 1 million residents, Montana can serve as a valuable microcosm of Trump-era politics. Exit polls show Trump garnered two-thirds of votes from whites without a college degree; Montana is 87 percent white, and 69 percent of its residents lack a bachelor's degree. And with only one House representative, candidates must hit cities and rural areas alike.
"The Montana race, because it's a statewide race ... I think there is something more to be gained looking here than at other special elections that are very small slices of suburban Atlanta, for instance," said Robert Saldin, a professor of political science at the University of Montana. "Certainly, if Rob Quist wins, that would be a real statement that something has changed since November."
Neither candidate hails from the political establishment. Quist grew up on a ranch in Cut Bank, Montana, but made a name for himself singing and playing banjo for the Mission Mountain Wood Band, a country-music act popular in the state in the 1970s. His closest brush with political experience was an 11-year stint on the Montana Arts Council. He owns a horse ranch in the northwest part of the state and certainly looks the part of rancher: mustachioed, omnipresent cowboy hat, a hearty 6-foot-3 frame.
In March, however, it seemed Quist's young political career was going to meet an early demise. A series of news reports divulged that Quist had, over 16 years, racked up more than $27,000 in debt, which included unpaid contractor fees, $15,000 in back taxes, and an outstanding line of credit. But Quist used his debt history, which he says stemmed from medical problems, as a way to relate with his voter base. "Quite frankly, this is the kind of stuff that happens to everyday Montanans," he told the Associated Press.
News of his medical woes has only grown in poignancy. Quist's health-focused town halls coincided with the initial foundering of the American Health Care Act, but the recent passage of the House bill ensures health-care reform will be a key issue in this race. Should Senate deliberations stretch into 2018, the opinions of Montana voters could predict rural sentiment nationally come next year's midterm elections.
Gianforte, like Trump, touts his business record. He rose to prominence in Montana by founding a tech company in Bozeman and selling it to Oracle for $1.5 billion in 2011. His first foray into politics was a 2016 run for governor, which he narrowly lost to Steve Bullock (Gianforte was the only Republican to lose a statewide race). That campaign hinged on business-friendly policies, but a record of social conservatism also emerged. BuzzFeed detailed his $1.1 million in donations to anti-LGBT organizations, and Gianforte's support of a creationist museum yielded perhaps the only attack ad in history starring a paleontologist.
Unorthodoxy aside—both campaigns tout their opponent as a "flawed candidate"—the race will function, as much as a special election can, as a test of which party will benefit from the wave of populism that placed Trump in the White House and elevated Sanders. Like most Republican candidates, Gianforte's support of Trump was at best tepid during the presidential election, but since announcing his candidacy in January, he's adopted some of Trump's campaign slogans, saying that he'll "make America great again" and "drain the swamp." Donald Trump Jr. spent a weekend in April campaigning, and hunting prairie dogs, with Gianforte, and Vice President Mike Pence will pay a visit to Montana on Friday.
In interviews and debates, Gianforte has consistently aligned himself with the administration. "Does Montana want someone who's going to go back and work with Donald Trump and the current administration to advance the interests of Montana?" he told Montana Public Radio. "Or are we going to send someone back who's going to side with the obstructionist tactics of Nancy Pelosi?"
Polling in Montana is scant, but what's available shows that Trump's popularity in the state might be diminishing. One survey showed Trump's approval rating in Montana fell from 53 percent in late April to 48 percent a week later. Gianforte's support has been similarly affected, with his margin ahead of Quist shrinking from 13 points to eight. A Senate Majority PAC survey, conducted from April 25 to 27, has Gianforte leading Quist 49 to 43 percent, and both campaigns' internal polls reportedly show Gianforte with a single-digit lead.
Quist is trying to capitalize on disillusionment with the political status quo by mimicking Sanders's campaign. He has voiced support for legalizing cannabis, renewable energy, universal health care, and a higher tax rate for the wealthy. His $2 million in campaign funds have come from some 40,000 donors. Our Revolution, a political group spun out of Sanders's campaign, endorsed Quist, and the Vermont senator is expected to make a campaign stop this month.
Some Democratic strategists and figureheads argue Quist's approach is the best route to win back working-class white voters who backed Trump, and Quist himself is the type of everyman candidate Sanders has been clamoring for since the party's devastating loss in November.
Elizabeth Sanders, a professor of government at Cornell University, thinks Quist's tone would do the national party well. "These are too hard of times economically for people who have been left out," she said. "Trump's going to stay popular with those people. If the Democrats don't go after the working class, there's no hope for the party."
Quist's relationship with the party establishment, however, has been tenuous. The Democratic Congressional Campaign Committee has spent $600,000 on the race, but Quist reportedly turned down a visit from Democratic National Committee chair Tom Perez (the Quist campaign declined to confirm or deny the report).
Gianforte received institutional help early. Following a very public, and very expensive, run for governor—Gianforte spent $5.5 million of his own money on that race—Gianforte's House campaign has consisted mostly of small, private gatherings and attack ads, such as the $700,000 campaign bankrolled by the Congressional Leadership Fund, a House Republican-affiliated political action committee. The latest campaign finance filings report Gianforte has pulled in $1.6 million.
The race certainly has Montana flavor—both candidates have ads in which they shoot electronics—but the issues aren't esoteric. The turbulent progression of the GOP-led repeal of the Affordable Care Act has both parties questioning the future of health care. Quist, the champion of a single-payer system, has been critical of the repeal effort from the start, favoring instead to strengthen the ACA. He said the repeal bill passed by the House last week "gives a massive tax cut to millionaires while jacking up premiums for Montanans."
Gianforte's position on repealing Obamacare have been harder to nail down. In a statement, his campaign was noncommittal on the version that passed the House last week without a score by the Congressional Budget Office. "Greg needs all the facts because it's important to know exactly what's in the bill before he votes on it," it read. But in a tape obtained by The New York Times, Gianforte praised the new bill. "Sounds like we just passed a health care thing, which I'm thankful for, sounds like we're starting to repeal and replace," he said in the recording.
Public-land management, which has galvanized people across the West, has also been a flashpoint in the race. During his run for governor, Gianforte was dogged by comments supporting state control of federal lands and a lawsuit over public access to a river that runs through his property. The federal government owns 29 percent of Montana, and Quist has challenged Gianforte's commitment to keeping that land open to the state's many hunters, fishers, and other outdoor enthusiasts.
Quist still faces an uphill challenge. The state has Democrats in the governor's mansion and one Senate seat, but statewide Democrat wins are often razor-thin and assisted by a third-party candidate collecting a few percent of votes. But if Quist's populist strategy narrows the gap, the Montana race could highlight a path forward for Democrats in 2018.