What the Spike in Immigration Arrests Might Mean for Detention Centers
With the nation's courts backlogged, undocumented immigrants may be detained longer than usual.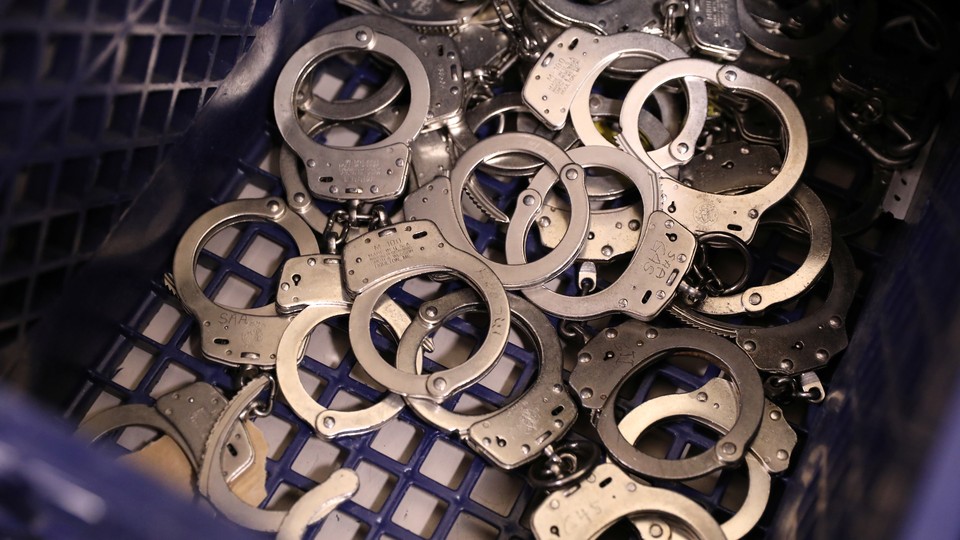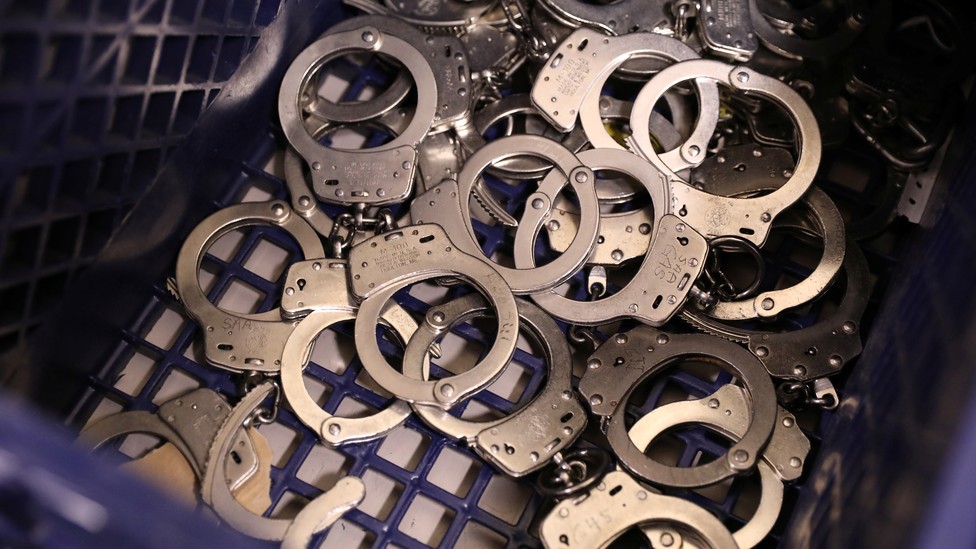 In January, President Trump signed an executive order giving more latitude to immigration authorities to target individuals living in the country illegally. The results of his crackdown on unauthorized immigrants are becoming clear: Immigration and Customs Enforcement, the Department of Homeland Security's enforcement arm, announced Wednesday that immigration arrests increased by nearly 40 percent compared to the same period last year.
"These statistics reflect President Trump's commitment to enforce our immigration laws fairly and across the board," said ICE Acting Director Thomas Homan in a statement. "ICE agents and officers have been given clear direction to focus on threats to public safety and national security, which has resulted in a substantial increase in the arrest of convicted criminal aliens. However, when we encounter others who are in the country unlawfully, we will execute our sworn duty and enforce the law."
But expanding the criteria for arrests also puts a strain on the nation's immigration courts, which are already backlogged. Homan said that "all of those arrested will receive the due process afforded to them under the law." He added: "ICE will take action to remove individuals subject to a final order by a federal immigration judge." With removal proceedings moving at a glacial pace, deportations have actually dipped by 12 percent this year—while more undocumented immigrants are being arrested, fewer are actually being removed. Detainees, therefore, continue to be held in facilities across the country—facilities which may soon be overwhelmed.
ICE described nearly 75 percent of those arrested as "convicted criminals," which covers everything from homicide and assault to traffic offenses. Notably, however, there was a significant uptick in the number of people arrested without a criminal record: Between January 22 and April 29, 10,800 undocumented immigrants were arrested, compared to 4,200 during the same period in 2016. Earlier this year, the Trump administration cast a wider net on undocumented immigrants eligible for deportation by effectively scrapping the priority system implemented in the later years of the Obama administration, that made certain categories of undocumented immigrants, those without criminal backgrounds, less likely to be arrested. That system prioritized the removal of undocumented immigrants convicted of serious crimes.
The Trump administration has received pushback for pursuing undocumented immigrants who do not have criminal records. Homan addressed those criticisms during a media call Wednesday: "Those who do enter the country illegally, they do violate the law, that is a criminal act. And when they choose to enter the country illegally, then commit another offense against a citizen of this country, we need to take that seriously." While entering the country illegally is a crime, many undocumented immigrants enter legally and stay longer than they should—a civil violation. In 2006, the Pew Research Center estimated that visa overstayers made up nearly half of the undocumented population.
When ICE arrests an undocumented immigrant, they make a determination on whether that person will be detained, or released on certain conditions, said Jeremy McKinney, an attorney and board member of the American Immigration Lawyers Association. If the decision is to hold the individual, then they will go into detention, and later have the option of a bond redetermination hearing before an immigration judge, unless they're subject to mandatory detention.
Immigration judges are overwhelmed with cases. By last September, the backlog of cases in the immigration courts amounted to more than half a million. Cases that are not considered a priority, therefore are pushed down the line, some so far as 2022. Perhaps in an attempt to alleviate the backlog, the Trump administration extended expedited removal—the immediate removal of an individual living in the country illegally—to include individuals who have been in the United States for up to two years.
To compare, only those who had been in the country for up to two weeks and within 100 miles of the border were eligible for expedited removal under the Obama administration. Removal proceedings, some of which can take several weeks, if not months, stall the deportation process, therefore requiring detention centers to hold individuals. Homan noted that criminals, in particular, take longer to get through the court process. McKinney notes that detainees can be held indefinitely. "As long as it takes to hear the case," he said. Attorney General Jeff Sessions has said that the Department of Justice will add more immigration judges over the next two years.
ICE oversees 198 detention facilities. "As of March 4, 2017, ICE's Average Daily Population (ADP) in detention was 41,005," according to the agency. Detainees are spread out between government-owned facilities and those run by private companies under contract with the federal government. "We have a lot of flexibility with all the contracts that we have in different facilities that house detainees," said Danielle Bennett, a spokeswoman for ICE, when asked if the agency expected facilities to be overwhelmed by the spike in arrests.
Of course, not all of those arrestees will be detained. For one, individuals can be eligible for expedited removal. If they have been previously deported, their removal can be reinstated, meaning they can be deported "based on the old order of removal," McKinney said. They can also be asked to self deport.
Trump has called for an increase in detention centers in his budget blueprint, proposing an additional $1.5 billion to expand detention facilities for undocumented immigrants, and to fund removals. An internal Department of Homeland Security memo obtained by The Washington Post revealed that "the agency has already found 33,000 more detention beds to house undocumented immigrants."
The administration is also reportedly seeking more jail space for undocumented immigrants. As The New York Times notes jails must meet certain criteria to hold immigrants:
Notify immigration officials if a detainee spends two weeks or longer in solitary confinement. Check on suicidal inmates every 15 minutes, and evaluate their mental health every day. Inform detainees, in languages they can understand, how to obtain medical care. In disciplinary hearings, provide a staff member who can advocate in English on the detainee's behalf.
The Times reported that the Trump administration intends to do away with some of these regulations in an attempt to accommodate an uptick in detainees. An ICE spokeswoman told the paper that jails would "meet a certain threshold of care as outlined in our contracts with facilities, as well as various detention standards."
Immigrant advocates have frequently raised concerns about the conditions of detention facilities. This week, ICE announced that a detainee died while in detention. "The preliminary cause of death has been ruled to be complications from congestive heart failure," the ICE statement read. It added: "ICE is firmly committed to the health and welfare of all those in its custody and is undertaking a comprehensive agency-wide review of this incident, as it does in all such cases." Eight individuals have died since the start of the fiscal year, which began in October.
The data released by ICE on Wednesday only provides figures for the first few months of the year. It's unclear whether the current rate of arrests will be sustainable or what detention centers will look like if it continues. "There's just too many factors for me to guess what these numbers will look like in the future," Homan said.