Why Hillary Clinton Thinks She Lost the Election
In an interview on Tuesday, the former Democratic presidential candidate pointed to foreign interference and action taken by FBI Director James Comey to explain her defeat.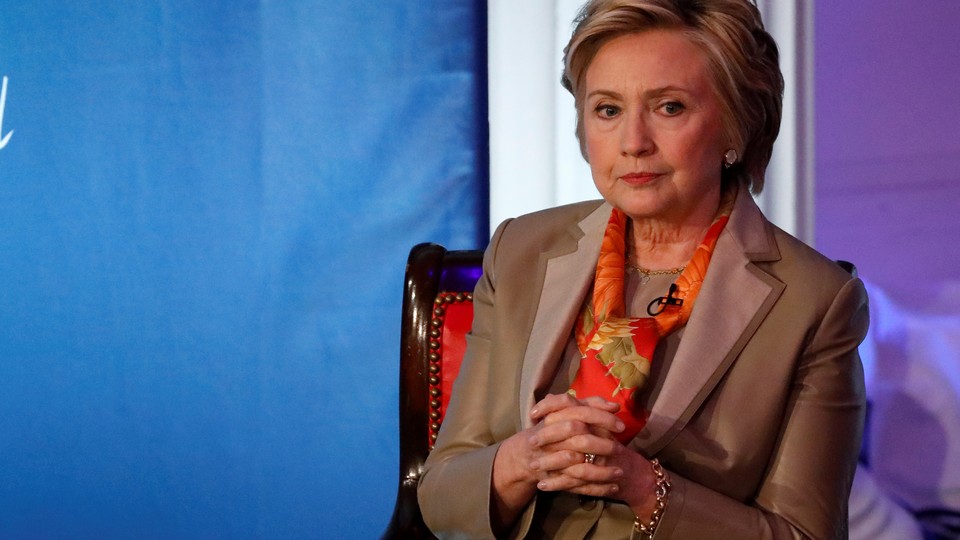 Hillary Clinton conceded that her presidential campaign was flawed on Tuesday, but largely pinned the blame for her defeat on factors beyond her control, including Russian interference in the election, and actions taken by FBI Director James Comey.
"Did we make mistakes? Of course we did. Did I make mistakes? Oh, my gosh yes," Clinton told CNN's Christiane Amanpour at a "Women for Women International" event in New York, "but the reason why I believe we lost were the intervening events in the last 10 days."
Clinton suggested that she believes she would have won if not for what the intelligence community described in a post-election report as "an influence campaign" directed by Vladimir Putin to undermine her during the election, as well as Comey's decision to notify Congress on October 28 that the FBI would review additional emails in connection with an investigation into her personal email server. The FBI later announced on the eve of the election that the emails would not affect the outcome of the investigation.
"It wasn't a perfect campaign, there is no such thing," Clinton said,"but I was on the way to winning until the combination of Jim Comey's letter on October 28, and Russian WikiLeaks raised doubts in the minds of people who were inclined to vote for me, but got scared off." She added that she believes misogyny was also a factor in her defeat.
When pressed as to whether her campaign could have been run better, Clinton said that she takes "absolute personal responsibility" as the candidate. "I was the person who was on the ballot, and I am very aware of, you know, the challenges, the problems, you know, the shortfalls that we had," she said.
The former candidate declined, however, to launch into any kind of  in-depth introspection or autopsy of how her campaign or candidacy fell short.
That may frustrate Democrats and progressives who want to see party leaders engage in soul searching over why Democrats lost the election, and hope the party can be persuaded to embrace a more populist message and platform in the wake of its defeat.
As she was asked to account for her defeat, Clinton took pains to highlight her popular vote win as well. "I did win more than 3 million votes than my opponent," she added.
As the election showed, however, winning the popular vote doesn't necessarily translate into winning the White House if Democrats are unable to expand their reach beyond liberal enclaves across the country.
A Washington Post-ABC News poll recently found that most of the public believes the Democratic Party is out of touch with the concerns of average Americans, and more Americans think Democrats are out of touch than think the same of the Republican Party or Donald Trump. While not conclusive, those results suggest that if the party wants to expand its coalition, and win over voters, in future elections it may need to rebuild trust with Americans.
This isn't the first time Clinton has pointed to external factors in explaining her loss. The New York Times reported shortly after the election in November that Clinton cited Comey's announcement as a factor that "stopped our moment" in a call with donors. And this likely won't be the final word from Clinton. She noted during the interview that she plans to elaborate on her thoughts about the election in an upcoming book.
Clinton indicated she won't stop weighing in on politics any time soon, including when she disagrees with the Trump administration. She referred to herself as "an activist citizen and part of the resistance," in a nod to the grassroots liberal opposition to the Trump administration.