Outflanking General Flynn
The Senate Intelligence Committee said Tuesday it would subpoena the former national security adviser's businesses for Russia-related documents, potentially bypassing the Fifth Amendment.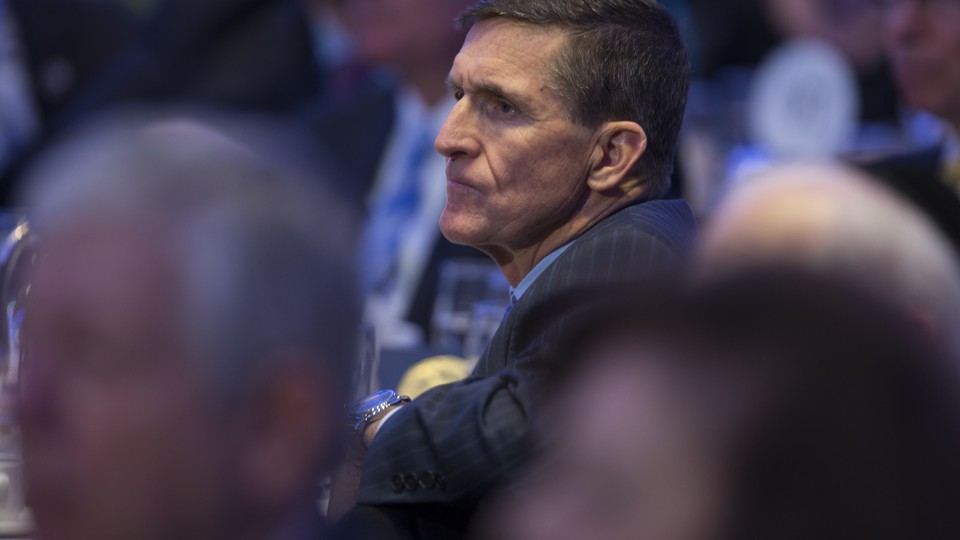 The Senate Intelligence Committee's leaders ramped up their efforts on Tuesday to obtain Russia-related documents from former National Security Advisor Mike Flynn, telling reporters the committee is subpoenaing materials from two of Flynn's businesses.
The announcement comes one day after Flynn informed the committee he wouldn't comply with a previous subpoena issued to him personally, invoking his Fifth Amendment protections against compelled testimony that could be used to prosecute him. By targeting the businesses, the committee's leaders hope to circumvent the Fifth Amendment issues at stake.
"While we disagree with General Flynn's lawyers' interpretation of taking the Fifth, it is even more clear that a business does not have a right to take a Fifth if it's a corporation," Virginia Senator Mark Warner, the committee's ranking Democratic member, told reporters. "So those subpoenas—one has been served, one is in the process of being served. And we keep all options on the table."
Warner and the committee's Republican chairman, North Carolina Senator Richard Burr, issued a subpoena to Flynn earlier this month, requesting any Russia-related documents he may have as part of its probe into Moscow's interference in the 2016 presidential election. Flynn was a prominent member of now-President Trump's inner circle and worked as a foreign-policy surrogate during the campaign. Trump named him as his pick for the national-security adviser post in November.
But Flynn, a retired lieutenant general, lasted less than a month in the position. The president fired him in February after multiple news outlets reported he'd lied about multiple conversations he had with Sergey Kislyak, the Russian ambassador to the United States, on the same day in December when the Obama administration announced sanctions against the Russian government.
Since his ouster, Flynn has become a focal point in the sprawling federal investigation into Russian interference. That inquiry, now supervised by Special Counsel Robert Mueller, is also examining whether anyone from the Trump campaign colluded with the Russian government to undermine Hillary Clinton's presidential campaign with purloined emails. Federal prosecutors in eastern Virginia reportedly issued grand-jury subpoenas recently to Flynn's associates and businesses for documents related to his foreign contacts. Flynn has denied any wrongdoing, and Trump described the investigations as a "witch hunt" undermining his presidency.
Flynn's troubles deepened Monday when Maryland Representative Elijah Cummings, the ranking member on the House Oversight Committee, wrote in a letter that Flynn had given false information to federal investigators last year during a routine background-check interview. The letter—addressed to his GOP counterpart on the committee, Chairman Jason Chaffetz—quoted a Pentagon report in which Flynn reportedly said he had not received any payments from foreign sources. In fact, Flynn had received $45,000 for attending a Moscow gala two months earlier hosted by Russia Today, the Kremlin-funded media network. Intentionally lying to investigators during a background check is a federal crime.
The Senate Intelligence Committee could compound those legal woes by sanctioning Flynn directly. "We've taken the actions that we feel are appropriate right now," Burr told reporters Tuesday. "If, in fact, there is not a response, we'll seek additional counsel [and] advice on how to proceed forward. At the end of that option is a contempt charge, and I've said that everything is on the table. That's not our preference today."
Despite the legal morass, the president has stood by his former adviser both in public and reportedly in private. But those affirmations of support could also land Trump in trouble. Earlier this month, The New York Times reported that former FBI Director James Comey drafted a memo in February describing a White House meeting where Trump allegedly asked Comey to end the federal inquiry into Flynn's activities. The day after Trump fired Comey two weeks ago, the president told top Russian officials in the Oval Office that he was a "nut job" and that his ouster would "relieve pressure" on Trump from the Russia investigation. A growing consensus within the legal community believes Trump's pattern of behavior could amount to obstruction of justice.
All of this makes the former lieutenant general a central figure in nearly every aspect of the Russia investigation so far—and, potentially, the key to unlocking its mysteries. "We would like to hear from General Flynn," Burr said on Tuesday. "We'd like to see his documents. We'd like him to tell his story, because he publicly said, 'I've got a story to tell.' We're allowing him that opportunity to do it."