The Known Unknowns of the Russia Investigation
Top Russian officials reportedly discussed reaching out to Trump campaign adviser Michael Flynn last summer as part of Moscow's interference campaign. Did they follow through?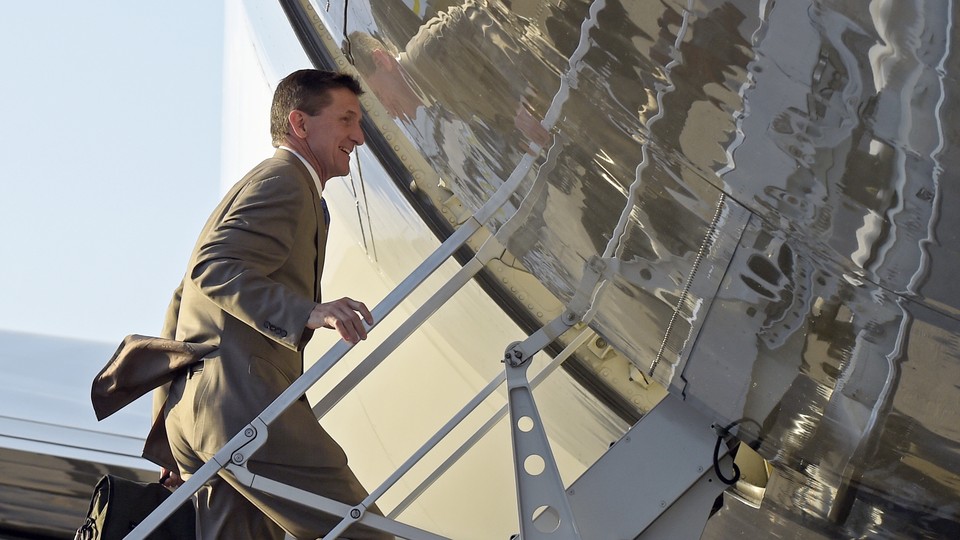 New reports about the initial stages of the Russia investigation last year are only raising more questions.
A series of accounts published this week sheds some light on how the U.S. intelligence community discovered the country's covert efforts to influence the American political process. The New York Times reported Wednesday that American spies picked up conversations between top Russian officials discussing ways to influence two top members of President Trump's campaign: Paul Manafort, the campaign chairman who resigned last August, and Michael Flynn, a foreign-policy surrogate who briefly served as Trump's national security adviser after his inauguration in January.
Both men have well-documented ties with Russia. Manafort worked for Moscow-aligned political candidates as a consultant in Ukraine prior to the Euromaidan revolution in 2014, and Flynn received payments from Russian business sources, including the Kremlin-financed media network Russia Today. According to the Times, the senior officials hoped to use those ties to influence the Trump campaign. The story doesn't offer details about what their ultimate aim was.
"Some Russians boasted about how well they knew Mr. Flynn," the Times report said, citing unnamed U.S. intelligence sources. "Others discussed leveraging their ties to Viktor F. Yanukovych, the deposed president of Ukraine living in exile in Russia, who at one time had worked closely with Mr. Manafort." Flynn and Manafort have denied any wrongdoing in the ongoing Russia investigation.
On Friday, CNN reported on similar Russian conversations held last summer about Flynn, a retired lieutenant general who spent two years as chief of the Defense Intelligence Agency under the Obama administration. Those exchanges prompted a "five-alarm fire" within the American intelligence apparatus, according to an anonymous U.S. official quoted by CNN. The Times reported that the findings were then passed to the FBI, which opened a counterintelligence probe that eventually grew into the sprawling investigation that has consumed Trump's nascent administration.
Many questions still remain about the inquiry's origins. It's not clear if the FBI and other agencies already had other curious information in their possession before learning about Russian officials' conversations and deciding to launch the probe. Both outlets' descriptions of the talks suggest a familiarity with Trump campaign staffers and a desire to sway them somehow. They also underscore the lopsided efforts to undermine last year's presidential election, a plot that U.S. intelligence officials concluded in January was designed to hinder Hillary Clinton's presidential campaign.
But the accounts are not evidence of guilt on Flynn or Manafort's part. The descriptions do not indicate whether any contacts or efforts to collude with them actually took place. Former CIA Director John Brennan testified Monday it was still unknown to him when he left his post in January whether Moscow had succeeded in its efforts to collude with Trump campaign officials. The answer will likely be determined by Special Counsel Robert Mueller, whose inquiry could determine the fate of Trump's increasingly troubled presidency.