Why New Evidence Suggests Big Trouble Ahead for Michael Flynn
The top Democrat on the House Oversight Committee says Flynn misinformed the Defense Department last year about foreign payments he received from a state-run Russian TV channel.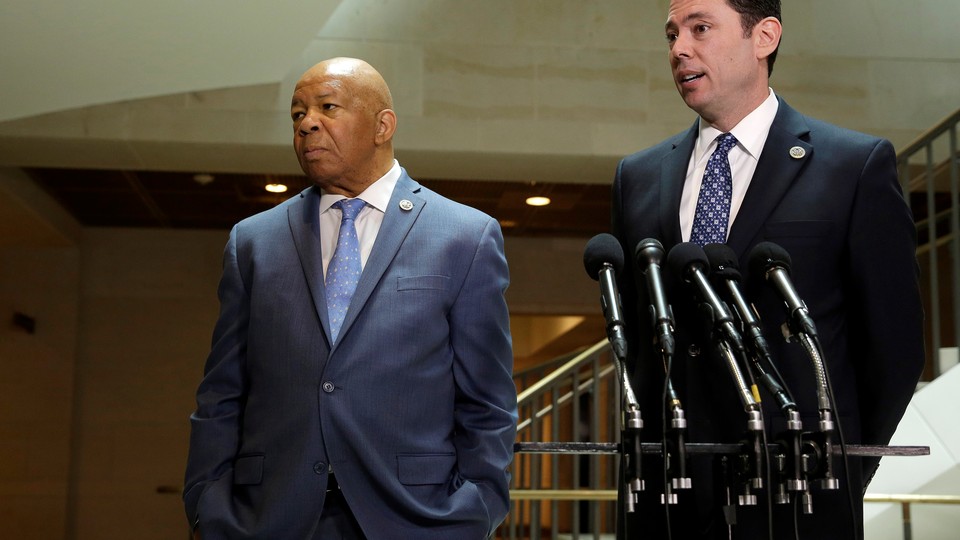 In a letter to the House Oversight Committee chairman Monday, a top Democratic lawmaker suggested former National Security Advisor Michael Flynn broke the law last year by making false statements during a background-check interview for his top-secret security clearance. Lying to federal investigators during a background check can be a felony under federal law.
Maryland Representative Elijah Cummings, who serves as the ranking member on the Oversight Committee, said Flynn may have lied to Defense Department examiners about his foreign income sources while under questioning.
The letter, addressed to his Republican counterpart Jason Chaffetz, quotes excerpts from the Defense Department's Report of Information, a document typically filled out during the background-check interview. Pentagon investigators conducted Flynn's interview in February 2016 after he applied for a routine five-year renewal of his top-secret clearance. The retired lieutenant general told them about a trip he'd taken to Moscow two months earlier, describing it as "a conference for the Russia media," according to Cummings's excerpts of the report.
In fact, that conference was a gala hosted by Russia Today, a state-funded TV channel, and Flynn was seated at the same table as fellow guest Vladimir Putin, the Russian president. RT paid Flynn about $45,000 through his speakers' bureau to "dine at a gala with [Putin]," the letter said. But he apparently failed to disclose that to investigators, who wrote in the report that Flynn stated "he does not have any foreign business connections or foreign financial interests" and that "he has not received any benefit from a foreign country."
Democrats have long suspected that Flynn may have misled federal officials about his payments from foreign sources. But Cummings's letter, quoting Flynn's allegedly false statements, seems to offer the first substantive proof of those suspicions. In addition to his Russia ties, Flynn is also reportedly under investigation for taking payments from the Turkish government last summer—months after his interview—for lobbying work on their behalf. Flynn has denied any wrongdoing.
Cummings's letter raises questions about what President Trump knew of his embattled former adviser's legal woes. The New York Times reported earlier this month that Trump asked former FBI Director James Comey to abandon the bureau's investigation into Flynn, but it's not clear whether Trump knew about the false interview answer at that time. Multiple legal experts have already warned that Trump's pattern of behavior prior to Comey's sudden ouster earlier this month could be considered obstruction of justice.
At the same time, it's also not clear how the White House could've been unaware of the report, given the typically intensive vetting processes for top officials who may have access to classified information. The stakes were even greater given Flynn's sensitive position: As national security adviser, he had effectively unlimited access to the nation's most closely guarded secrets.
But the revelation's most immediate implications are for Flynn himself, who is already under intense scrutiny as part of the broader federal investigation into Russian interference in the 2016 presidential election. Trump fired Flynn in February after multiple media outlets reported Flynn had lied to White House officials, including Vice President Mike Pence, about his conversations with Sergey Kislyak, the Russian ambassador to the United States.
In addition to the FBI probe, Flynn's activities also drew the attention of the Senate Intelligence Committee, which issued him a subpoena for any Russia-related documents in his possession. Flynn declined to provide those documents on Monday by invoking his Fifth Amendment protections against compelled testimony that could later be used to prosecute him. The Fifth Amendment does not constitute an admission of guilt by any means, despite Trump's campaign-trail remarks about its invocation by Hillary Clinton aides during the federal investigation into her private email server. When it comes to this latest allegation, though, potentially incriminating documents are quite literally out of Flynn's hands.