Trump: 'In America We Do Not Worship Government, We Worship God'
After a week of chaos in Washington, the president finally found a friendly crowd at Liberty University.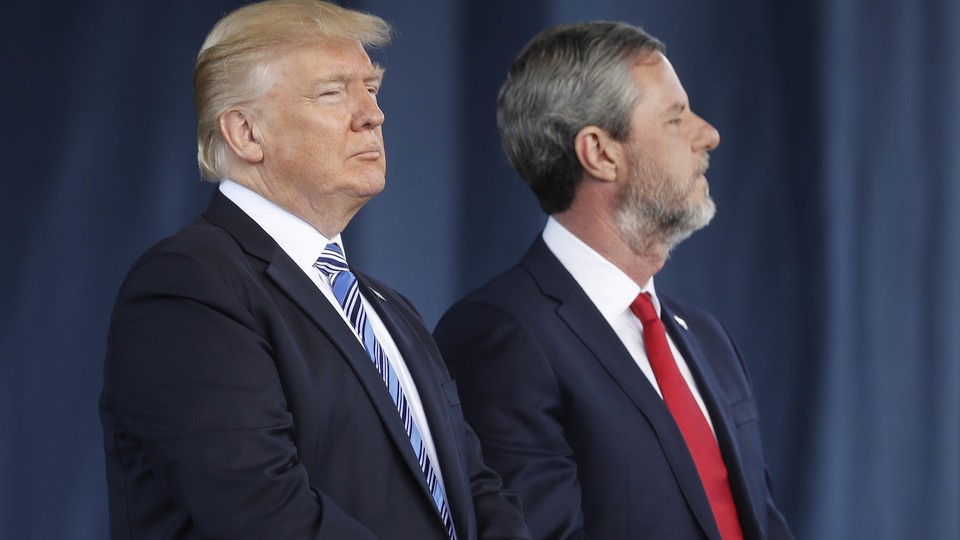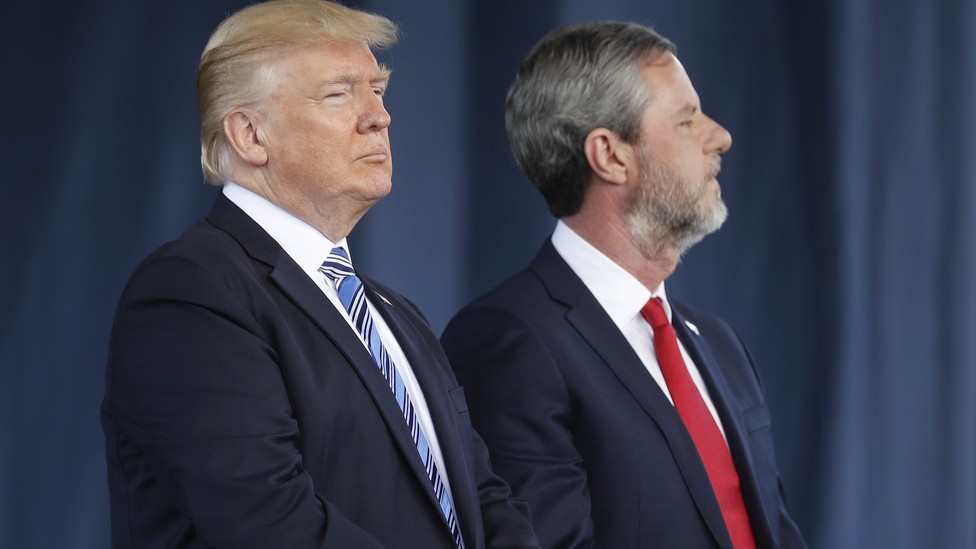 Donald Trump made a return visit to Liberty University on Saturday, speaking at the 44th commencement of the Christian school in Lynchburg, Virginia. Before a crowd of hopeful graduates, America's next generation of evangelical leaders, he argued that fighting the "broken system" in Washington is what it means to have faith. "In America we do not worship government, we worship God," he declared. "We do not need a lecture from Washington on how to lead our lives."
The president didn't mention the drama in Washington over the fired FBI director, James Comey; he didn't talk about Russia or wiretap conspiracies or defend his first 100 days. A couple hundred miles south of Washington, back on friendly turf, Trump was defiant and coy. He pledged his loyalty to the students and people of faith, mocking the "establishment" that has defied him.
It was an appropriate venue for such a speech. Liberty was founded in 1971 by Jerry Falwell, the pastor who led the conservative Christian organization, the Moral Majority, and its takeover of Washington in the '80s. In its four decades, the school has become an incubator of conservative Christian leadership and a regular campaign stop for Republican politicians hoping to win over religious constituents.
In a somewhat surprise move, the university's current president, Jerry Falwell Jr., became one of Trump's earliest supporters during the 2016 campaign. Falwell had previously kept a somewhat low political profile, and his endorsement was a sign that Trump might eventually be able to win over conservative Christians.
The students, however, were more ambivalent. Last fall, in the weeks before the election, a small group of students wrote a petition urging their fellow Christians to oppose to Trump. When I visited campus, most students were resigned to voting for Trump, but many seemed fatigued with politics—everyone on campus is required to attend regular talks by famous speakers, many of whom hail from Washington.
On Saturday, the students seemed to have changed their minds—they were all in for Trump. When Falwell mentioned Neil Gorsuch, the recently confirmed Supreme Court justice, in his introduction, the crowd cheered wildly. The university president crowed his approval of Trump's first months in office: "I do not believe any president in our lifetimes has done so much that has benefited the Christian community in such a short time span as Donald Trump," he said. The crowd applauded in agreement.
Trump won big cheers for promising to protect their religious liberty—"as long as I am your president, no one is ever going to stop you from practicing your faith or from preaching what is in your heart," he declared—and laughs for joking about Auburn's intimidating football team. He called on the students to be champions for Christ, and encouraged them to maintain faith in God: As long as they have that, he said, "you will not fail." He even made a humble crack at himself: "Here I am, standing before you as president of the United States," he said. "I am guessing that some people here today thought that ... would really require major help from God."
Trump's bold religious rhetoric was matched only by his derision for life in the capital. "In my short time in Washington, I have seen firsthand how the system is broken," he said. "A small group of failed voices, who think they know everything, and … want to tell everybody else how to live and what to do and how to think. You are not going to let other people tell you what you believe , especially when you know that you are right." He called on the students to "challenge accepted wisdom and take on established systems"—after all, he pointed out, "I think I did."
It was like he was back on the campaign trail, once again an outsider railing against the insiders, rather than an elected official who has already won and is now tasked with governing. Trump was relaxed, sitting back with his arms crossed during the pledge of allegiance and opening pomp and circumstance. He hung around after his speech to listen to the praise choir and shake all the singers' hands. He and Falwell posed for a picture before the group of graduates, both cheekily flashing Trump's signature double thumbs up.
Trump has come a long way since the last time he visited Liberty. Back in January of 2016, he was still part of a crowded Republican primary field. During his speech, he cited "two Corinthians," incorrectly referring to the book of the Bible usually referred to as "second Corinthians." The media widely mocked him for making a biblical gaffe on the grounds of one of the most conservative Christian institutions in America.
More than a year later, this return visit was a repudiation of everyone who mocked him—and a sign that Trump always remembers those, like Falwell, who are loyal. Shortly after the 2017 inauguration, Falwell told reporters that Trump had offered him the position of secretary of education, but he declined to accept it. Instead, he'll lead a higher-education task force, the details of whichremain vague.
Much hasn't changed since Trump's last visit to Lynchburg. His message is still about taking down Washington, the media, and "the cynics and the doubters." He still seems most at ease out of the White House, among his people, facing adulation and approval rather than policy decisions and a critical press. But unlike those early days of biblical fumbling, Trump has learned how to smoothly connect his anti-establishment message with religious praise.
In his first commencement speech as president, he said it was God who brought him to the White House. But in electoral terms, it was people like those at Liberty, and their president is finally speaking their language.