Do a Pair of State House Wins Portend a Democratic Wave?
A pair of down-ballot victories are generating enthusiasm, but it's far too early to predict what will happen in the 2018 midterms.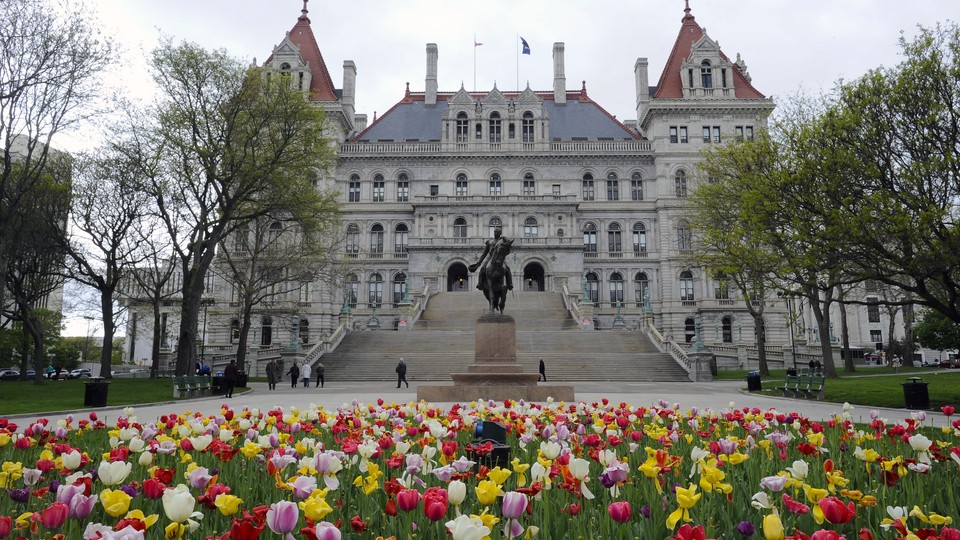 Democrats are looking to wins in state and local elections for signs of a comeback, as the party tries to prove it can channel voter enthusiasm under the Trump presidency into votes and expand its reach after losing the White House. Democratic candidates in New Hampshire and New York pulled off upsets this week, flipping state legislative seats in districts Donald Trump won.
On Tuesday, Democrat Edith DesMarais won a New Hampshire House of Representatives seat while Christine Pellegrino, another Democratic candidate, won a New York state assembly seat. Both races took place in districts previously under Republican control that Trump won in November.
The Democratic bench severely eroded at the state level during former President Obama's time in office, leaving the party with fewer potential candidates for federal office to choose from with a track record in government.
To rebuild, the party will need to win back state legislative seats held by Republicans. Regaining control of state legislatures as well as governorships will also be crucial for Democrats to exert any kind of meaningful influence on the redrawing of congressional district lines after the 2020 Census.
The party that does not control the presidency historically wins seats in midterm elections. The outcome of two state races, however, isn't enough to demonstrate that a Democratic wave is on the horizon for 2018. Indeed, outright victory has so far eluded Democrats in high-profile congressional special elections in Kansas and Georgia since Trump took office, though Democrats have improved on Hillary Clinton's performance in races taking place in conservative strongholds.
There's time left for Democrats to change that: A special election taking place in Montana on Thursday will offer another chance for a Democratic pickup, and the Georgia race has advanced to a run-off that will take place in June.
For now, however, the lack of Democratic victories in the congressional special elections that have received the most national attention may motivate progressives and liberals to look elsewhere for signs of a comeback.
After the party notched victories in New York and New Hampshire, Democratic congressional Representative Ted Lieu framed the wins as a sign of things to come. Lieu called the New Hampshire result a "canary in the coal mine for Republicans," on Twitter. In reaction to the New York win, the congressman tweeted: "Every. Republican. Is. At. Risk."
In announcing the victory, the New Hampshire Democratic Party declared on Twitter: "Tonight, Democrats put our 1st cracks in the GOP Majority," noting that the district had gone to a "Dem for 1st time in history."
In New York, Pellegrino had the backing of progressive groups, including the Working Families Party and Our Revolution, an organization formed as a spin-off of Bernie Sanders' presidential campaign, which have held up the result to argue that populist candidates are the way for Democrats to win in Republican strongholds.
"Bold progressive populism that puts working people's issues front and center—this is how we win in Trump country," Bill Lipton, the New York state director for the Working Families Party, said in a statement celebrating the victory.
Liberals pointing to state and local wins as evidence of progressive momentum risk over-interpreting the results of any one race, however. For an example of how that might play out, look no further than an April headline in The Washington Post after a Democratic candidate won a race for clerk of court in Prince William County, Virginia. "Virginia Democrats say victory in obscure local races signals end of Trump," the headline read.